Apart from auto-corrections, the addition of stickers and emojis to chat messages makes communication easy and fast. If you are using OneNote as your default note-taking, you can insert graphical stickers or emoji in OneNote to add emphasis or appeal.
Insert graphical stickers or emoji in OneNote
OneNote lets create simple or complex notes, organize them into searchable, browsable notebooks, and sync them among a variety of platforms. Likewise, you can choose to add or insert graphical stickers or emoji in OneNote by-
Adding Emojis to OneNote
Inserting Stickers to OneNote
Emojis are characters or smileys used in electronic messages and web pages to symbolize things without indicating the sounds. It exists in various genres, including facial expressions, common objects, animals, etc.
1] Adding Emojis to OneNote
To add one or more emoji to text in your notes,
Open a note in the app, click anywhere in the empty space where you would like to add emoji.
Then, on your keyboard, press the Start button + Period ( . ). The action when confirmed will open the emoji panel.
Now to find and insert emoji, do one of the following
Select a category icon from the bottom of the Emoji panel to view all available emoji in that category
Click the emoji you want to insert in your notes.
Secondly, to quickly find emoji of your choice (not available in the categories), type the name of an emoji (for example, type 'travel') to see all available emoji relevant to the keyword entered.
Next, simply click the emoji you want to add.
You can insert multiple emoji while in the emoji panel. To close the panel, press Esc.
2] Inserting stickers in OneNote
For adding a sticker to your notes, follow the steps below.
Open a note in OneNote, click in the space where you want to add a sticker.
Then, go to 'Insert' tab and click the down-arrow locate in the extreme upper right corner.
From the list of options displayed, select 'Stickers'.
From the Stickers pane that opens, select the sticker you want to insert.
If you don't see the sticker you want, select a different category icon on the left side of the Stickers pane.
If you want, you can customize stickers. Here's how!
To move a sticker to a different location on your page, position the mouse pointer over the sticker until you see a cross-cursor icon, and then click and drag the sticker to the new location.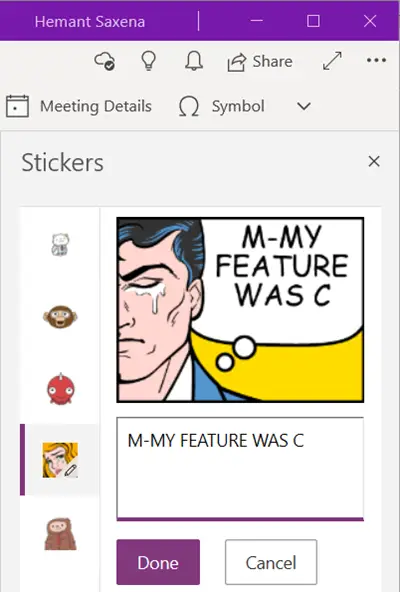 Likewise, you can choose to edit the sticker to make it fit your note description. For this, simply choose the sticker and in the text box that appears, enter your line of text.
When finished, hit the 'Done' button to make your line of text appear alongside the sticker.
This way, you can add a sticker or emoji in OneNote for Windows 11/10.
Can you add shapes to OneNote?
Yes, OneNote lets you add different shapes like a triangle, circle, parallelogram, line arrow, etc. You can also add a two-dimensional or three-dimensional graph to your OneNote notebook. You need to access the Draw menu in OneNote and there you will see a Shapes drop-down menu. Select a shape and drag your mouse cursor on the notebook section to add that shape. An Ink to Shape feature to automatically refine hand-drawn shapes is also there.
Can you add Symbols to OneNote in Windows 11/10?
Yes you can easily add or insert Symbols and Equations to OneNote in Windows 11/10. Click on the Insert menu and you will see a Symbols section on the right-hand side. Open the drop-down menu for Symbol and then you can add Infinity, Micro Sign, Pi symbol, Sigma sign, etc. You can also click on the More Symbols option in that drop-down menu to open the Symbols box that contains all the supported symbols that you can use in OneNote notebook.
Hope this helps.