Windows 7 Explorer window has done away with some toolbar buttons like  Copy, Cut, Paste, Select All, etc, which were found in the earlier versions of Windows. CustomExplorerToolbar is a free tool that can add more buttons back!
CustomExplorerToolbar adds buttons to Windows 7 Explorer toolbar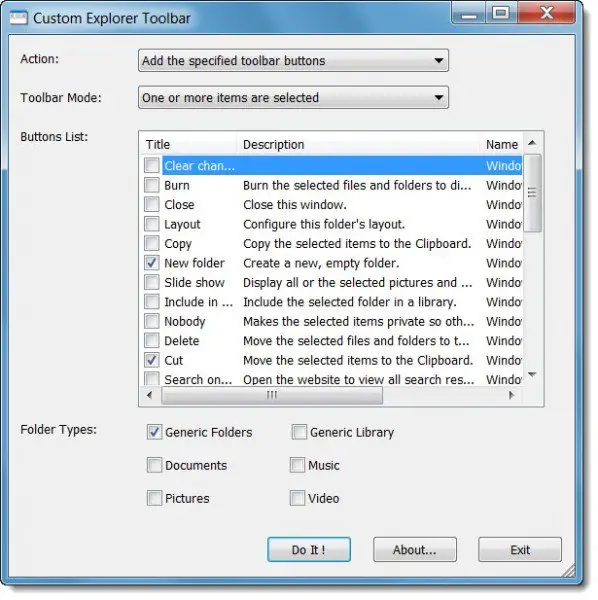 If you want to add them back to Windows 7 explorer, you can do so easily using a free utility called CustomExplorerToolbar.  Custom Explorer Toolbar allows you to easily customize the toolbar of Windows 7 Explorer.
Using this utility, you can add new buttons like:
Close, Layout, Copy, New folder, Slide Show, Include in, Delete, Cut, Search on website, Paste, Redo, Rename, Select all, and more.
Should you wish to you can also always remove the toolbar buttons you may have added earlier.
CustomExplorerToolbar is a portable app and works by updating the toolbar buttons list stored in TasksItemsSelected and TasksNoItemsSelected items in the Windows Registry.
After you have downloaded it, run CustomExplorerToolbar.exe. The main window will open. Next select the toolbar mode, buttons, and folder type, and then press the 'Do It' button to add the toolbar buttons you selected.


You will be able to see the new buttons on your toolbar when you re-open explorer!
Download: CustomExplorerToolbar.
Works on Windows 7 32-bit and 64-bit only.
Go here if you are looking for more Windows explorer replacement freeware.