Whenever someone mentions the word 'PRESENTATION,' the first thing that comes to mind is Microsoft Office PowerPoint! The application features several quality presentation templates that help you create unique slides. Besides, it also enriches the slide presentation viewing experience. The latest version allows you to add 3D objects to your PowerPoint presentation in just a few steps. You don't require any fancy extensions or plug-ins!
If you are a Windows 11/10 user, you can now easily add 3D objects to your PowerPoint presentations, Word, and Excel documents. Here's how!
Add 3D Objects to PowerPoint
Launch the PowerPoint app. Next, from the Ribbon menu visible at the top, select the Insert tab. There, you will notice the 3D Models drop-down to either add a model you've created in Paint 3D or grab one from Remix3D.com, an online community and catalog of 3D content that enables mixed reality and 3D experiences for Windows.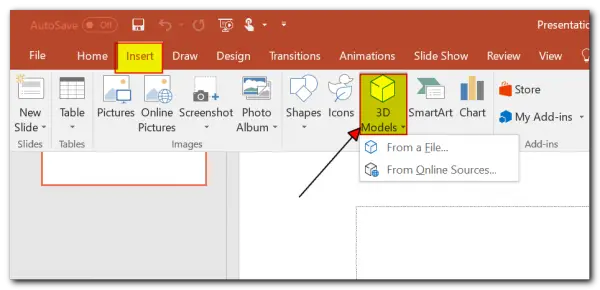 When done, drop it into a suitable location on the slide and use the controls (rotating, sizing, and positioning) to manipulate the model until it suits your requirements.
Once finished, A new contextual tab, 3D Model Tools, should appear. Here, you can use the preset 3D Model Views to choose the specific orientation you want your audience to watch. The good part is you need not go elsewhere to find different images to identify different perspectives. With 3D, you will be in complete control of your presentation!
Use Morph with 3D models to create cinematic transitions between slides. Add the Morph transition to automatically let your 3D object animate and shift in perspective seamlessly across all your slides. It's a unique feature to help PowerPoint users make smooth animations, transitions, and object movements across the slide presentation.
That's all there is to it!
This way, you can easily add 3D to your PowerPoint presentation in just a few steps.
How do you do 3D style in PowerPoint?
Once you select the picture to which you want to apply the effect, click the Picture Format tab, then under Picture styles, click Effects. Next, point to 3-D Rotation and click the effect you want to add. You also have access to Picture Border, Effects, and Layout.
What 3D files does PowerPoint support?
It supports FBX, OBJ, 3MF, PLY, STL, and GLB. You can apply effects, and transition to each object, such as Morph, Fade, Push, Wipe and Split. Also, ensure that when you insert 3D objects, there is enough space between them, making it easy to select for any modification.