I own a Lenovo Yoga tablet running the latest version of Windows 10. The device works well in both environments – Tablet and a PC. However, there's one nagging issue associated with it. Whenever I try to invoke the On-screen keyboard for entering password/s in Edge. Firefox or Chrome browser, the device fails to pop up. Previously, it worked just fine. I started facing the issue lately. I could manually start the keyboard and enter the password but not automate it somehow. I started wondering if it was just an issue with one browser – Chrome so, I switched to Edge. However, it did not give any different result.
Activate on-screen keyboard for filling-in browser password fields
Launch the 'Settings' app. A simple shortcut to enable this action is pressing Win+I on your keyboard simultaneously.
Next, go to the 'Ease of Access' section and choose 'Keyboard'. Ease of Access features several options to assist users with disabilities.
Thereafter, move to the right-side pane, and pull the slider against 'Use the on-screen Keyboard' option from Off to On.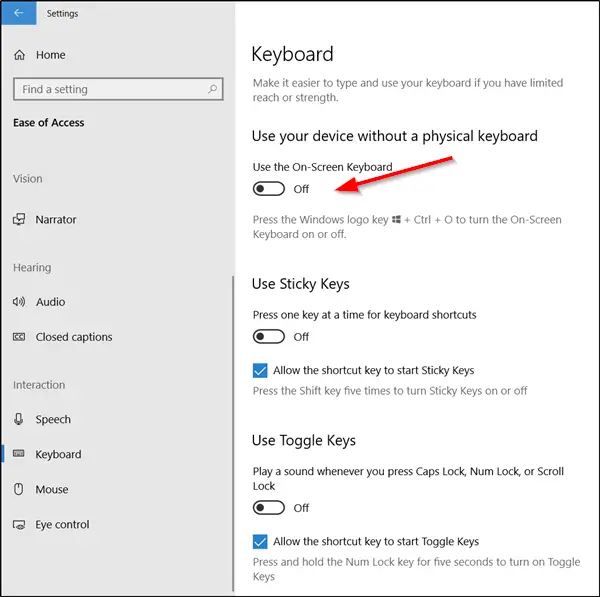 The action will force a keyboard to show up.
As an alternative measure, you could try the following-
Right-click or tap-and-press an empty space on the taskbar and choose 'Show touch keyboard button' from the menu.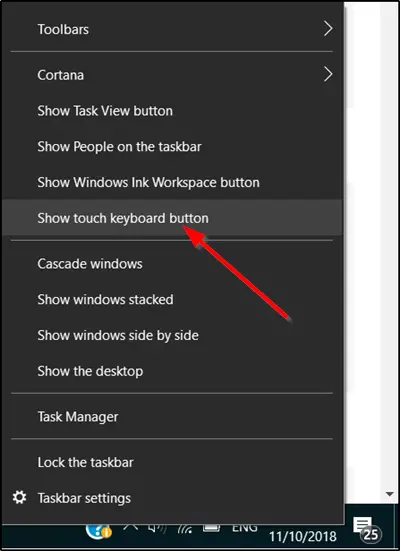 If the above method, fails to yield the desired results then, you could try this as a last resort – configure the Touch keyboard set up. For this,
Go to Settings again and 'Devices' option.
Select 'Typing' visible under it and make sure that the option 'Show the touch keyboard when not in tablet mode and there's no keyboard attached' is checked.
Hopefully, the onscreen keyboard should be visible to you in Chrome, Firefox or Edge browser now.
Kindly update us if the steps outlined above helped you to resolve the issue. For stable versions of Chrome browser, you can Use incognito mode. If it helps, try temporarily disabling your extensions to identify which one is causing the rendering problem. To do this go to chrome://extensions and uncheck Enabled for each extension one by one.