7 Sticky Notes is a good 100% free desktop notes software that creates Sticky Notes directly on your Windows Desktop as well as password-protect it. It has a good-looking realistic sticky note appearance for the ultimate user experience and offers amazing features that make 7 Sticky Notes powerful, simple to use, reliable, and light.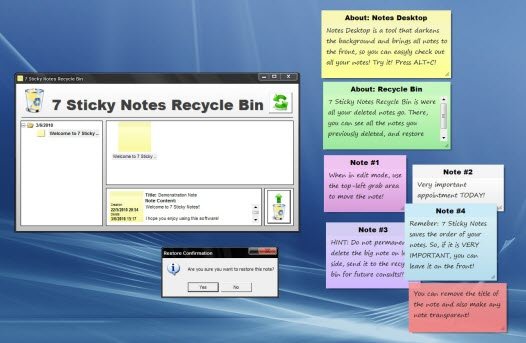 7 Sticky Notes for Windows PC
Beautiful Visual Effects
Fade in and Fade out effects
Hidden buttons only show after "Mouse Over" events Transparency effects
Notes Desktop: highlight the notes on top of your other desktop windows and icons
Cool Looking Desktop Notes
Choose between 7 pre-defined note colors: Yellow, Green, Pink, White, Purple, Blue and Red
Use personalized font sizes, colors, and types
Drop Shadow on every note for realistic effect
Sutil gradient background brings notes to life
Light and Reliable
If it weren't for the tray icon, you wouldn't notice is opened
Small footprint: requires the only 8MB of disk space and only 13MB of RAM
Database-based storage for good performance and roughness
Backup and restore important notes
Recycle Bin Feature: Review, restore or clean your previously deleted notes
Amazing User Interaction
Automatic URL recognition for fast notes of web links  Drag and drop notes around
Resize notes as much as you want
Organize notes by order: Bring to front, Send to Back Logical operations for natural instant usage.
Visit: Home Page.
You might want to also take also at some more free Sticky Notes software.