Portable applications allow you to carry your favorite computer programs along with all of your bookmarks, settings, email, and more with you on your USB Drive. You can then use them on any Windows computer, without leaving any personal trail behind. Here are what I think are the most useful and free Portable Apps you can download for Windows 11/10/8/7.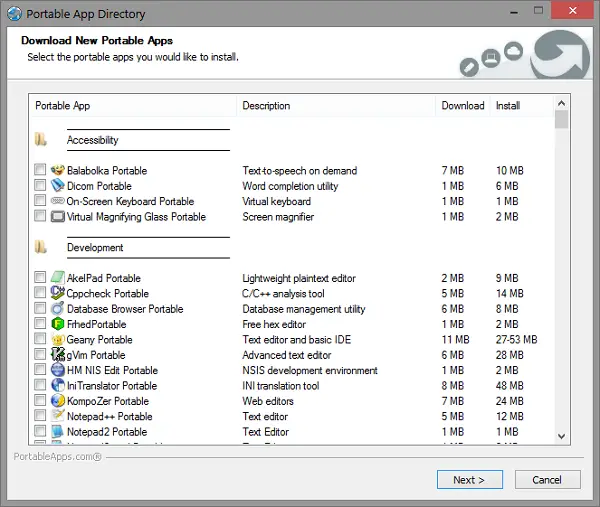 Download useful Free Portable Apps for Windows PC
ClamWin Portable is the popular ClamWin antivirus packaged as a portable app, so you can take your antivirus with you to scan files on the go. You can place it on your USB flash drive, iPod, portable hard drive or a CD and use it on any computer, without leaving any personal information behind.
1] Spybot Portable
Spybot Portable Anti Spyware is the portable version of the popular anti-spyware. Scan your PC with it from your Pen Drive. Read Information.
2] CCleaner Portable
CCleaner Portable is a freeware system optimization tool. It removes unused and temporary files from your system, allowing Windows to run faster, more efficiently and giving you more hard disk space. The best part is that it's fast!
3] Pidgin Portable
Pidgin Portable is the versatile Pidgin instant messaging client packaged as a portable app so that you can take your IM settings and buddy lists with you. It has all the same great features as Pidgin. It also includes support for AOL, Yahoo, MSN, ICQ, and Jabber networks, but there's nothing to install on the local PC. You can also easily add portable encryption plugins for secure, encrypted messaging.
4] Firefox Portable
Mozilla Firefox Portable Edition is the popular Mozilla Firefox web browser bundled with a PortableApps.com Launcher as a portable app, so you can take your bookmarks, extensions and saved passwords with you.
5] KeePass Portable
KeePass Portable is the popular KeePass Password Safe packaged as a portable app, so you can securely carry your email, internet, and other passwords with you.
6] OpenOffice Portable
OpenOffice.org Portable is the complete OpenOffice.org office suite, including a word processor, spreadsheet, presentation tool, drawing package and database, packaged as a portable app, so you can take all your documents and everything you need to work with them wherever you go.
7] Sumatra PDF Portable
Sumatra PDF Portable is a PDF viewer that allows you to view PDFs on the go. This release updates Sumatra PDF to the latest version adding in more languages, search, table of contents, printing improvements, and more.
8] VLC Media Player Portable
VLC Media Player Portable is the popular VLC media player packaged as a portable app. You can take your audio and video files along with everything you need to play them on the go.
9] 7-Zip Portable
7-Zip Portable is the popular 7-Zip packaged as a portable app, so you can take your file archiver with you and work with your compressed 7z, ZIP, GZIP, BZIP2, TAR, RAR files and more on the go.
10] FixWin
You may also want to download our portable freeware Ultimate Windows Tweaker & FixWin Utility. The former lets you tweak Windows, and the latter fixes Windows.
Let us know if we missed any.