If you have multiple computers which have different IP addresses, it is quite difficult and time-consuming to monitor all the IP address and their corresponding information if you want to do so. To solve that problem and save your valuable time, you can start using a tool called 10-Strike Network Scanner, which is free, easy to use, and shows a lot of information in one panel. Let's take a look at this tool today.
10-Strike Network Scanner for Windows 11/10
10-Strike Network Scanner can be considered a compact version of Advanced IP Scanner. However, it shows almost all the information that the other tool does. Talking about available functionalities, here is what you can expect from this tool.
Find available IP address: It scans a range of IP address and finds out which one is live or dead.
Find MAC address: You can find the MAC address of all the live IP addresses.
Find user account, DNS name, Ethernet card vendor, OS type, network drivers.
You can access the registry of the corresponding computer. However, you need to access that computer first.
Check Event Log of any computer in your network.
Check Services of any computer
Check IP status of any host. You can ping as many times as you want to check whether a host is alive or dead.
Export information to a spreadsheet
To start using it, download it on your computer and install it on your computer. After installing and opening it, you will see a window like this-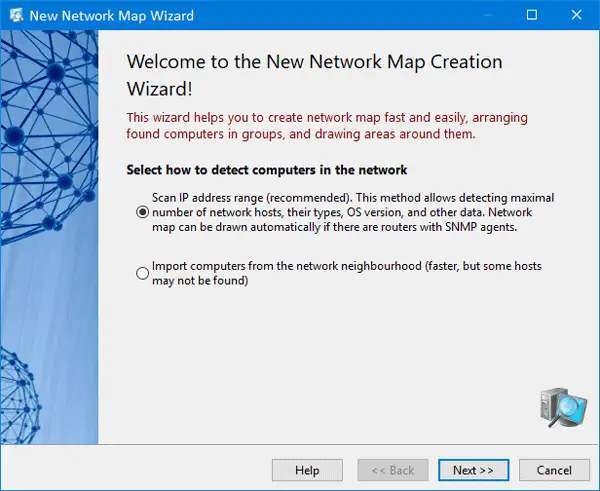 Here you can enter an IP range, to find out information about all the IP address you have in a network. So select the first option and click the Next button.
After that, you need to enter an IP range. Enter that and click the Add and Next buttons.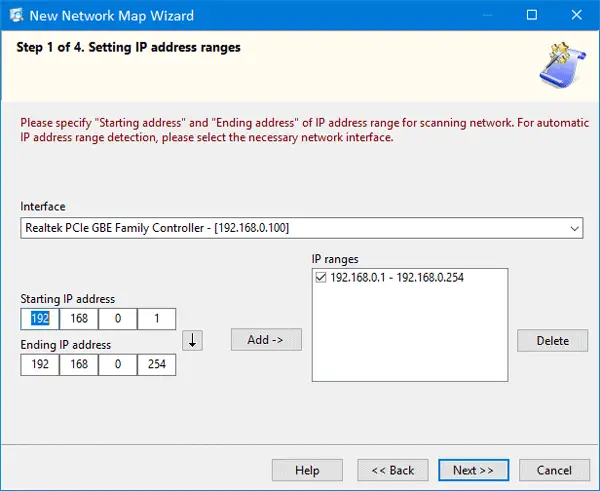 In the next window, you can select various things like ICMP ping, ARP ping, TCP ping (it take comparatively more time than others), etc. You can also select various options such as:
Detect network and location printers
Get additional data on hosts via NetBIOS
Search UPnP devices
Search SNMP hosts
Response timeout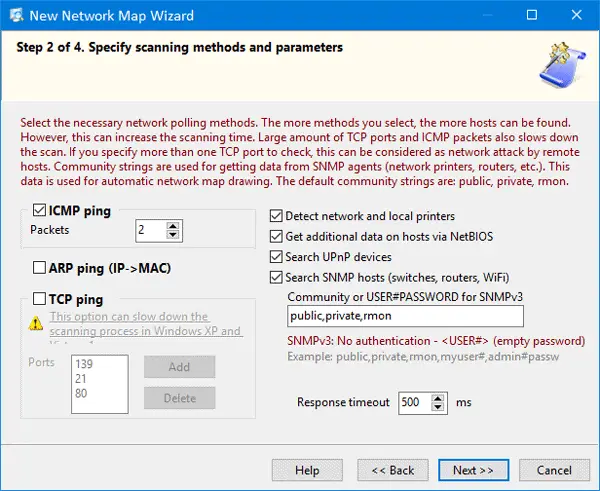 Select the option/s as you want and click the Next button again.
It may take several minutes to scan the whole network if you have a big IP range. Otherwise, it scans around 100 IPs within 3 minutes. After completing the scan, you can see the results: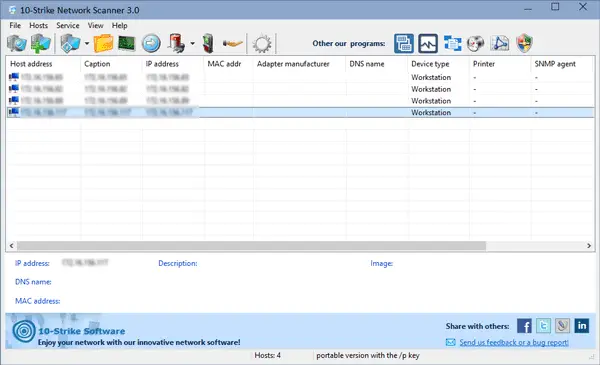 From here, you can gather all the information as mentioned earlier.
Ping host
If you want to ping any host to check the current status, you need to click the corresponding button. After that, you can choose the number of ping requests, packet size, response timeout, etc.
Check system information
If you want to check the system information, right-click on an IP address > select System Information. It is possible to find out the account the IP is using, event log, SNMP information, Ethernet card vendor, registry files and so on. Apart from that, you can find out the OS the computer is using, currently installed network driver, unit uptime and so on. If you want to gather the MAC address, that is possible as well.
Export to CSV
Let's assume that you have got all the information you want and you want to export it to a spreadsheet. For that, go to File > Export to Excel. Following that, you need to enter the location where you want to save the file and choose a name for your file.
Considering everything, 10-Strike Network Scanner seems to be a handy tool, when you have a small network. If you like it, you can download this tool from here.
Read: Free WiFi Network Scanner Tools for Windows.