Advanced IP Scanner is a fast, robust and easy-to-use free IP scanner for Windows 11/10. In a matter of seconds, this  Network Scanning Tool finds all the computers on your network and provides easy access to their various resources, whether HTTP, HTTPS, FTP or shared folders.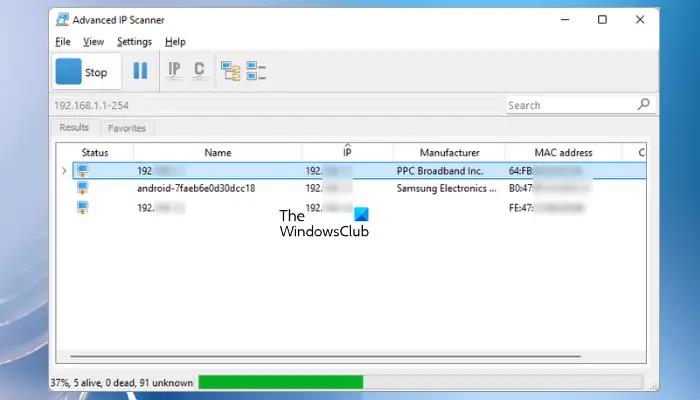 Advanced IP Scanner review
When you launch it, you will see an interface like the one shown in the above screenshot. Now, click on the Scan button to start scanning. The software will take some time to scan your network and find all the computers and other devices on your network. After scanning is completed, you will see a list of all the devices on your network along with their IP and MAC addresses.
Free IP Scanner for Windows 11/10
With Advanced IP Scanner, you can wake up and shut down remote groups of Windows machines, analyze your LAN in seconds, find all network devices, get easy access to network shares and FTP servers, control computers remotely (via RDP and Radmin), and you can even remotely switch computers off. It can locate all the computers on your wired or wireless local network and conduct a scan of their ports. But for this, you have to install Radmin on your system.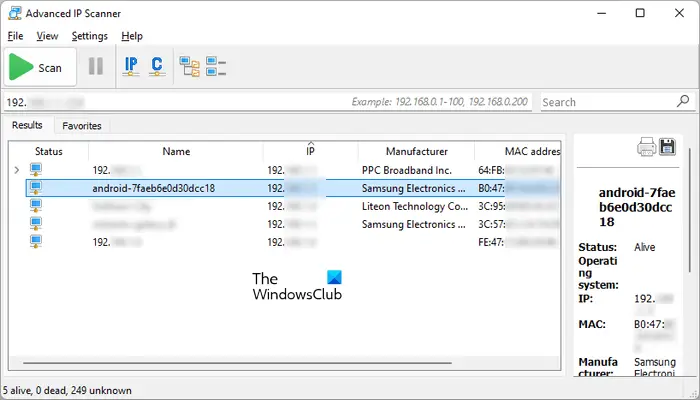 You can print the details or save the details as PDF by pressing the Ctrl + P keys. If you want to print the details of a single device from the list, go to "View > Show Details Pane." Now, click on the Print icon in the Details pane.
New features:
New scanning options for HTTP, HTTPS, FTP, and shared folders as well as for Radmin.
Remote Wake-On-LAN and Remote Shutdown for groups of computers.
ARP (Address Resolution Protocol) scanning for full information about your network.
New interface, simplified settings
Possibility to filter the results of scanning by keyword.
You can download the free portable version of Advanced IP Scanner from its download page.
Is Advanced IP Scanner safe to download?
Advanced IP Scanner is a free network scanner software for Windows. It scans your network and finds all the devices on your network. Yes, Advanced IP Scanner is completely safe to download, provided you download it only from its official website. It also allows users to remotely transfer files and perform different actions on computers connected to the same network via Radmin. Radmin is one of the most secure and reliable remote access software. With Radmin, the transferred data is protected with AES256-bit encryption.
Do police track IP?
Police can track the IP addresses of persons who are involved in illegal activities online. Many people think if they use the internet in private mode in the web browsers, they cannot be tracked by Police or Government. This is a misconception. The private mode only keeps your browsing history private but does not hide your IP address. Even a person, connected to a VPN, can be tracked by the Police. VPN companies provide Police with the necessary logs which help police catch criminals.
Read next: 10-Strike Network Scanner lets you scan and monitor network IP.