If you receive an error code 0XC1900103, MOSETUP_E_COMPAT_TIMEOUT when updating or upgrading Windows, it means that the compatibility issues were not resolved within the required time limit. This happens when you are upgrading using the Windows Upgrade Installer. The full error message includes—The compatibility issues were not resolved within the required time limit.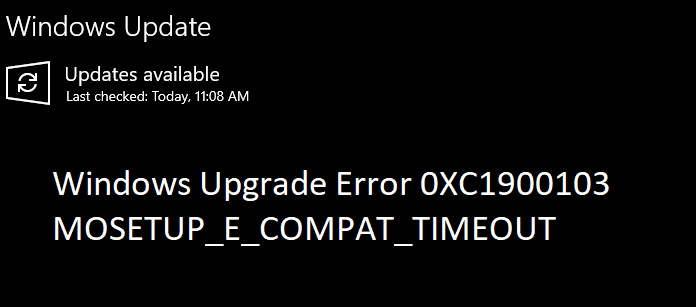 Error 0XC1900103 MOSETUP_E_COMPAT_TIMEOUT
Timeout usually happens when there is a resource issue.
Close all apps, and check storage
Run Windows Update troubleshooter
Reset Windows Update Service
Upgrade through Media Creation Tool
All these will need you to use an admin account and a clear idea of what you are doing.
1] Close all applications and check storage
If the application is timing out because of storage and memory limit, then you might want to do the needful to make sure the upgrade process have enough resource.
2] Run Windows Update Troubleshooter
Go to Windows 10 Settings > Update and security > Troubleshoot and run the Windows Update troubleshooter. If there is that is causing the upgrade to get stuck, then it might resolve it within its limit.
3] Reset Windows Update Service
Open Command Prompt with elevated privileges, and then execute the following command.
net stop wuauserv
net stop cryptSvc
net stop bits
net stop msiserver
Ren C:\Windows\SoftwareDistribution SoftwareDistribution.old
Ren C:\Windows\System32\catroot2 Catroot2.old
net start wuauserv
net start cryptSvc
net start bits
net start msiserver
This will stop the Windows Update, Crypt, BITS, and MSI Server services. Then the update download folder will be renamed, and services will be restarted. The idea of this method is to clear off any corrupt Windows update file and restart everything.
4] Upgrade through Media Creation Tool
The alternate way to resolve this issue is upgrading through the Media creation tool or ISO file. For some reason, the timeout doesn't happen with the ISO method to upgrade.
Related errors: 0XC19001e2, 0XC19001e3, 0XC19001e4, 0XC19001e5 – Windows Upgrade Script Errors.
I hope this post was helpful to resolve Windows Upgrade Error 0XC1900103 MOSETUP_E_COMPAT_TIMEOUT.