YouTube is the best place to watch random videos of people doing things. There's a reason why this platform has the most videos and viewers when compared to every other competitor. In this post, we will discuss some of the best YouTube apps in the Microsoft Store.
How to install YouTube app on Windows 11/10?
Google has a native YouTube app for Android and iOS, but there was never an official app for Windows. However, you can install YouTube as a Progressive Web App (PWA) on Windows 11/10 using Microsoft Edge or Google Chrome.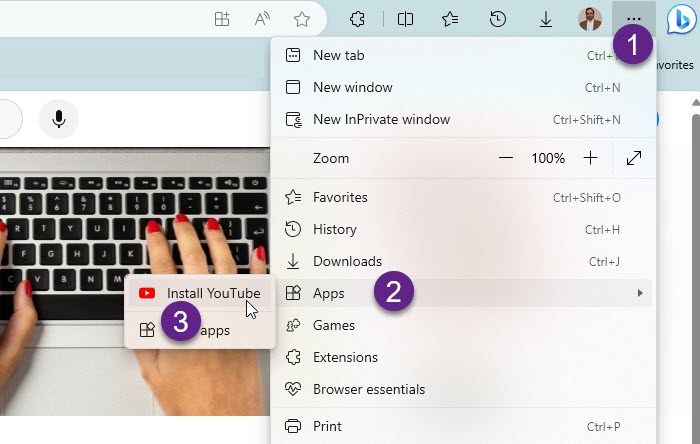 To install as a PWA on your Windows PC, open Microsoft Edge and visit youtube.com. Then press Alt+F and then click on Apps > Install YouTube. Thats it! The YouTube Progressive Web App will install on Windows, and it will be available from the Start menu.
Best YouTube apps on Microsoft Store for Windows PC
For folks who would prefer to watch YouTube via a Microsoft Store app instead of doing so through a web browser or a PWA, we're here to help. There are several third-party YouTube apps on the Microsoft Store, and today, we will talk about the following ones you should use.
ATube
YouTube PWA.
YouPlay – Video & Music Player.
myTube!
WinTube for YouTube.
1] ATube
The interesting thing about this app is the fact that it's quite feature-rich. It has the potential to surpass myTube, but for some odd reason, the developers are failing to get things right regularly.
In terms of features, users can upload videos, download videos, and stream content in HD quality. Furthermore, the ads can take you out of the experience because they take up the entire screen while a video is playing. Download Awesome Tube from the Microsoft Store.
2] YouTube PWA
What we like about YouTube PWA is the fact that it is a wrapper, which means, you're basically loading the YouTube website inside of an app. If you want the real YouTube feel and design, then this is what you should be using.
There's not much to talk about here where YouTube PWA is concerned. If you know how to use YouTube in the web browser, you'll have no problems here. Download YouTube PWA from the Microsoft Store.
3] YouPlay – Video & Music Player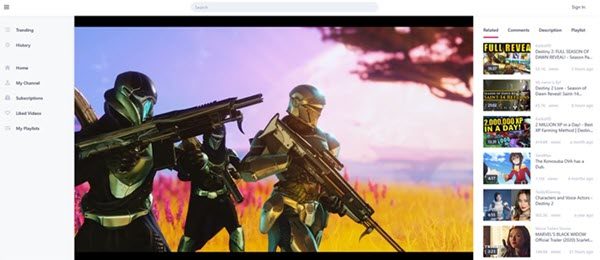 YouPlay Video & Music Player lets you watch popular videos on your device anywhere and anytime. You can choose video categories or search for videos that interest you, and listen to videos even when you minimize the app. You can also subscribe to content that interests you so you don't miss new videos. It is available here on the Microsoft Store.
4] myTube!
From our point of view, myTube is one of the best YouTube apps on the Microsoft Store, if not, the best of them all. We love it so much that we decided to support the developers by paying to remove ads.
This app has come a long way over the years despite several problems. The developer listens to users and does whatever it takes to improve the service.
We should point out that the option is there to download videos to your Windows computer. Additionally, if you want, it is very much possible to upload videos to your YouTube channel.
5] WinTube for YouTube
This app is pretty decent, though it lacks a lot of features. However, if you're primarily just interested in watching videos rather than taking advantage of many features and a pretty user interface, then WinTube for YouTube is perfect. The most important thing here is the fact that it works and does so very well.
Any recommendations?