In this guide, we show you different ways you can use to fix Your Account Was Flagged for Potential Abuse error on ChatGPT. ChatGPT has been a great tool since its release last year. People around the world are using it to know things and find answers in a direct way. Though it is a great tool, sometimes, users see some errors.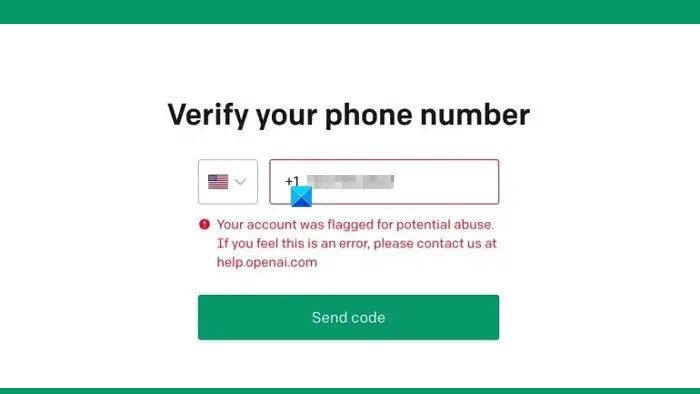 Why are you seeing Your Account Was Flagged for Potential Abuse error on ChatGPT?
OpenAI, the organization behind ChatGPT laid out a few terms and conditions to use ChatGPT fairly. If the machine flag you for unfair usage, OpenAI automatically locks you out of your account and show the error.
The number or email address, you have used for signing up might have been flagged or the systems might have detected logins at multiple locations at the same time. There are many potential reasons that come under the terms of usage that cause the error.
Your Account Was Flagged for Potential Abuse error on ChatGPT
If you are seeing Your account was flagged for potential abuse. If you feel that this is an error, please contact us at help.openai.com error while using ChatGPT, the following methods can help you fix it.
Turn off VPN
Clear the cookies and cache of your browser
Sign up with a new email address
Use public DNS
Contact OpenAI support
Let's get into the details of each method and fix the issue.
1] Turn off VPN
The location you have selected on the VPN might be the reason for the systems to think you have abused the usage policies of ChatGPT. The IP address associated with the location might have been blocked by OpenAI. You need to turn off the VPN or change the location and see if it fixes the error. If you do not want to disable VPN, you can enable split tunnel in the Settings of your VPN program and add a browser to it to bypass VPN on that browser.
If you are not using the VPN, try accessing ChatGPT with a VPN and see if that helps.
Read: ChatGPT is at capacity right now meaning
2] Clear the cookies and cache of your browser
The cache and site data that is saved on your browser might be causing the error. you need to clear the cache of your browser and see if it helps you fix the error. If the cache is corrupted, it can be fixed by clearing it and making space for the fresh cache.
3] Sign up with a new email address
If you have used a public or temporary email address and phone number to sign up and use ChatGPT, you will see this error. You need to use a new email address and a phone number to get access to ChatGPT without any error. You can use your personal email address and phone number as you can delete your data and account anytime you want easily.
4] Use public DNS
Every browser comes with a feature to use a public DNS like Cloudflare, Google DNS, etc. It can be enabled by selecting DNS over HTTPS. DNS over HTTPS is a protocol that enables your web browser to resolve domain name system (DNS) requests by encrypting them with HTTPS. It gives an additional layer of protection to your traffic. This method can help you bypass the ban on your account if it was flagged as abusive. You can use a public DNS system-wide on your PC, or just enable DNS over HTTPS on your web browser.
5] Contact OpenAI support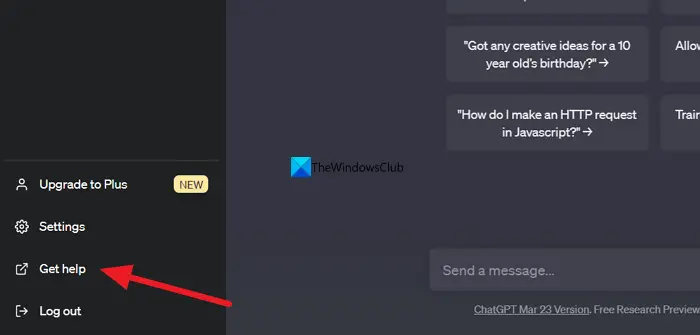 If you are still unable to access your account, you need to contact OpenAI to get the ban lifted. To do that, click on the Get help button at the bottom-left of the ChatGPT page and follow the on-screen steps.
Read: An error occurred, Please contact us through help.openai.com
These are the ways using which you can fix when you see Your account was flagged for potential abuse error on ChatGPT.
Why is my number flagged for potential abuse?
That depends on many things. If your prompts are not in line with the usage policy of ChatGPT, your logins are unusual and more frequent than the possibility, or if you have used a publicly available number on which someone has reported to OpenAI for abuse, etc.