Privacy is the most talked about and searched keyword these days. While more and more users are getting aware of their online presence, the term privacy is gathering more attention. Everyone is looking for privacy on their computer, phones or any other device for that matter. In this post, we've covered a tool that helps you maintain your privacy on a Windows 11/10 computer. WPD or Windows Privacy Dashboard is a freeware that let's customize your system settings so that no data is collected from your computer.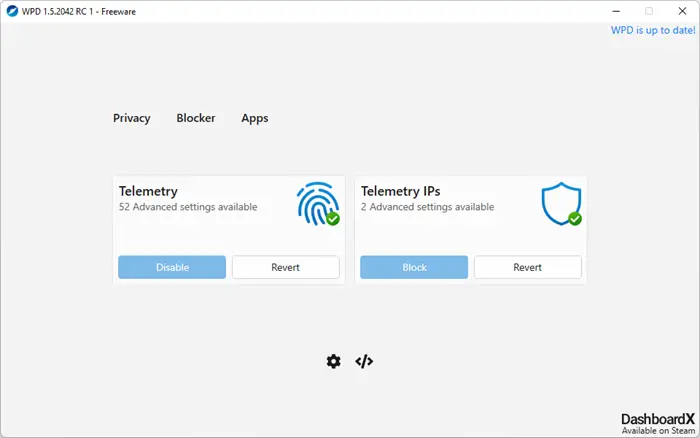 WPD Privacy Dashboard for Windows 11/10
By default, Windows usually gathers some data for diagnostics and improving the user experience. But some users are not comfortable with sharing their usage behavior with anyone. There are a ton of settings that you need to configure to stop Windows from collecting any personal data. What WPD does is, it brings all of these settings and configurations at one place.
WPD makes it super simple to configure your computer's settings so that your privacy is respected all around. The program is divided into three different sections, Privacy, Firewall Rules and Apps.
Privacy
This section involves most of the settings that enable or disable some sort of data collection from your computer. Under Local Group Policy section, you can configure group policies so that no data is collected. Most of the settings are in On state by default; you can simply switch them off to stop collecting data. Some settings under this section include Allow Cortana, Internet Explorer Customer Experience Improvement Program, Search Companion and PerfTrack. There are many more settings that can be disabled as per your requirements.
The other sections are Scheduler and Services. Services would let you disable services such as Connected User Experiences and Telemetry. And Scheduler would let you stop all scheduled data collection tasks. There is another sub-section that provides you with additional privacy settings. The list of settings is vast, and the best part is how they are explained in the description field visible when you hover over the question mark.
Firewall Rules
The program provides you with three firewall rules, Spy, Extra and Update. You can select any of these rules and click on Copy Rules button to activate these rules on your computer. Spy rule will block Windows Spy/Telemetry. The extra rule will block all third-party Microsoft applications such as Skype and OneDrive. And the Update rule will completely block Windows Update on your computer. Firewall Rules are a great way to extend your computer's existing firewall to provide more privacy and stop data collection.
Apps
This section is what can help you de-clutter your computer. It lets you uninstall default Windows Store applications that came installed with your system. You can simply uninstall one by one or click on the Delete All button to remove all of them in one go. Some of the applications that can be uninstalled using WPD are Feedback Hub, Groove Music, Mail and Calendar, Print 3D, etc. You can also uninstall some of the preserved apps such as Microsoft Store, Xbox Game bar, Microsoft Pay and Store Experience Host.
WPD is a great privacy dashboard for Windows 10/8/7. It brings you all configurable options on one screen so that you do not have to go through multiple steps while configuring privacy on your computer.
WPD is completely free and comes in a portable form factor. You can run it from anywhere, and it does not require any setup or configuration. Click here to download WPD.
TIP: Our Ultimate Windows Tweaker will let you easily tweak Windows Privacy settings & more. The Privacy tab lets you disable Telemetry, Biometrics, Advertising ID, Bing search, Cortana, Windows Update sharing, Feedback requests, password Reveal button, Steps Recorder, Inventory Collector and Application Telemetry. Here is a list of some more Windows Privacy Tools & Fixers that help you harden your privacy.