World of Warcraft is not launching on many computers. This issue is not exhaustive to any particular specification and is happening irrespective of the CPU or GPU you are using. In this article, we are going to see why this is occurring and how you can resolve the issue.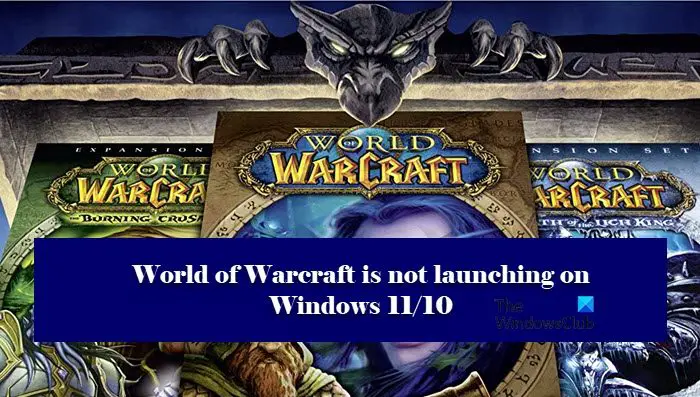 Why is my World of Warcraft not launching?
If a game is not launching on your computer then the first thing you should do is check its system requirement. Your computer must be powerful enough to run demanding titles. If not, it will always crash. Other than that, also check the Graphics Driver, and make sure that it's up-to-date. If it's outdated, no graphically intensive game will work.
Also, corrupted game files and cache can also trigger the issue. To resolve it, we can either remove the corrupted files or fix the game files from the launcher. We will be talking about the issue in detail, later in this article.
World of Warcraft is not launching or starting
If World of Warcraft is not launching on Windows 11/10 then start the troubleshooting process by checking for updates. If updating is to no avail then check out the following solutions to resolve the issue.
Update your Graphics driver
Reset in-game settings
Repair corrupt game files
Force World of Warcraft to launch using DX 11
Delete the Battle.net files
Run WOW using the executable file
Delete Configuration files
Let's begin with the first fix.
1] Update your Graphics Driver
It's a common fact to update the Graphics driver from time to time to maintain a smooth gameplay. However, it is easy to forget such a simple task, which later leads to demanding games not launching.
Hence, update your Graphics driver to ensure a smooth World of Warcraft launching on Windows 11/10.
2] Reset in-game setting
Most often than not your game settings clash with your computer settings. Resetting in-game options can help to minimize the issue as we are going to configure the setting in that manner. To do the same, follow these steps.
Open Battle.net.
Now click on Options and then go to Game Settings.
Go to World of Warcraft and click on Reset In-game Options.
Click Reset and then Done.
Relaunch the game to make sure that you are not facing difficulties in launching the game.
3] Repair Corrupt game files
Corrupt game files are one of the most common reasons for the issue. What you can do is repair corrupt game files. Here's how to do it.
Launch Battle.net and navigate to World of Warcraft.
Go to Options and click on Scan and Repair.
Click on Begin Scan.
This procedure may take some time so wait and then launch the game to see if it is still bugging you.
4] Use DirectX 11
DX 12 may be the one causing the issue, so, you can switch to DirectX version 11. The steps are given below.
Open WOW in Battle.net.
Click on Options and navigate to Game Settings.
Go to World of Warcraft and click on Additional command-line arguments.
Type "-d3d11" and then click on Done to save the changes.
Now, check whether you can launch the game without issue or not. If not then check the next fix.
5] Delete the Battle.net temporary files
Corrupted, missing files of Battle.net temporary files can also cause the issue. You can delete such files to fix the issue. Here's how to do it.
Go to this location in the File Explorer address bar
C:\ProgramData
Look for the Battle.net folder and then delete it.
Launch World of Warcraft to make sure that you get rid of the issue but if it persists then move on to the next fix.
6] Run World of Warcraft directly
If launching the game through Battle.net was not successful then you can try to directly launch it. Run World of Warcraft using the executable files by going to this location
C:\Program Files (x86)\Battlenet\World of Warcraft_retail_\Wow.exe
Now check if WOW is still not launching on your computer.
7] Delete Configuration files
Configuration files are the launcher and game settings preferences that you opted for. These are checked before launching the game. However, if these are missing or corrupted then it will interfere with the game launching. Therefore, have to delete configuration files to smoothly launch World of Warcraft.
Click Win+E to open Windows Explorer and paste the following location in the address bar.
%\World of Warcaft\WTF\Config.wtf
Now delete the .wtf file.
Restart your computer and launch WOW to see if the issue is still there or not. Hopefully, this will resolve the issue.
System Requirement to run World of Warcraft
The following are the system requirements your computer must meet to play WOW.
Minimum
CPU: Intel Core i5-760 or AMD FX-8100 or later
RAM: 4 GB RAM (8GB for integrated graphics such as Intel HD Graphics)
OS: Windows 7 / Windows 8 / Windows 10 64 bit
VIDEO CARD: NVIDIA GeForce GTX 560 2GB or AMD Radeon HD 7850 2GB or Intel HD Graphics 530 (45W)
DISK SPACE: 70 GB
VIDEO RAM: 2 GB
Recommended
CPU: Intel Core i7-4770 or AMD FX-8310 or later
RAM: 8 GB
OS: Windows 10 64 bit
VIDEO CARD: NVIDIA GeForce GTX 960 or AMD Radeon R9 280 or later
DISK SPACE: 70 GB
VIDEO RAM: 4 GB
That's it!
Also Check: