Windows Media Player is one of the oldest music players on computers. There are numerous plugins available in the market for Windows Media Player. One of such plugins is WMP Tag Plus. This plugin provides library and tagging support for additional music formats. The formats that are supported by the plugin include FLAC, Ogg Vorbis, WavPack, Monkey's Audio, Musepack, and MPEG-4.
Role of tags in Windows Media Player
Song tags play a major role in Windows Media Player while sorting, displaying, and categorizing the music. That is because Windows Media Player does not read the file names of the songs, but it understands the tags of those songs. The song tags contain information such as file name (song title), album, artist, and other related information. Not only Windows Media Player, but the digital music player such as the iPod also depend on the information in the tags. If you play a song downloaded from the internet on Windows Media Player, the player automatically gathers the information about the song and fills in the tags.
It is not mandatory to fill in the tags; however, it is certainly useful. When you have songs with multiple formats, it becomes difficult to search and organize them into a playlist. The tags of the songs are often a pain-points to manage. If you are a frequent song listener who uses Windows Media Player, then a plugin that can help you manage the tags should be your choice. And one such useful Windows Media Player plugin is WMP Tag Plus.
WMP Tag Plus plugin features
As the name suggests, WMP Tag Plus helps manage the song tangs. Besides, it also does the following functions.
It supports multiple file formats such as FLAC, Ogg Vorbis, WavPack, Monkey's Audio, Musepack, and MPEG-4.
WMP Tag Plus makes tag editing is easier.
It makes organizing of the songs easier.
This Windows Media Player plugin allows you to use the Advanced Tag Editor to edit the tags for newly supported formats.
How to use WMP Tag Plus to tag formats
Download the Tag Plus Windows Media Player Plugin. Tag Plus is a small-sized plugin (993 kb). Run the setup file of the application.
Once WMP Tag Plus is installed, songs with newly supported songs can be added to the playlist of Windows Media Player. When these songs are added, their tags also get added along with the songs. You can edit the tags and the changes are saved back to file. Tag Plus Windows Media Player plugin lets you browse and organize the songs of all supported formats in the library without any hindrance. This process is similar to the songs of natively supported formats like MP3 or Windows Media Audio (WMA).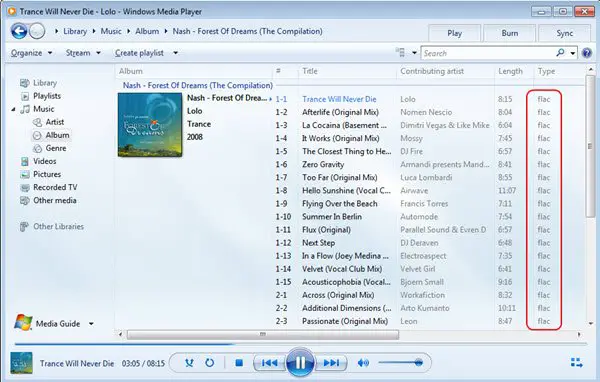 According to the creators of WMP Tag Plus, this is the only Windows Media Player tag support plug-in that is still up-to-date. This Windows Media Player plugin is actively supported and fully compatible with the latest versions of Windows and Windows Media Player. The WMP Tag Plus plugin also offers seeking feature during playback of newly supported formats.
It is important to note that WMP Tag Plus only adds library and tagging support. If you wish to play the songs in the new format on Windows Media Player, then you might require additional packages. These packages are as follows:
For FLAC and Ogg Vorbis formats: org DirectShow Filters
For WavPack format: CoreWavPack DirectShow Filters
For Monkey's Audio format: official Monkey's Audio package
For Musepack format: MONOGRAM Musepack DirectShow Decoder/Splitter
For MPEG-4 format: Haali's Media Splitter together with FFDShow (only required on Windows Vista or lower – starting with Windows 7, native MPEG-4 support is already present)
For Apple Lossless (ALAC) format: DC-Bass DirectShow Filter (all Windows versions)
You can download the WMP Tag Plus plugin from the official website of BMProductions. WMP Tag Plus supports Windows Media Player 12.