If you receive 0x80073BC3, 0x8007002, 0x80073B92 – 0x20009 error code during Windows Update, its because of multiple system partitions which confuses the update process. The full error message says—The requested system device cannot be found, there is a sharing violation, or multiple devices are matching the identification criteria. The post will guide you on how you can resolve this problem with simple steps.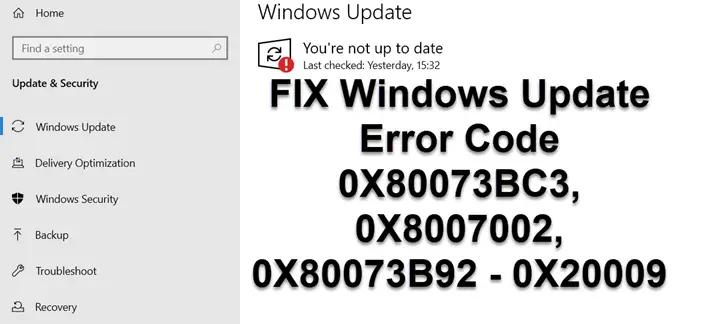 Windows Update Errors 0X80073BC3, 0X8007002, 0X80073B92 – 0X20009
According to Microsoft, the error occurs when the update detects multiple system partitions during partition analysis and validation. If you have installed a new system drive but keep the previous system device connected, it will result in a conflict. Assuming you still need the drive, you will need to either disconnect or disable the system partition causing the problem.
You can choose to disable or disconnect the drive in two ways.
1] Disconnect the Drive
While the best way to do this is to physically remove the drive. Most of the BIOS and UEFI allows you to disable it if you cannot do remove it temporarily. Reboot the computer, boot into the BIOS, and then locate the section where the hardware is listed. Once you locate the drives, use the keyboard to disable or enable it.
Reboot the computer again, and try updating the system. Since the second system partition is not available anymore, the update should complete.
2] Delete the second System Drive
Windows 10 Disk partition manager offers tools to delete, create, and merge system partitions. You can use it to delete the unused system partition and then create new ones as your need. Once done, try updating again, and Windows Update should not be a problem, this time.
I hope you were able to resolve the Windows Update Error Code 0X80073BC3, 0X8007002, 0X80073B92 – 0X20009. If yu need more help, refer this Windows Updates troubleshooting guide.