Windows Server 2016 is the latest version of Microsoft's server operating system. Being developed in line with Windows 10, it is now available for all. Along with this news, Microsoft has also delineated how Windows Server 2016 will be serviced going forward. In earlier versions of Windows Server, it was serviced and supported with a "5+5" model meaning that there will be 5 years of mainstream support and 5 years of extended support. This continues with Windows Server 2016 as well, the only difference being the nomenclature. Customers who choose to install full Windows Server 2016 with a Desktop GUI or Server Core will maintain the same servicing experience which will be known as Long Term Servicing Branch (LTSB).
Windows Server 2016 Editions, Features, Guides, Tuning Tips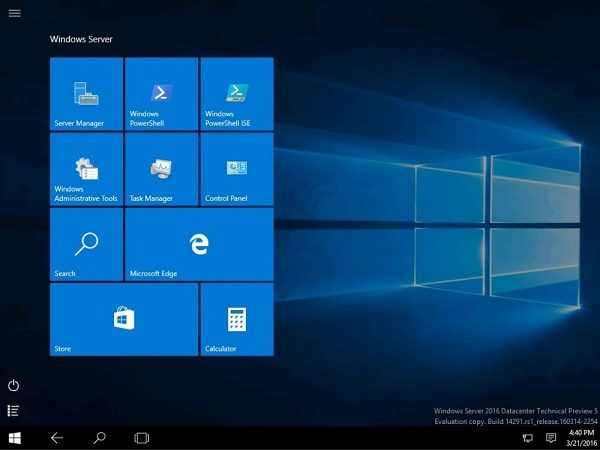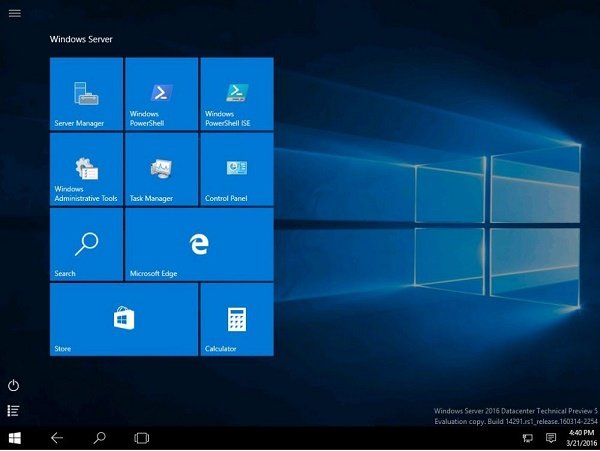 Windows Server 2016 Editions
Windows Server comes in 3 main editions:
Datacenter Edition: Donning all the basic capabilities of Windows Server, this edition will provide substantial efficacy to the Organization with a requirement for unlimited virtualization coupled with robust new features.
Standard Edition: Quintessential for Organization with a need for limited virtualization, this model brings forth a general purpose yet a sturdy Server Operating System.
Essentials: Targeted for smaller Organization comprising no more than 50 users, this edition provides limited capabilities as per your requirement.
Windows Server 2016 MultiPoint Premium Server, Windows Storage Server 2016 and Microsoft Hyper-V Server 2016 are the other editions.
Windows Server 2016 Pricing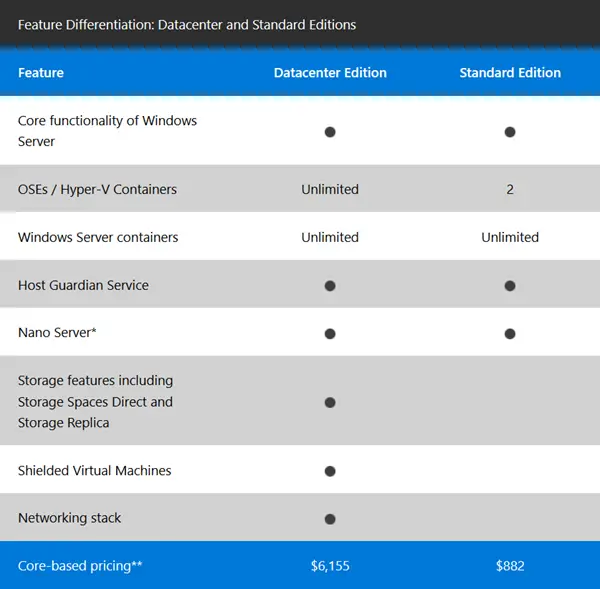 You can find more details regarding the relevant pricing, etc, at Microsoft.
New Servicing option for Nano Servers
With Windows Server 2016, Microsoft has introduced new Nano Server installation option which will impart an active servicing model similar to the Windows 10 experience. With this option, while taking advantage of rapid Cloud revolution, Microsoft targets the customers who wish to innovate more frequently. Nano server installations will be updated two to three times in a year with the Current Branch for Business (CBB) releases, providing new features and functionalities to better support the Cloud movement.
It is also important to note that the new updates will not be pushed automatically to your Nano Server systems. Server Administrators will be provided with an option to manually trigger the update as per their wish. However, customers won't be able to stretch behind more than 2 Nano Server CBB releases, because Nano Server will be updated on a more frequent basis than standard LTSB installation options. With every CBB release, its second immediate predecessor will no longer be serviceable. For example, when the 4th release comes out and you happen to be on 2nd release, you will have to update to the latest one.
With the world moving fast in terms of technology, Cloud Computing is becoming essential. With Windows Server 2016, Microsoft is offering a cloud-ready OS with added layers of security and Azure-inspired innovation for cloud-native applications.
Download free Windows Server 2016 eBook, White paper, PDF, Documents, Resources
Microsoft and its partners have made available for download a bunch of resources for Windows Server 2016, that can help you get the best out of this Server operating system. Windows Server 2016 is the next version of Microsoft's server operating system, being developed in line with Windows 10.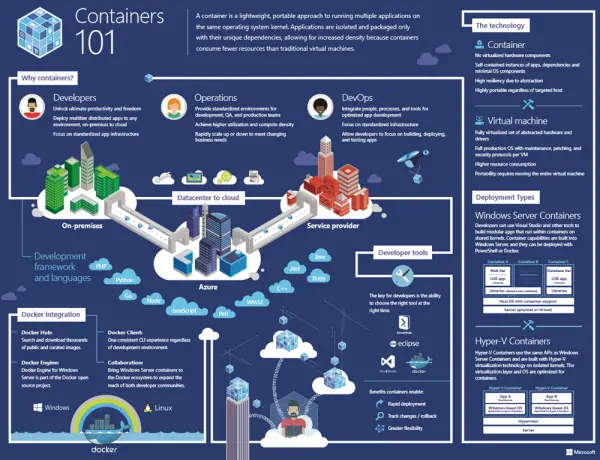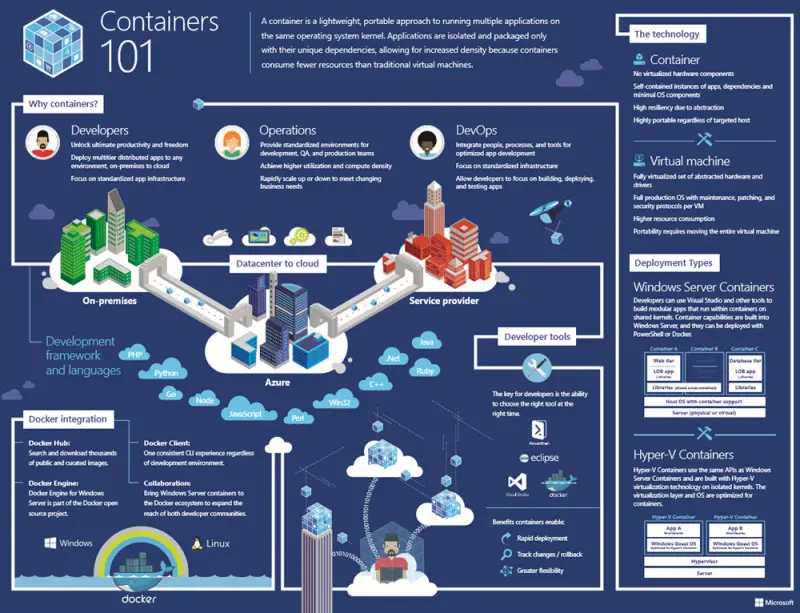 Windows Server 2016 eBook, White paper, etc.
All of these are available as free downloads from Microsoft.
1] The Introducing Windows Server 2016 eBook is available as a free download from the the Windows Server team. It introduces the new features and capabilities of Windows Server 2016, along with insights on how the new operating system can meet the requirements of your business.
Read: Windows Server 2016 Editions, Pricing, Availability, Features.
2] The Windows 10 and Windows Server 2016 security auditing and monitoring reference paper offers detailed descriptions for the advanced security audit policies that are included with Windows Server 2016. Click here to download the paper.
3] Download this PDF Introduction to Windows Server 2016 Nano Server from Lenovo.
4] Windows Server Containers that are used to create a highly responsive Windows Server environment, supporting to accelerate the DevOps process to build and deploy modern applications.  Download the Containers PDF poster by clicking here and learn more about it.
5] Microsoft has introduced a new security feature in Windows Server 2016 to help protect access to data by enabling encryption of Virtual Machines. Download the Hyper-V Shielded Virtual Machines Compliance white paper by clicking here to learn more about it. This paper discusses ways on how this new VM Encryption feature.
6] Multiple components including hardware security features are used to ensure Hyper-V hosts are healthy. Download the Shielded Virtual Machine infographic to learn more.
7] This is a useful link – Automating Nano Server deployment on Dell PowerEdge Servers.
8] Privileged Access Identity is the main target for attackers that want to gain control over an organization. Microsoft provides a set of solutions via Microsoft Identity Manager 2016 and Windows Management Framework 5.0. The Privileged Identity Management Compliance PDF white paper discusses these new privilege access management solutions. Get it here.
9] All You Need to Know About Microsoft Windows Nano Server from Veeam. Nano Server is a headless, 64-bit only deployment option for Windows Server 2016.
10] Get this Whitepaper on Automating Windows Server 2016 Deployment by CISCO by clicking here.
11] Learn about what's new in Windows Server 2016 here at MVA. Watch the video.
Download the ultimate guide to Windows Server 2016 from Microsoft
If you are looking for an ultimate guide to Windows Server 2016, then you don't need to search on the internet or buy any book. Microsoft has recently published two highly useful guides to Windows Server 2016, which will help you understand even the smallest nuances of Windows Server 2016.
These are the two free e-book guides published by Microsoft Press:
Introducing Windows Server 2016
The Ultimate Guide to Windows Server 2016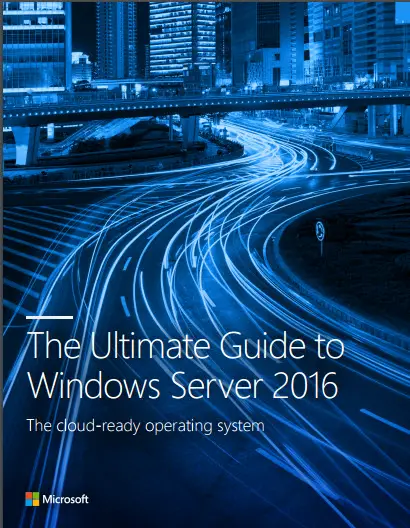 Here is a summary of these two guides and their contents.
As the name suggests, the first guide, i.e. Introducing Windows Server 2016 is about the basics of Windows Server 2016. The e-book is written by John McCabe, who works as the senior premier field engineer at Microsoft. There are five chapters included in this e-book. These include:
Introduction to Microsoft Windows Server 2016
Software-defined datacenter
Application platform
Security and identity
Systems management
So, if you wish to clear the basic concepts of Windows Server 2016, this introductory guide to Windows Server 2016 will help you.
The second useful and free e-book published by Microsoft Press is The Ultimate Guide to Windows Server 2016. This e-book is more concise than the introductory guide to Windows Server 2016. Hence, you can quickly go through its various sections and know about Windows Server 2016. That's why it is called the 'Ultimate Guide' to this latest cloud-ready operating system from Microsoft.
It is important to know why organizations should choose Windows Server 2016, as their operating system. As mentioned in the e-book, protection at the identity, OS, and virtualization layers in Windows Server 2016 help disrupt standard attacker toolkits and isolate vulnerable targets, making the server OS an active participant in its own defense. The guide to Windows Server 2016 explains in detail how Windows Server 2016 helps organizations set up various security practices, such as protecting admin credentials.
The e-book also explains how an organization can move to software-defined infrastructure. Most of the organizations wish to move to the cloud. That's because it is easy and fast to use the cloud to scale up and down to meet business needs. Since Windows Server 2016 was built on Microsoft's cloud service Azure was designed, Microsoft can better help customers benefit from some of the same cloud efficiencies in their own data centers.
The Ultimate Guide to Windows Server 2016 also lists down the benefits of adapting to Windows Server 2016. These include:
Resilient compute
Affordable high-performance storage
Azure-Inspired Networking
Easy management and automation
Windows Server 2016 helps developing apps faster and more securely. Besides, it also offers a secure fabric to protect virtual machines. Windows Server 2016 ships with agile technologies for building cloud-native applications and Microservices architectures. Thus, you will come to know various advantages and uses of Windows Server 2016 through this ultimate guide.
Download the introductory as well as the ultimate guide to Windows Server 2016 here from Microsoft. It includes an 18-page overview and 180-page deep-dive.
Windows Server 2016 Performance Tuning Tips Guide
Microsoft has released its Windows Server 2016 Performance Tuning Guide. This is a comprehensive guide that provides a collection of technical articles with directions for IT professionals responsible for deploying, operating and tuning Windows Server 2016 across the most common server workloads.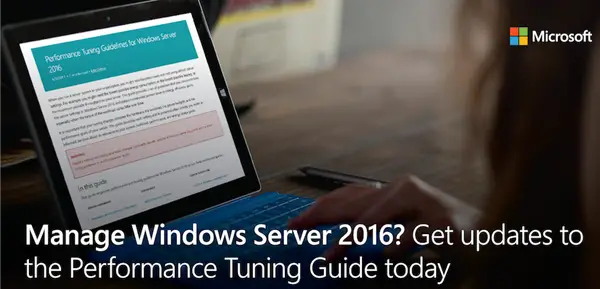 The Windows Server Performance Tuning Guide is a critical piece of documentation produced by Microsoft to ensure that the engineers in the field (PFEs, CSS, and others) have the canonical information required to tune and optimize the OS.
Windows Server 2016 Performance Tuning Tips
It is important that the tuning changes are made by considering the hardware, the power budgets, the workload, and the performance goals of the server. The guide explains each setting and its potential effect to help engineers make an informed decision about its relevance to the system, workload, performance, and energy usage goals.
Microsoft has defined the Windows Server 2016 performance and tuning tips across three different tuning categories:
Server hardware and power tuning
Server role
Server sub-system tuning
Let's understand the importance of considering these tips
Server Hardware Tuning
Selecting proper hardware is necessary to meet your expected performance and power goals. Hardware blockages often limit the effectiveness of software tuning. This section provides tips for hardware to ensure a good foundation for the role that a server will play.
Hardware Performance Considerations – Processor, cache, memory, a peripheral bus, disk, network and storage adapter all play an important role in your server's performance. Hence it is important to consider all the recommendations to remove performance bottlenecks that might obstruct the server's performance.
Hardware Power Considerations – It is very important to identify the increasing importance of energy efficiency in enterprise and data center environments. To achieve the correct balance between high-performance and low-energy usage one needs to carefully select server components. Microsoft lists guidelines for power characteristics and capabilities of server hardware components.
Server Role Tuning
The guide is very helpful for those who deploy roles like –
Active Directory
Hyper-V Servers
File Servers
Remote Desktop Servers
Web Servers
Windows Server Containers
Server Subsystem Tuning
Cache and Memory Management – Troubleshoot issues in cache and memory manager performance and check out cache manager and memory manager improvements in Windows Server 2016.
Software-Defined Networking – A combination of a Network Controller, Hyper-V Hosts, Software Load Balancer Gateways and HNV Gateways makes the software-defined networking (SDN) in Windows Server 2016. The recommendations are available for the fine-tuning of each of these components.
Storage Spaces Direct – Tweak Storage Spaces to get the best performance.
The complete documentation on Performance Tuning Guidelines for Windows Server 2016 can be found on docs.microsoft.com.