Windows Server 2016 is the latest version of Microsoft's server operating system. Being developed in line with Windows 10, its first technical preview came out in October 2014 and will be available for all soon. Along with this news, Microsoft has also delineated how Windows Server 2016 will be serviced going forward. In earlier versions of Windows Server, it was serviced and supported with a "5+5" model meaning that there will be 5 years of mainstream support and 5 years of extended support. This continues with Windows Server 2016 as well, the only difference being the nomenclature. Customers who choose to install full Windows Server 2016 with a Desktop GUI or Server Core will maintain the same servicing experience which will be known as Long Term Servicing Branch (LTSB).
Windows Server 2016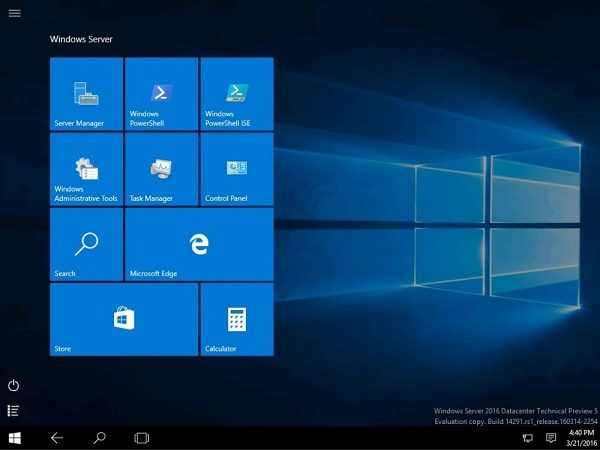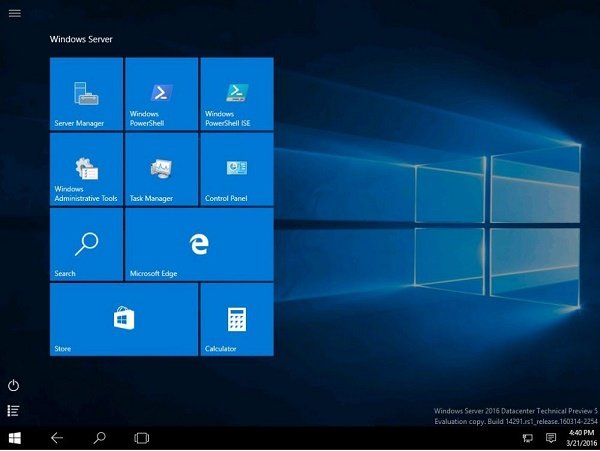 Windows Server 2016 Editions
Windows Server comes in 3 main editions:
Datacenter Edition: Donning all the basic capabilities of Windows Server, this edition will provide substantial efficacy to the Organization with a requirement for unlimited virtualization coupled with robust new features.
Standard Edition: Quintessential for Organization with a need for limited virtualization, this model brings forth a general purpose yet a sturdy Server Operating System.
Essentials: Targeted for smaller Organization comprising no more than 50 users, this edition provides limited capabilities as per your requirement.
Windows Server 2016 MultiPoint Premium Server, Windows Storage Server 2016 and Microsoft Hyper-V Server 2016 are the other editions.
Windows Server 2016 Pricing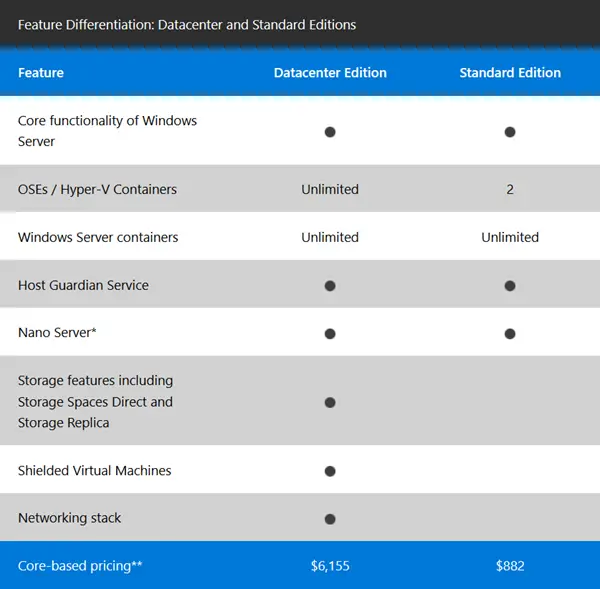 You can find more details regarding the relevant pricing, etc, at Microsoft.
New Servicing option for Nano Servers
With Windows Server 2016, Microsoft has introduced new Nano Server installation option which will impart an active servicing model similar to the Windows 10 experience. With this option, while taking advantage of rapid Cloud revolution, Microsoft targets the customers who wish to innovate more frequently. Nano server installations will be updated two to three times in a year with the Current Branch for Business (CBB) releases, providing new features and functionalities to better support the Cloud movement.
It is also important to note that the new updates will not be pushed automatically to your Nano Server systems. Server Administrators will be provided with an option to manually trigger the update as per their wish. However, customers won't be able to stretch behind more than 2 Nano Server CBB releases, because Nano Server will be updated on more frequent basis than standard LTSB installation options. With every CBB release, it's second immediate predecessor will no longer be serviceable. For example, when 4th release comes out and you happen to be on 2nd release, you will have to update to the latest one.
With the world moving fast in terms of technology, Cloud Computing is becoming an essential. With Windows Server 2016, Microsoft is offering a cloud-ready OS with added layers of security and Azure-inspired innovation for the cloud-native applications.
Take a look at these free Windows Server 2016 eBook, Whitepaper, PDF, Documents, Resources. You may want to also download the ultimate guide to Windows Server 2016. See this post for some interesting Windows Server 2016 Performance Tuning Tips.
More news to follow regarding Windows Server 2016 at Ignite Conference. Stay tuned.