Microsoft made an announcement in one of their blog posts that Microsoft Identity Manager (MIM) has been commercially released. If you are hearing Microsoft Identity Manager for the first time, it is an exclusive identity management product designed to work with Azure-based services from Microsoft. Essentially it prepares Active Directory identities for synchronization with Azure Active Directory, helps you to reset passwords with the help of Azure Multi-Factor Authentication, and provides dynamic groups with approvals along with redesigned certificate management options.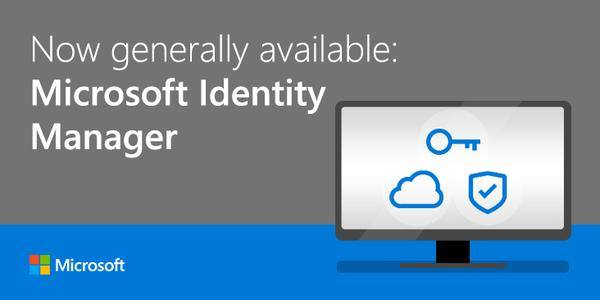 Along with the above said features, MIM adds great value in enhancing the security as it comes with capabilities like hybrid reporting and privileged access management to protect accounts of administrators as well as adds support for any new security protocols.
Microsoft Identity Manager
Microsoft Identity Manager is the successor product to Forefront Identity Manager and supports identity and access management for premises-based computing environments, this version has exclusive support for Windows 10 clients. Although Microsoft Identity Manager 2016 is now generally made available, Microsoft plans to release an add-on deployment pack in the next 90 days which helps automate the preparation of the privileged identity management environment said the Microsoft Active Directory team in one of their blog posts.
Benefits of using Microsoft Identity Manager
Here are some of the benefits which Microsoft Identity Manager 2016 has to offer:
Common identity
With automated workflows, business rules, and seamless integration with heterogeneous platforms across the cloud and datacenter, it simplifies the identity lifecycle management. Making use of one single interface which it offers, one could automate the identity and group provisioning based on business policy and implement workflow-driven provisioning. With the help of Visual Studio and .NET development environments, you could Extend MIM to support new scenarios and use cases.
Enable users
MIM acts as a one-stop interface by allowing users to self-remediate identity issues which include functions like group membership, resetting smart cards, and passwords, there by delivering increased productivity and satisfaction.
Protect data
The role mining tools helps you to discover and map permissions across many systems to individual. Use these role mining tools to also explore permission sets for users across the enterprise which could later be modeled and applied centrally. The in-depth auditing and reporting features provide increased visibility into compliance and the security state of systems across the organization.
Unify access
The concept of unifying access is all about reducing the number of usernames and passwords which are needed to log in. Groups could automatically update their membership, this ensures only people with the right access can use the right resources.
Microsoft Identity Manager features
To get started and to better understand this product, it is important to know how Microsoft Identity Manager works.
Connect
You can start by connecting Active Directory identities to different locations like directories, databases, and applications.
Exchange
You can enjoy the privilege of exchanging identities among these locations, tuning them up if needed.
Self-service
You can enable password, group as well as certificate management for your users with simple self-service that uses strong security.
Share
Make use of Azure Active Directory Connect in order to sync identities from Active Directory to Azure Active Directory which helps deliver SaaS app single sign-on and self-service in the cloud.
How to Buy Microsoft Identity Manager
A Client Access License (CAL) is required for each user whose identity is managed as this product is licensed on a per-user basis. Also, a Windows Server license with active Software Assurance is required to use Microsoft Identity Manager 2016's server software as a Windows Server add-on.
Microsoft Enterprise Mobility Suite's Azure Active Directory Premium includes Microsoft Identity Manager 2016 which makes it the most cost-effective way to acquire all of the included cloud services: Azure Active Directory Premium, Azure Rights Management, and Intune.
More details on Microsoft Identity Manager can be found here. You can try the 180-day evaluation copy of Microsoft Identity Manager if your PC meets the system requirements specified in the product.