Windows 10offers a Sandbox feature that offers a disposable virtualized desktop environment where a user can run temporary commands and actions.  It is powered by the Hyper-V virtualization platform. That said, if you are getting an error code 0x80070569 when you launch Sandbox, then this post will help you resolve the problem.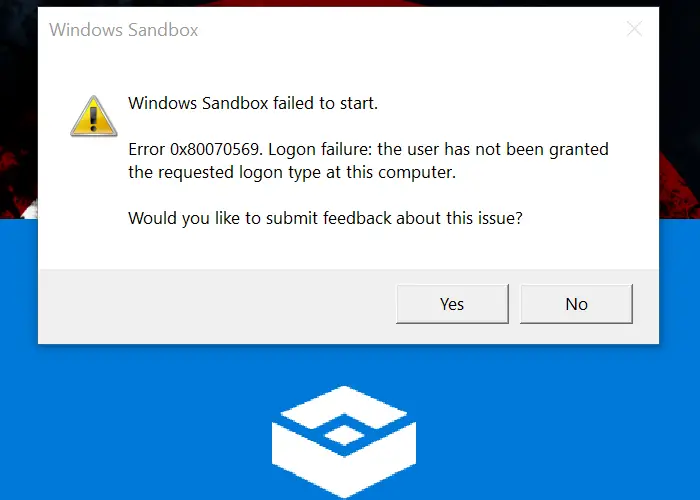 Fix Sandbox Error 0x80070569, Logon failure
The error can carry additional warning such as "Logon failure: the user has not been granted the requested logon type at this computer." or  "Application Guard has stopped working. Please try to open your work again." when you launch Windows Defender Application Guard (WDAG).
The error is related to the permission of the user, and that should be fixed.
1] Update Group Policy for Domain Computer or Add again
If the computer is connected to a domain, then the chances are the Hyper-V computer has lost or has an incomplete connection to the domain, It can be because of credentials mismatch.  If that's not the case, then it could be because of error in inherited GPO Policy.
Update Group Policy
A domain administrator can use the Group Policy Management feature from the Server Manager console and install the correct group policy to the computer. Then he will have to make sure to edit the policy to include NT Virtual Machine\Virtual Machines in the entries for Log on as a Service. Done that close the policy editor, and use 'gpupdate /force' command on the Hyper-V host computer to refresh policy.
Remove/Add computer to Domain again
A domain administrator can remove and add the computer again to the domain. It will make sure to refresh everything, and the permissions, including credentials, are verified and correct.
Related read: Windows Sandbox not loading, opening or working.
2] Restart Windows Services Associated with Windows Sandbox
Open Services snap-in by typing services.msc in the Run prompt (Win + R), and then press the enter key. Find the following services, and right-click and then choose Start or Restart the service.
Network Virtualization Service
Virtual Disk
Hyper-V Virtual Machine Manager
Hyper-V Host Compute Service
Container Manager Services

Application Guard Container Service 

Remote Procedure Call (RDC)
Make sure not to change the startup type, and leave as default as Windows Policies mostly manage them.
I hope the post was easy to follow, and you were able to resolve the Windows Sandbox failed to start 0x80070569 error.
If nothing else works out, and your computer is part of a domain, it would be best to connect with your IT admin to resolve the issue further.