Windows Run Dialog is an easy way to open programs if you are familiar with it. It gives you a shortcut method to open things. But its alternatives like Executor or Windows Run-Command make things even easier and handy. Windows Run-Command is a free alternative to the stock Windows Run Dialog. It comes with some extra bunch of features, which are very useful and handy.
Windows Run-Command is a Run replacement tool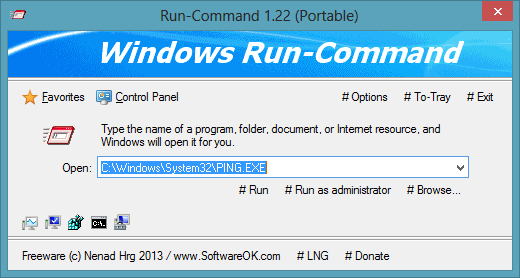 A number of improvements and extra features can be noticed in this tiny application. There are five default shortcuts to the programs that we generally open using run commands. Those five shortcuts are:
Taskmanager.exe
Sysdm.cpl
Regedit.exe
Cmd.exe
Compmgmt.msc
The program allows you to open the application using Run commands and moreover, it also allows you to open them as an administrator. This feature is very useful sometimes. You can even browse for an executable file and run it from this tiny application itself. You can also add favorites; it just works like bookmarks in an internet browser. You can add, modify or delete favorites at any time. You can even create folders under favorites.
You can always hide the dialog box by simply clicking on 'Hide' under the options menu. You can even choose the startup nature of the program from there itself. You can choose whether the program should run hidden or minimized to tray. You can even add a control panel menu to the program so that you can have quick access to control panel items.
If you've hidden the dialog box and want to call it again, you can simply press the hotkey (Default is 'Left Windows Key' + 'R') – but you can modify it according to your needs. The hotkey feature seems very handy and it really is. There is also a shortcut to minimize the program to tray, and an exit shortcut has also been provided.
This is a useful and must-have application. Available in both portable and setup versions, this has a size of around 50 KBs for the 32-bit operating system. If you are a power-user who frequently uses the built-in Run utility, you will find that the Windows Run-Command is a good freeware alternative. It performs its tasks very well.
Click here to download Windows Run-Command.
That's all! Hope this app is handy for you.
What is Run command in Windows 11/10?
The Run command or Run prompt or Run dialog is an interface that allows users to use various commands on Windows PC. Whether you want to open the Command Prompt, check ping status, open the Network Connections panel, or anything else, you can use the Run command or prompt to get it done. For your information, it is available on almost any version of Windows, including Windows 11/10.
How do I use the Run command in Windows 11/10?
To use the Run command on Windows 11/10 PC, you need to open it first. There are multiple ways to open the Run dialog on a Windows computer. However, the easiest method is to use the keyboard shortcut, which is Win+R. Alternatively, you can search for run in the Taskbar search box and click on the individual search result.