We are pleased to release the Windows Feeds gadget. This desktop/sidebar gadget displays the RSS Feeds of The Windows Blog and The Windows Club.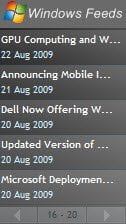 Windows Feeds gadget
Subscribing to these two feeds should be good enough to keep you in touch with the latest in the world of Windows. Now with this gadget sitting on your desktop, you can remain up to date easily.
This basic gadget has been developed by TWCF Member & Windows enthusiast Omkar for Windows Club and we are pleased to release it.
The gadget is programmed to refresh every 1 hour. You always have the option of subscribing to Windows Club  RSS Feeds directly too.
How To Build Your Own Windows Gadget may interest some of you.
You may want to check out our other freeware releases:
FixWin | Fix IE | Fix MSE | Fix WU | Windows Access Panel | Ultimate Windows Tweaker | Fix WMP | Handy Shortcuts | CleanDesktop | Quick Restore Maker | Windows 7 Start Button Changer |  GodMode Creator