If you have been a long time Windows user, especially from the days of Windows XP and Windows 7, the name Windows Experience Pack may sound familiar. Announced in 2010, it allowed you to create a theme, apply a static picture to Live messenger, and so on. It was about UI customization. So why are we talking about it now? The feature or product is making it back to Windows 11/10 but in a different way. In this post, we will try to explain what is the Windows Feature Experience Pack in Windows 11/10.
Windows Feature Experience Pack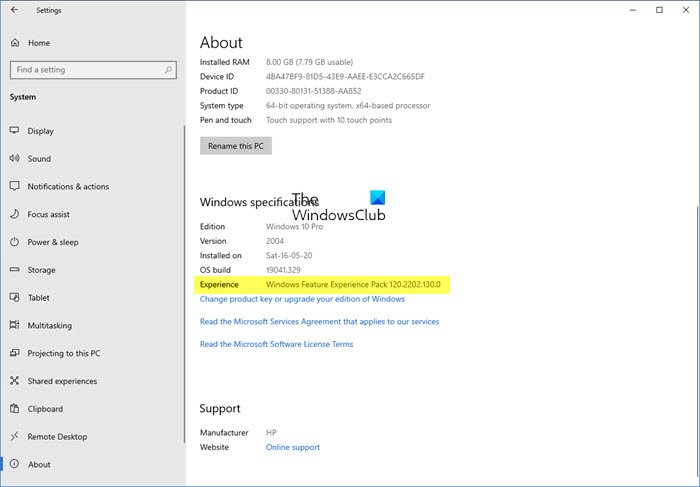 Listed as critical to Windows functionality, the pack started becoming available from Windows 10 v2004 from the Microsoft Store. However, it is in very early stages., and while you can download it on an earlier version of Windows, it doesn't show anything. We reported about it in December when Windows 10 Dev Teams split into Core OS & Shell Experience team.
Right now, the UI update and Core Update go hand in hand. However, now that the team is split, additional user interface changes may get rolled out with Windows 10 Feature Experience Pack. It is listed as one Feature on Demand for Windows 10 and Windows Server along with IE 11, Notepad, Paint, PowerShell, Print Management Console, and more. It can be easily noticed in the Abut section of the computer, which upgraded to 2004.
While Microsoft has not clarified anything about it, but what looks like is going to be a way to roll out an update for parts of the user interface. Since its a pack, we should see more apps and features made available. For example, it may become possible to choose not to install some core features like Xbox and Xbox Game bar as I do not use it at all. Similarly, other features that are not used by consumers like the snipping tool could be skipped. Another wild idea going around is a customizable shell for the core OS, depending on the device and the consumers.
They are going to back the list of available Features on Demand listed by Microsoft. Notes, Paint, PowerShell, Steps Recorder are now part of the Windows Feature Experience Pack. They come preinstalled in Windows 10 2004, but what they are pointing to is Windows will become more customizable, and features may not be forced anymore. If you like an application which was always the core of the OS, it can be removed.
Microsoft has also listed FOD's which are not preinstalled. It includes Accessibility, Developer Mode, Graphics Tools, IrDA, Microsoft WebDriver, Networking tools, and more.
We should get to know more details about the Windows Features Experience Pack this year as more and more packages start appearing in the app. Whether the feature will stay or Microsoft will stick to two updates every year, which for many could be overwhelming, we will know in time.
Now read:  How to customize the Windows 10 Start Menu and Taskbar.