If you are a Windows 11/10 user, I am sure you must have experienced this sometime. If you see the Notifications Area, you might have seen the Windows Defender icon display an exclamation mark in a yellow triangle with an overlay saying Actions recommended OR a red shield with an x mark, with Actions needed hover text written.

Windows Security says Actions Recommended but nothing!
This is fine if there is something you need to do. But what if when you open Windows Defender Security Center, you find that all is green and No action is needed anywhere.
While there is no specific solution for this issue, there are a few things you could try to make the icon display normally without the icon overlay.
Remove Windows Defender Action Needed or Recommended notification
If you see Windows Defender Action Needed message with a red shield, or Action Recommended icon, with an exclamation mark in a yellow triangle, that won't go away; even when everything is fine, maybe some these suggestions will help you.
1] Restart File Explorer and see if it clears up the icon.
2] Open Windows Defender Security Center and then click on Virus & threat protection update and click on the Check for Updates button.
3] Open Windows Defender Security Center and run a Quick Scan
4] Open Windows Defender Security Center and check if your Firewall is On.
5] In the Dashboard, in case under No actions needed, you see a Dismiss message, click on it to make it dissappear.
Does this help?
6] Open Settings > System and click on Notifications and Actions. Under Show notifications for these apps, turn Off and then On the setting for Windows Defender.
7] Check if you need to Block files in your network, or maybe Remove file from the blocked list.
8] Check if you need to Quarantine files or maybe remove quarantined files.
9] Check the Activity details in Windows Action Center. Is there something you need to do?
10] Open Task Manager, right-click on the Windows Defender notifications icon and select End Task.
On computer restart, see if the mark goes away.
11] Clear the Tray notification cache. In this case, you can carry out a registry tweak or use freeware to delete or clear past icons in the tray notification area. To do this, open regedit and navigate to the following registry key:
HKEY_CURRENT_USER\Software\Classes\Local Settings\Software\Microsoft\Windows\CurrentVersion\TrayNotify
Delete the 'Icon Streams' and 'Past Icons Stream' values.
Alternatively, you can also use freeware CCleaner to do the job easily.
Restart your explorer.exe process or your Windows computer.
12] If you have enabled Ransomware Protection in Windows Defender, you will have to be connected to OneDrive. So please do the needful and see if that helps you. Or you may turn off Ransomware Protection.
Under Ransomware Protection heading check if you see an '!' mark. If visible, you might notice a message reading "Set up OneDrive for file recovery option in case of a ransomware attack".
You may either set up Ransomware Protection using OneDrive or simply dismiss this OneDrive suggestion, and you should see the problem is gone and no more appearing in Windows 11/10.
13] Using the Start search, open Windows Defender Firewall with Advanced Security.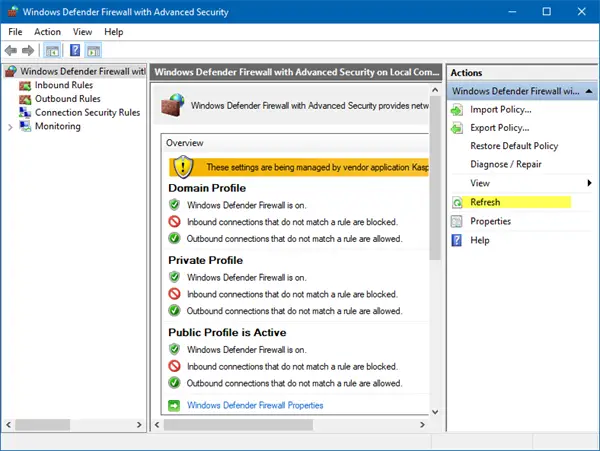 On the right side click on Refresh and see if that works.
14] Open Windows Defender Security Center. Under Account protection heading, sign in using Microsoft Account, enter the details and exit.
See if this resolves your problem.
15] If nothing helps, you may consider the option to disable the Windows Defender Security Center icon in Windows Taskbar.
Let us know if anything here helped you or if you have any other suggestions to offer.
Related read: Disable Windows Defender Summary Notifications.