At times, you may find that the Windows Cumulative Update is not installing or fails to install. This may happen on your Windows 10 or Windows 11 PC. In this post, we have taken the example of the KB2919355 package. But this process is indicative and can be used for other cumulative update packages for Windows 11/10 as well, by making appropriate changes. In this post, we will see some generic and specific ways to try and troubleshoot this problem.
Windows Cumulative Update not installing
First, you need to note down the error code which is shown during the failed installation. Most have been reporting error codes 0x80070020, 0x80073712, 0x80070002, 0x80070003, 0x800F0923, 0x800F0922 and 0x800f081f to Microsoft.
Additional information about Error Code 0x80070020 is as follows:
Dec Error Code: -2147024864

Error String: STIERR_SHARING_VIOLATION

Error Description: The process cannot access the file because it is being used by another process
Windows Update errors 0x80070020, 0x80073712, 0x80070002, 0x80070003, 0x800F0923, 0x800F0922, 0x800f081
Windows 8.1 Update is shown as Important when you open Windows Update, yet it is unchecked by default. You have to check it in order to install it. Moreover, if you are on a metered network, Windows will not install automatically even if you have Automatic Update turned on. You will have to connect to an un-metered connection or public Wi-Fi connection to install the update.
If this update does not install, you can try these suggestions and see if they help you. But before you begin, it might be a good idea to uninstall any third-party customization software you may have installed, reverse any system changes you may have made – like relocating your user files or user profiles to another drive and disable your security software, temporarily.
Windows 8.1 Update will not install automatically on metered networks. If you have Automatic Update turned on and are on metered connections you may see a notification Windows Update couldn't install the updates automatically. It is recommended that you connect to an un-metered connection or public Wi-Fi connection and then check for and install the Windows 8.1 Update.
Also ensure that the required Servicing Stack is installed on your computer, as it usually is a prerequisite. It should therefore first be installed on your system before your attempt to install any failing cumulative update.
1] Run DISM Scan
If your Windows Update has failed to install, you need to clean up the corrupted installation. To do this, you can make use of the built-in Deployment Image Servicing & Management or DISM.exe tool.
Open command prompt as administrator, type the following and hit Enter:
Dism /Online /Get-Packages
You will get a list of packages. Since KB2919355 has not been successfully installed on your computer, you won't see it, but you can see it installed on my 64-bit system.
If you do see it, then it may mean that it has been installed or that the installation is corrupted. In this case, see if you can uninstall it via the Control Panel > Installed Updates. If you can, then proceed.
What you need to do now is type the following and hit Enter.
DISM /online /remove-package /packagename:Package_for_KB2919355~31bf3856ad364e35~amd64~~6.3.1.14
This was for a 64-bit version of Windows. You have to use the package name for your version of Windows.
Next, type the following and hit Enter:
DISM /online /cleanup-image /startcomponentcleanup
You can read more what StartComponentCleanup does, in this post titled WinSxS folder cleanup.
You could also run the following:
DISM /online /cleanup-Image /restorehealth
/RestoreHealth checks for component store corruption records the corruption to C:\Windows\Logs\CBS\CBS.log and FIXES the corruption using Windows Update.  This operation takes 15 minutes or more depending on the level of corruption. More on this at the post titled Windows Component Store Corrupt.
Restart the computer and try again.
But if think that your Windows Update client is already broken, use a running Windows installation as the repair source, or use a Windows side-by-side folder from a network share or the Windows DVD, as the source of the files. To do this, run the following command instead:
DISM /online /cleanup-image /restorehealth /Source:C:\RepairSource\Windows /LimitAccess
Here replace C:\RepairSource\Windows with the location of your repair source.
2] Use Microsoft Update Catalog website
KB2939087 recommends in case you are unable to install the Update package via Windows Update, then you should download and install the package manually via the Microsoft Update Catalog website.
3] Disable or remove VPN client software
If you have any VPN client software installed, uninstall it, in case you receive Error 8000F0922. Removing the VPN helped solve the problem.
4] Try this Registry fix
This has been known to help for KB3081424, KB3081436, KB3081438 issues.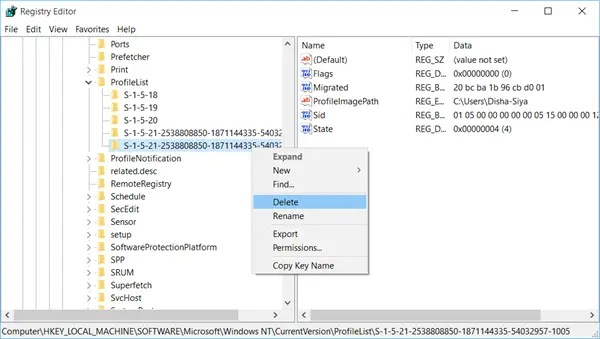 This Answers thread discusses the issues along with a solution that worked for many. So if you are facing this issue, we recommend that you create a system restore point or backup your Windows registry first and then proceed.
But before that, first, you may want to download the Cumulative update from the Microsoft Catalog website and keep it ready.
If it does not, try the following registry manipulation. Type regedit in taskbar search and hit Enter to open the Registry Editor. Navigate to the following key:
HKEY_LOCAL_MACHINE\SOFTWARE\Microsoft\Windows NT\CurrentVersion\ProfileList
The one's with the short names are required by the system. Check the SID's with the long names, and delete the profiles which don't exist on your PC. Make sure you do not delete the admin profile. To delete, right-click on it and click on Delete.
Restart your computer and see if it has helped you.
Microsoft has now also released an automated solution to help fix this problem. Use this Fix It to resolve error 0x80004005 for KB3081424.
5] Other specific fixes
If you are unable to uninstall IIS after you install KB2919355 on Windows 8.1 or Windows Server 2012 R2, download and

install the patch

from KB2957390.
If you receive Error 0x80071a91 when installing update KB2919355 in Windows see KB2956283.
Earlier, after you installed this update on a computer, the computer could stop scanning against Windows Server Update Services 3.0 Service Pack 2 (WSUS 3.0 SP2 or WSUS 3.2)-based servers that were configured to use HTTPS and do not have TLS 1.2 enabled. This issue was resolved in the latest version of this update that is released on April 15, 2014. If you still face this issue, see KB2959977.
6]  More resources
7] Use Reset This PC or Cloud Reset
You may use Reset This PC or Cloud Reset options and then try to install it. The chances of success will be very high.
Hope something helps!