Windows 8.1 adds a multitude of functionalities that just allow users to pick the right version that suits their needs. Microsoft, a few days ago just put up a comparison chart that lists all the features along with new tools available in different versions of Windows 8.1 (Windows RT 8.1, Windows 8.1 Edition, Windows 8.1 Pro Edition, and Windows 8.1 Enterprise Edition). Windows RT 8.1 is only for OEMs, so you won't be able to install it on your own.
Windows 8.1 Editions Comparison Chart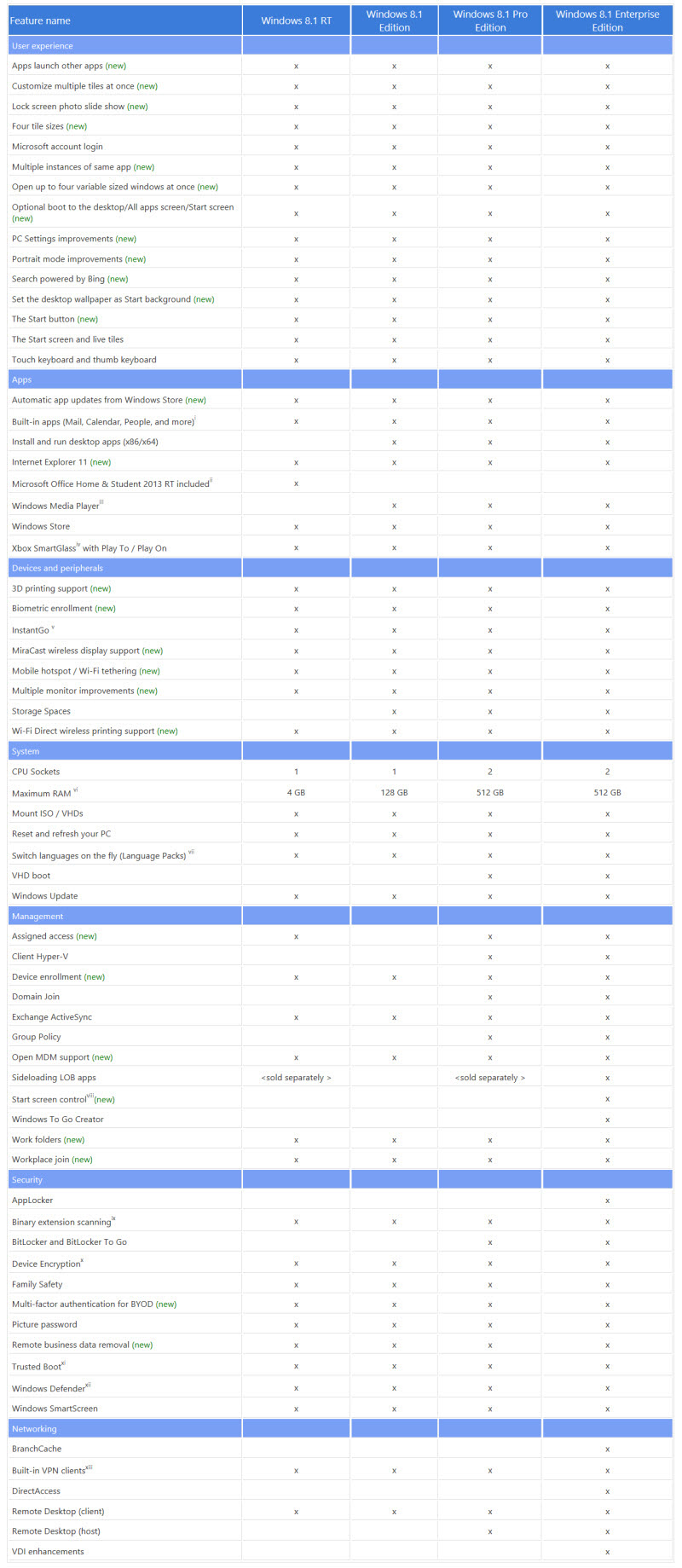 Click on the image to see the full enlarged image. Looking at the chart, you can find two things or possibly the features retained in all the upcoming versions of Windows 8.1 include,
The Start button
Internet Explorer 11
The powerful Start screen control tool has however been made available only to Enterprise users. Apart from that 3D printing support, WiFi tethering and bio-metric enrollment improvements can be seen in all versions of Microsoft's first major Windows 8 makeover.
With the makeover, printer connection options have been simplified. New wireless-enabled printing capabilities are being added natively to Windows 8.1. For instance, Wi-Fi Direct allows a user to connect a mobile device to a Wi-Fi Direct printer to leverage ad-hoc printing without the need for drivers or an existing wireless network.
On the other hand, Assigned Access, available in Windows 8.1 RT, Pro, and Enterprise allows admins to lock down an 8.1-powered device to function within a single, designated Windows Store app.
The main highlight of Windows 8.1, in my opinion, is its security. It's probably the most secure OS ever made. As Microsoft claims, Windows 8 is six times safer than Windows and 21 times safer than Windows XP from a virus infection perspective. Even popular AV vendors acknowledge the fact.
At one point in time, there was a large exodus from Windows to Mac due to security. Things have changed a lot since then. Now, many researchers on the basis of their findings claim that Mac is less secure as the OS has nothing inherently more secure about it (Remember the malware that hit OS X sometime earlier). Windows 8.1 appears like a much better replacement than Mac.
Difference between Windows 8.1 and Windows 8.1 Pro and Windows 8.1 Enterprise
Windows 8.1 is the basic edition for home users. Nevertheless, it includes some tweaks to the interface with upgraded apps that users appreciate. Most importantly, It includes the core feature set that home users require, but does not include key business features, such as support for the ability to join domains, process Group Policy, and so on.
On the other hand, Windows 8.1 Pro as the name suggests targets small- and medium-sized businesses. It provides enhanced features that help to easily connect to company networks, access files on the go, encrypt data, and more.
Lastly, Windows 8.1 Enterprise edition available through Windows Software Assurance includes all the capabilities of Windows 8.1 Pro, plus premium features such as Windows To Go, DirectAccess, BranchCache, AppLocker, Virtual Desktop Infrastructure (VDI), and Windows 8 app deployment.
Windows 8.1 RT
Windows RT devices unlike other devices run on low-powered ARM processors, helping OEMs build devices with long battery lives and new form factors (e.g., thin, light, and sleek devices). The devices are pre-configured systems but still capable of offering the same consistent and great Windows experience that Windows 8 provides. It can run apps from the Windows Store, but cannot install desktop apps on them. One great feature about them is that Windows 8.1 RT devices are compatible with most peripherals.
In all, the different versions of Windows 8.1 attempt to make the OS (Windows 8.1) a bit more acceptable to the taste or mind of the users.