Microsoft is prepping Windows 10 v1909 November Update, aka 19H2, and to those who are not tracking, it doesn't roll out any major feature. For a change, Microsoft decided to step back and made sure to fix all problems with Windows 10 v1903 in this update and also roll out a handful of business features. That said, there is nothing to be disappointed about because we have a bunch of feature tweaks that improve user experience.
Windows 10 v1909 new features
One of the best parts of this update is that unlike October 2018 update, this feature has been thoroughly tested in the Release Preview ring. That gave it a long time to get tested. Let's check out the new features in Windows 10 v1909.
Create Calendar events right from the taskbar
Improved Notification Configuration
File Explorer integrates with Windows Search
Lock Screen and Third-party digital assistant integration
Windows 10 can favor the faster cores in your processor
Other small and under the hood improvements
Narrator & Fn Keys
Enterprise Changes.
Windows 10 v1909 is going to be an optional update. This means that you will get a notification about it, and you can choose to skip it. However, if your version of Windows 10 is nearing the end of the cycle, you will be updated to 1909.
1] Create Calendar events right from the taskbar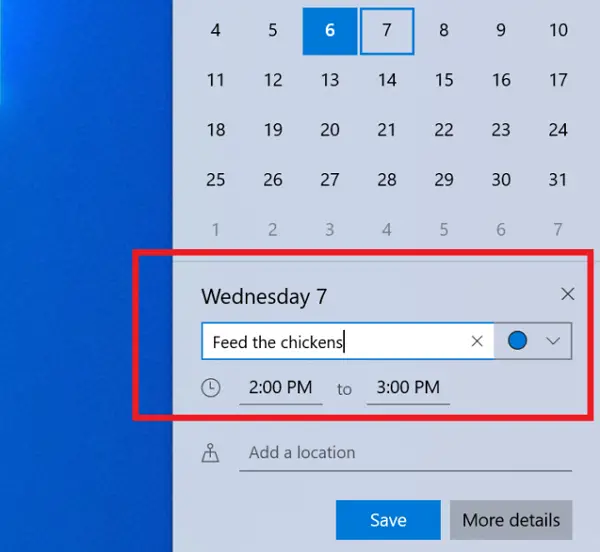 Finally, opening the calendar from the System tray is getting to some good use.  You can quickly create an activity in your calendar from the Calendar flyout in the Taskbar.
Double click on the date to open the Calendar
Then select the date and time at the lower right corner
Start typing in the text box, and you'll now see inline options to set a time and location.
2] Improved Notification Configuration
If there are too many notifications in your Action Center, and you are missing out on the important one, here is an improved visual in Windows 10 November 2019 updated. Windows Notification system lets you choose between banner and notification in the Action Center. The former pops as a standard notification fly-in at the corner. The later is the one which we usually see in the Action Center.
When configuring the options, you get a preview for both of them, and you can choose either both of one of the notification style.
If you hover on any of them, you can click on the small settings icon and turn off all the notifications you get from the sender. There is a Manage notifications link on top of the Action Center, which can take you to the Notifications and actions settings page directly.
Additionally, the notification are sorted by the most recent app instead of sorted by name. There is a setting available for that in the Notifications & actions page.
3] File Explorer integrates with Windows Search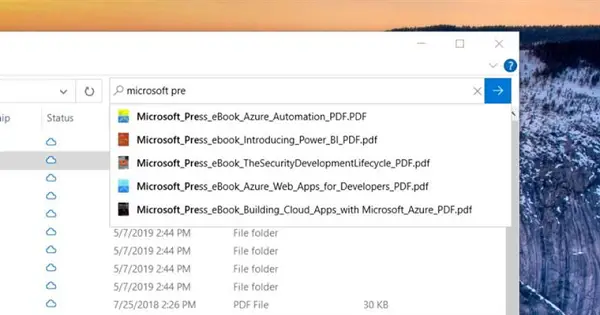 I am sure you know about File Indexing. It is separate from Windows Search. While Windows Search comes into action when you search on the taskbar, File Explorer is when you search using Explorer search box. Starting with Windows 1909, both of them are integrated. What's the advantage?
According to Microsoft, it is faster, and can also show online content from your OneDrive cloud storage.
4] Lock Screen and Third-party digital assistant integration
Windows has API in place, which will let other digital assistants integrate with Windows Lock Screen. You will be able to invoke Alexa or Google Assistant, even when your PC is locked. As of now, Alexa works, but for Google, it might take some time to appear.
5] Windows 10 can favor the faster cores in your processor
There is not a lot of details available on how exactly it will work, but according to Microsoft, Windows can support the quicker cores in your processor. Processor are multi-cores, and if OEM has designed such that some cores are faster than others, then Windows will give them the tough job first.
As of now, AMD Ryzen processors have been optimized for it; In future, we should see the Intel processor also utilizing this. It is the primary reason why Microsoft claims that Windows 10 19H2 will deliver better battery life and power efficiency improvements for PCs with particular processors.
6] Hovering over Start menu is now useful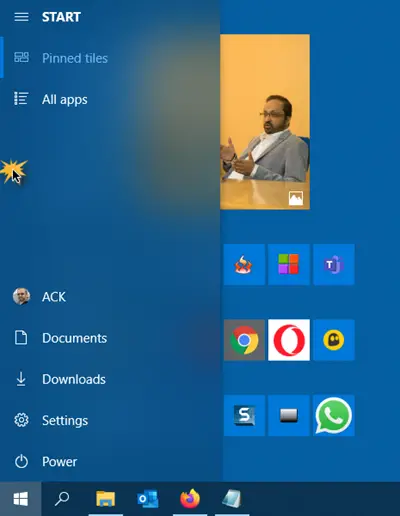 When you mouse hover on the left side of the Start Menu, the navigation pane from the Start Menu expands.
7] Narrator & Fn Keys
The narrator and other assistive technologies can read and learn where the FN key is on keyboards and whether it's locked or unlocked
8] Enterprise Changes
Microsoft has listed down all the Enterprise changes here. Below is the gist of these changes:
Windows containers require a matched host and container version.
Key-rolling or Key-rotation feature enables secure rolling of Recovery passwords on MDM managed AAD devices. This feature will help prevent accidental recovery password disclosure as part of manual BitLocker drive unlock by users.
They have enabled Windows Defender Credential Guard for ARM64 devices for additional protection against credential theft for enterprises deploying ARM64 devices in their organizations.
Enterprise can supplement the Windows 10 in S Mode policy to allow traditional Win32 (desktop) apps from Microsoft Intune.
Additional debugging capabilities for newer Intel processors.
These are the significant changes for Windows 10 v1909 November 2019 Feature Update. Let me know if missed something.