Microsoft yesterday released a Cumulative Update for Windows 10 (KB3081424). The Update was meant to fix several issues pertaining to VPN, Cortana, AMD Drivers, Explorer stability and other fixes to enhance the stability of the operating system. While the update process has gone smoothly for most, some are reporting that KB3081424 failed to install, with the installation process halting at a particular point and system rebooting half-way in some cases.
UPDATE: This may also help you if KB3081436, KB3081438 fail to install.
Windows 10 Cumulative Update KB3081424, KB3081436, KB3081438 fails to install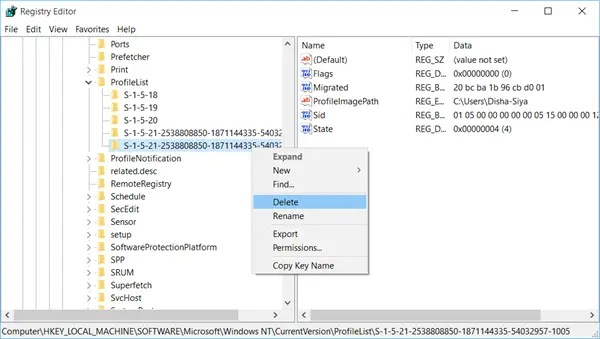 This Answers thread discusses the issues along with a solution which worked for many. So if you are facing this issue, we recommend that you create a system restore point or backup your Windows registry first and then proceed.
But before that, first, you may want to download KB3081424 directly and try to install it. If it works, wonderful! Direct download links: 64-bit | 32-bit.
If it does not, try the following registry manipulation. Type regedit in taskbar search and hit Enter to open the Registry Editor. Navigate to the following key:
HKEY_LOCAL_MACHINE\SOFTWARE\Microsoft\Windows NT\CurrentVersion\ProfileList
The one's with the short names are required by the system. Check the SID's with the long names, and delete the profiles which don't exist on your PC. Make sure you do not delete the admin profile. To delete, right-click on it and click on Delete.
Restart your computer and see if it has helped you.
If yes, great, if not, you may if you wish, restore your computer back to the created system restore point.
More suggestions here: 
NOTE: Microsoft has now also released an automated solution to help fix this problem. Use this Fix It to resolve error 0x80004005 for KB3081424.
UPDATE: Please also read the comments first.