If Windows does not remember the window position and size then this post will help you fix the problem. Although Windows 11/10 should open the closed windows in their last used size and position, sometimes a malfunction can cause it to behave otherwise. To fix that problem, we have listed some workarounds as well as third-party solutions so that you can get the job done.
Windows does not remember window position and size
To fix the issue of your Windows 11 or Windows 10 not remembering the window position and size, follow these suggestions to reset window size and position:
Use Shift key while closing a window
Restore previous folder windows at logon
For multiple monitors
Use Cascade windows
Use AquaSnap
Use WinSize2
Let's delve into these suggestions.
1] Use Shift key while closing a window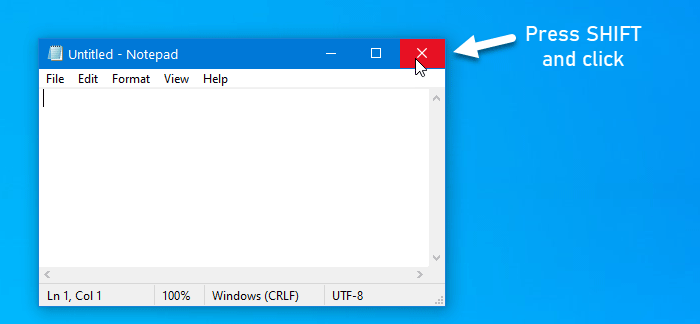 If Windows 11/10 doesn't remember the last used window position and size, you can use this little trick.
In general, users click on the close button to close a window.
However, you need to click on that same button when holding the Shift key on your keyboard. This trick helps Windows OS to remember the window position.
2] Restore previous folder windows at logon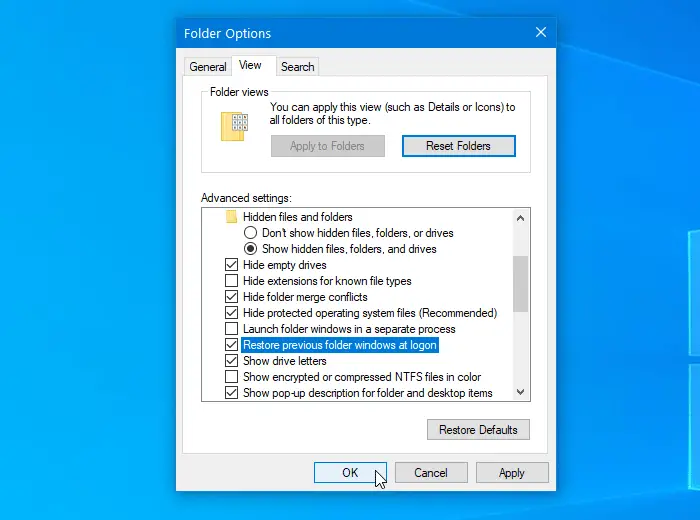 If you close a window and restart your computer, it doesn't open that window after login. Windows 11/10 does offer that functionality, and you should enable it so that you can get the same windows back at the same position and size even after log out.
For that, you need to open Folder Options. After that, switch to the View tab, make a tick in the Restore previous folder windows at logon checkbox, and click the OK button.
Read: Windows forgets Folder View settings.
3] For multiple monitors

If you use multiple monitors, do the following:
Open Windows Settings
Open the System section
Click the Display tab,
Locate Multiple displays section on the right side
Select Remember window locations based on monitor connection.
4] Use Cascade windows
Windows allows users to set the same size for all opened windows.
To do so, you need to use the Cascade windows option. For getting started, right-click on the Taskbar, and select Cascade windows option.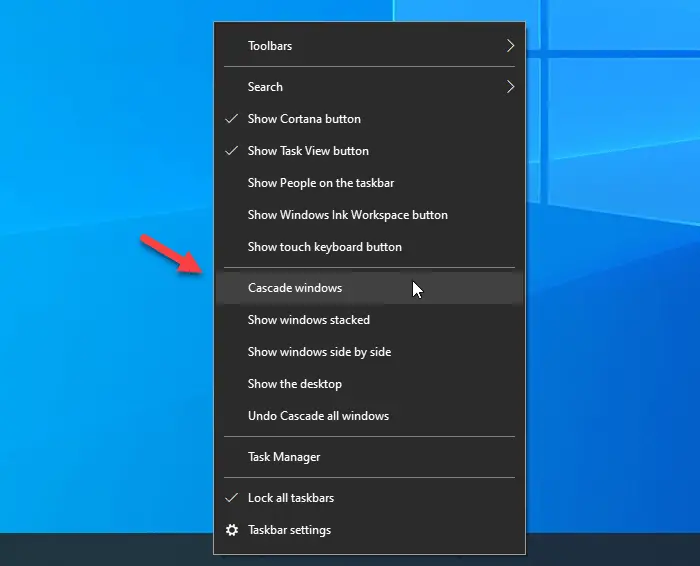 Now you can close all windows and try to open them to check if the problem is solved or not.
5] Use AquaSnap
AquaSnap, is a handy tool that allows users to set custom window size and position so that users can utilize that profile when required. If your system does not respond positively even after applying any of the solutions mentioned above, you could install AquaSnap on your computer. It allows users to extend the Aero Snap, Aero Shake, etc.
Read: Files showing wrong dates in Explorer.
6] Use WinSize2
WinSize32 helps you create a profile for various monitors, and you can include different window positions, sizes, and so on. Whenever you switch from one profile to another, the size and position of the windows change automatically. It is a free tool, and you can download it from sourceforge.net.
I hope these solutions help!