If you still not seeing the latest Windows 10 feature update not being offered to your computer, maybe you want to check if there are any notifications for you. The download and installation may get held up if there is anything that you need to do manually. Once such notification that I recently saw was:
Before installing Windows 10 Creators Update you will need to review your privacy settings
If you see this notification, click on it and the following window will open.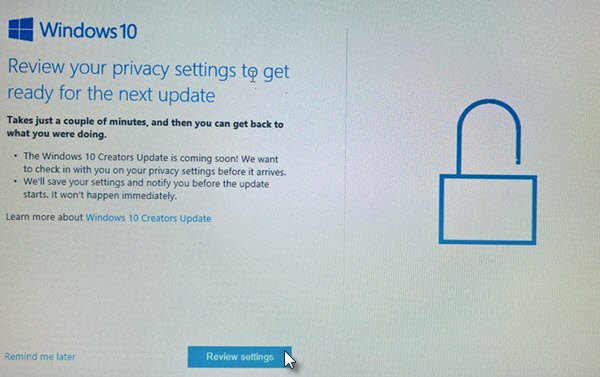 Here you need to review your Windows 10 Privacy Settings, and it is important that you do so if you want to proceed with the installation of Windows 10 Creators Update. Clicking on Review Settings button will open the following window.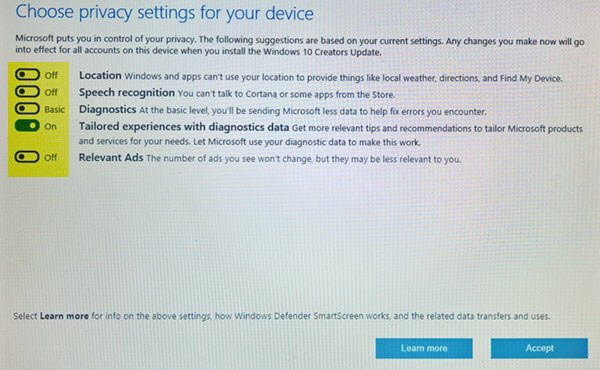 Here you need to set your preferences for the following settings:
Location
Speech recognition
Diagnostics
Tailored experiences with diagnostics data
Relevant ads.
Once you have set your preferences, click on Accept and the following panel will open.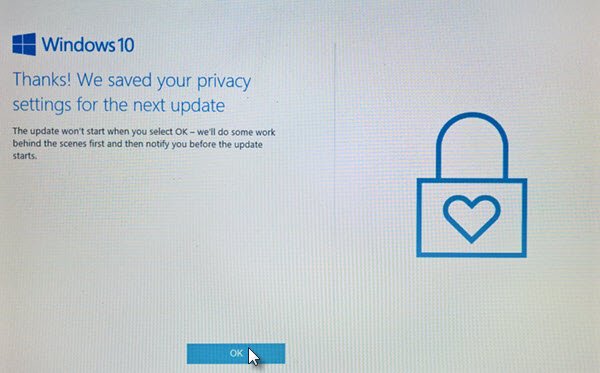 Click OK to exit.
Now open Settings > Update & Security > Windows Update > Check for updates.
Windows 10 will check for updates and download and install Windows 10 Creators Update on your computer.
Windows 10 Creators Update brings several new features to your computer, and while the upgrade process has gone smoothly for most, to avoid Windows 10 Creators Update problems, you may want to take a few precautions first before starting the download & upgrade process. Once your upgrade goes through smoothly, there are a few things you might want to check.