Nirsoft creates many simple yet useful network-related tools. We already covered some popular ones in the past such as Browsing HistoryView, OperaPassView and many more. Today, we review WifiInfoView, yet another free and useful tool that was recently released by Nirsoft.
WifiInfoView scans the wireless networks in your area and displays extensive information about them. This includes:
Network Name (SSID)
MAC Address
PHY Type (802.11g or 802.11n)
RSSI
Signal Quality
Frequency
Channel Number
Maximum Speed
Company Name
Router Model
Router Name (Only for routers that provide this information), and more…
In a way, it also helps you find the Wi-Fi network with the best speed around you, so you do not have to suffer from a weak wireless signal.
How to use WifiInfoView
Like most Nirsoft tools, WifiInfoView does not require installation of any type. Also, it can be copied to a USB drive or stored in the cloud so that it can be run on virtually any computer from anywhere. Once you have downloaded the tool and extracted its contents, run the program.
The main interface of the program is automatically displayed with a list of all wireless networks that it finds in your proximity. By default, WifiInfoView displays full detail mode SSID along with the signal strength in green bars, the MAC Address, the PHY Type (a/b/g/n), signal quality, frequency (2 GHz or 5 GHz), Channel, and Company (D-Link, Netgear, etc).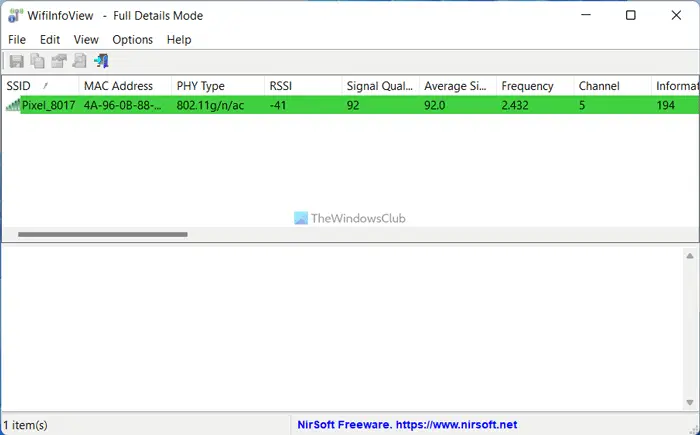 It is possible to change the view mode of the Nirsoft application among 5 different categories. You can select the Channel Summary, Companies Summary modes too. For instance, Companies Summary Mode groups the items based on the manufacturer's name. Channel Summary Mode, on the other hand, sorts out the networks according to the number of channels they support.
You can change the update rate from Options > Update Rate menu.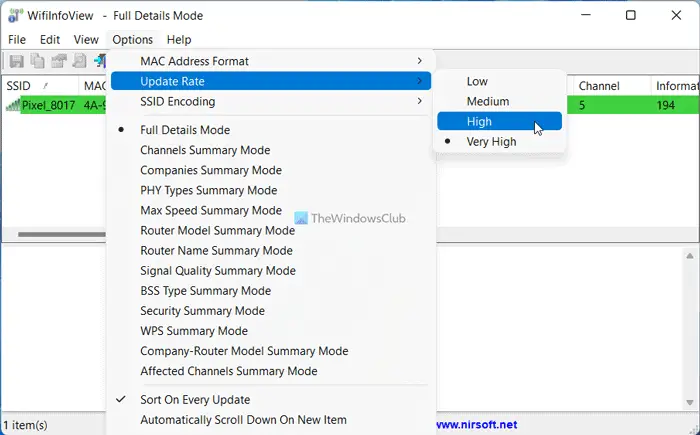 When you select one or more wireless networks in the upper pane, the lower pane displays the Wi-Fi information elements of the selected items, in hexadecimal format.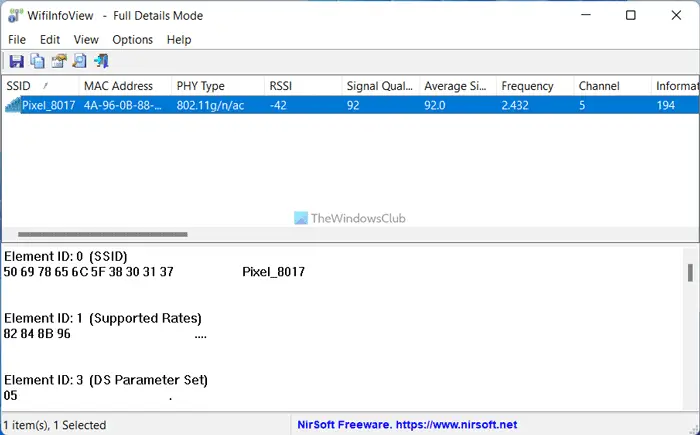 WifiInfoView is compatible with Windows 11/10/8/7/Vista.
You can download this tool from nirsoft.net.
How can I see all devices connected to my Wi-Fi?
It is very easy to see all the devices connected to your Wi-Fi network. Although different Wi-Fi routers have this option in different locations, you can find the same in almost all modern-day routers. It is possible to find the device name, MAC address, uptime information, etc.
How do I find known Wi-Fi networks?
To find known Wi-Fi networks in Windows 11, you can use the Windows Settings panel. As it stores all the information about the previously connected Wi-Fi networks, you can find them together in one place. For that, you need to press Win+I to open Windows Settings and go to Network & internet > Wi-Fi. Here you can find an option called Manage known networks. You need to click on this option.