I clicked my mouse 360 times and keyboard 488 times in the last 16 minutes. Yes, I can now track my computer activity, including pressed keys, mouse clicks, used bandwidth, and the uptime of the system with WhatPulse.
How to track your Computer Activity & Usage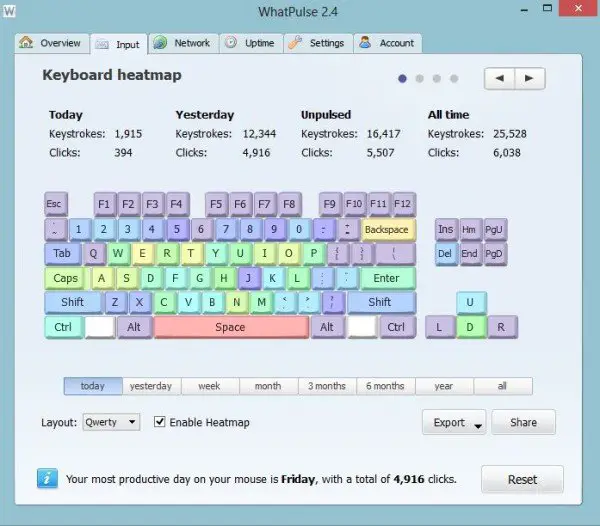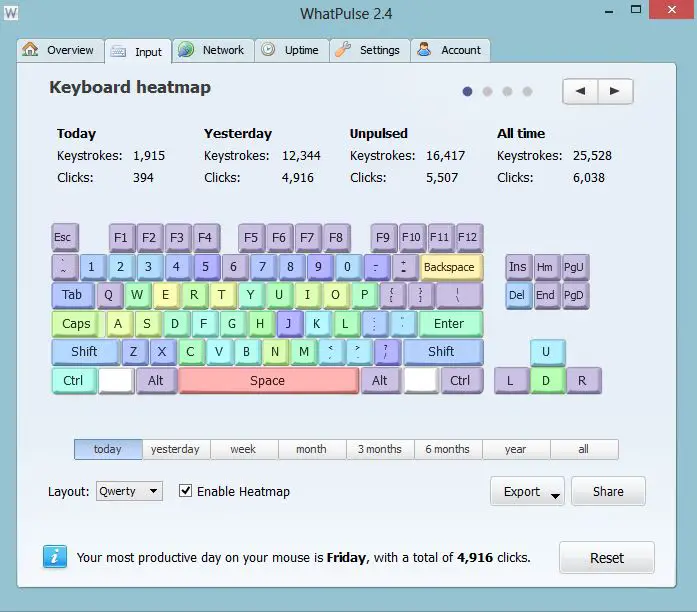 WhatPulse is a free key-counting program that monitors your computer uptime, the number of keystrokes, bandwidth usage, and the number of mouse clicks over a period of time. WhatPulse counts the number of times keys are pressed, unlike the other keyloggers which record the order in which the keys are pressed. It also keeps the detailed history of how much work you've done on your computer system in a set period of time.
WhatPulse is a simple program and gets downloaded and installed in your system in real-time. Just click on the program icon on your desktop and see how many clicks you can make in a period of time.
What does WhatPulse do?
WhatPulse for Windows do the following:
Tracks your clicks – The software maps your mouse usage and keeps a track of your clicks. It also lets you export or shares your mouse heat map.
Tracks Internet Usage – The program tracks your internet usage and also discovers what all applications are making your internet slow by eating up your bandwidth.
Tracks your keyboard usage – It maps your keyboard usage and keeps a track of the keys you have pressed. You can also share your heat map with your friends using WhatPulse.
Monitors your network – Checks the application intensity and also monitors your concurrent incoming and outgoing network traffic.
Application Usage- WhatPulse also keeps a track of the most used applications by you.
WhatPulse sends the entire recorded statistics on the website where you can use your stats to analyze your computing life at any time. Furthermore, you can also share these statistics with others.
The 'Settings' option allows you to make the program run at Windows Startup, check for new versions automatically, enable portable mode, hide pop-ups and much more.
I didn't notice any errors while testing the programs and it worked smoothly on my Windows PC,  giving me accurate details about my computing habits. It landed on my system in real-time and didn't affect my system's performance.
Overall WhatPulse is a nice and reliable program that tracks and records the details of your computing habits along with the statistics like IP address, downloading/uploading speed, network interface, the total number of reboot sessions, bandwidth usage, and application usage.
WhatPulse free download
You can download the program here and track your computer activity.