Wi-Fi Direct is nothing new, but more people are finally learning of it and what it can do, and that has a lot to do with the growing device support for the platform. You see, the concept is all about creating a peer-to-peer Wi-Fi connection without the need for a wireless router. You may say this is impossible, but the simple truth is, it's not, and we've been doing it for years. In simple terms, Wi-Fi Direct is a lot like Bluetooth since folks can share files across devices, and even listen to music from supported wireless headphones.
If you have a Roku device in your home right at this moment, then chances are, it supports Wi-Fi Direct right out of the box. Instead of using an IR blaster to communicate with the remote control, Roku relies on Wi-Fi Direct, and it works quite well.
The good news is, the user is not required to enter a Wi-Fi password when its time to have devices communicate with each other. The entire process is automatic, which is one of the reasons many people have no idea they are using Wi-Fi for certain hardware features instead of Bluetooth.
Right now, almost all Windows 10 devices have support for Wi-Fi Direct. You will only require supported third-party hardware to take advantage of what it has to offer. In fact, we believe the first Xbox One controllers could only connect to the system wirelessly via the platform.
Having this feature built into the computer and other types of hardware could make for more affordable products. Instead of having to add a Bluetooth radio, manufacturers could simply take advantage of the Wi-Fi radio for wireless communication.
What is Wi-Fi Direct connection
Wi-Fi Direct connection needs only one device to be compliant with the Wi-Fi Direct devices. For this, Wi-Fi Direct negotiates the link with a Wi-Fi Protected Setup system which assigns each device a limited wireless access point. Wi-Fi Direct enables this device to become an access point and connect with other devices. Other devices can be a tablet or PC or a mobile, even from a different manufacturer. The pairing of other devices with the compliant device can be established by pressing a button on one or all the devices.
The compliant device then creates a new Wi-Fi network that can establish a peer-to-peer connection. The connection enables data transfer between connected devices with minimal setup requirements.
This process provides all the connected devices with standard Wi-Fi protocols without the requirement for cumbersome set-up procedures to interact with each other. These set-up procedures also exclude the need to specify Wi-Fi passphrases.
Wi-Fi Direct comes with the Wi-Fi Alliance which is the global industry association in charge of certifying the Wi-Fi kit. Thus, the technology of Wi-Fi Direct connection is supported by others and doesn't require any special hardware.
It eliminates the requirement for the access point
Wi-Fi Direct connection does not require a wireless access point, thus eliminating the need of a router. It operates like Bluetooth with the only difference between high speed and longer range. Its speed not only enables faster internet browsing but also file transfers. It simultaneously offers to communicate with one or more devices at a higher speed.
The reason Wi-Fi Direct device doesn't require router or other access points is that it forms its ad-hoc networks, as and when required depending upon the availability of the devices.
It eliminates the requirement for an internet connection
Wi-Fi Direct offers Wi-Fi without an active internet connection. With the help of Wi-Fi Direct, you can connect various devices such as the printer, mobile, T.V, and another PC. The connection does not require an active internet. With Wi-Fi Direct it is easy to share images, files, and videos from your mobile to your T.V.
It is a Protected network
Wi-Fi Direct connection uses Wi-Fi Protected Setup and WPA2. As a result, others cannot connect to your network without authorization, and you can prevent unauthorized communications from safeguarding your privacy. While connecting devices to the compliant device can be done securely in numerous ways. Physically, it can be done pressing the button on gadget X and then same on gadget Y, with pin codes and QR codes.
It identifies devices nearby
Wi-Fi Direct offers Wi-Fi Direct Device Discovery and Service discovery. The compliant device can identify other devices. For example, if you want to print and you select the print option, the device that is connected to the printers will be identified by the compliant device.
It is highly important that this process takes place before you get connected as it would ensure efficient utilization of time.
It supports Wi-Fi Radio
Wi-Fi Direct connection is also a part of the standard Wi-Fi radio. It is not required for manufacturers to add extra radios to their devices. Moreover, Wi-Fi Direct can be made compatible backward.
These are the standards used by the platform so far:
Wi-Fi
Wi-Fi Direct Device and Service Discovery
Wi-Fi Protected Setup
WPA2
What are the uses of Wi-Fi Direct thus far
OK, so you might be wondering about the number of things we can do with this. As we've mentioned above, it can be used for sharing files across different devices. For example, sharing a bunch of pictures between two of your Windows 10 laptops, or from your Android phone to your PC.
The problem is, it's not as easy when compared to using Bluetooth, and that's understandable right now. It's still fairly new and has yet to reach maturity. However, we believe Wi-Fi Direct will become very important in the near future.
Yes, its already working, but it's not ye reliable to the point where normal folks can use it without having to call for a specialist like ourselves.
Check if your device is Wi-Fi Direct compatible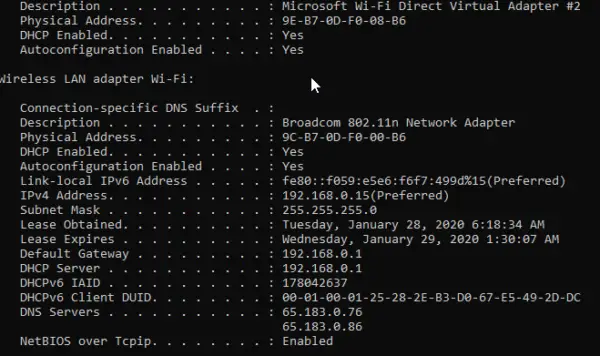 This is super easy. Fire up the Command Prompt in Administrator mode, then type ipconfig /all and hit the Enter key.
Look for Microsoft Wi-Fi Direct Virtual Adapter to confirm the support for Wi-Fi Direct.
Once you know that your PC has the compatible adapter installed, you can set up the Wi-Fi Direct connection on the Windows 10 PC.
How to add a Wi-Fi Direct device on Windows 10
Here are the steps:
Step 1: Go to 'Settings' on your PC or laptop.
Step 2: Go to 'Network & Internet'.
Step 3: In the Network, select the Wi-Fi Direct Option, by clicking it "ON". Your Windows 10 PC will start searching for the available Wi-Fi Direct connection. When the scanning is complete, the name of your Wi-Fi Direct connection will be displayed on the screen. Select the desired Wi-Fi Direct connection.
Step 4: For authorization, the system will ask you for a password. Enter the respective credentials, and your system is all set as a compliant Wi-Fi device. Now you can easily pair other devices to your Windows 10 PC and enjoy the high-speed internet without any wires or router as the access point.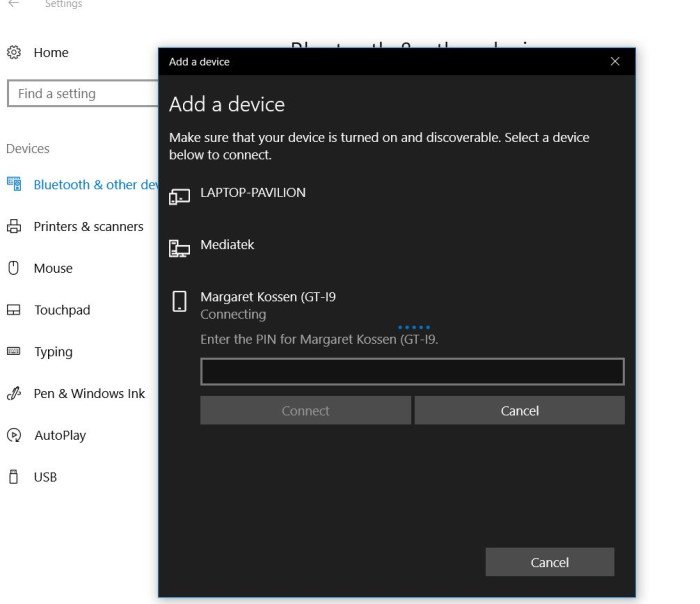 In short, if you want to add a Wi-Fi Direct device to your Windows 10 computer system, then open the Settings app by clicking on the Windows key + I. After that, navigate to Devices > Bluetooth & other devices > Add Bluetooth or other devices.
Finally, select Everything else, then add the device you wish to connect with.
How to pair other devices with Windows 10 PC using Wi-Fi Direct
To pair Windows 10 PC with other compatible devices, go to Settings. Click on the Wi-Fi Direct menu. A drop-down menu under the "Discovered Devices" tab is displayed with the list of all the devices. Select the device you wish to pair with Windows 10 PC and press 'Connect'.
Select the network name you created in the compliant device as a Wi-Fi Direct network and connect to it. Enter the passcode to connect to the network. The network will remain active until you disconnect it or turn off the computer. It will be re-enabled only when done manually. Wi-Fi Direct can be activated on multiple devices at a time by simply selecting all the devices together, and you can form a Wi-Fi Direct group.
That's it.