There are tons of programs available in Windows OS, and while we know some of them, there are few which may sound so different that it may confuse the consumers. One such program is Unsecapp.exe. It's a legit Windows program with an uncommon name, and it's not alone. This post share details about it and if it is safe (which it is)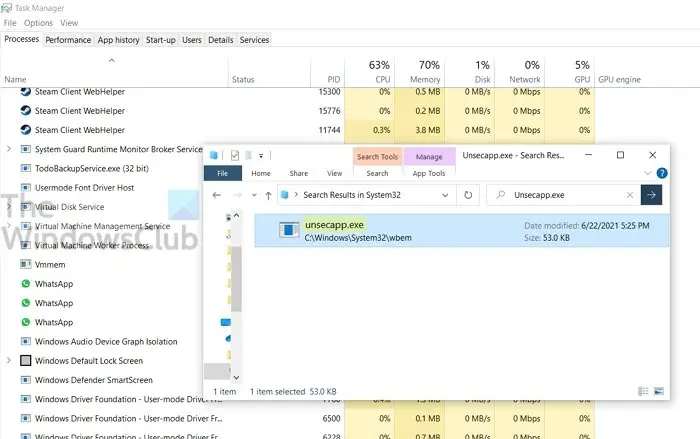 What is Unsecapp.exe
Unsecapp expands as Universal Sink to Receive Callbacks from Applications and is related to Sink to receive asynchronous callbacks for WMI client applications. Without getting into much technicality – it participates in a process where applications receive callbacks and syncs them. It allows the application to work properly and also synchronously.
Where should Unsecapp exe be located?
Like other System DLLs and applications, it is located at C:\Windows\System32\wbem. When in doubt, look for the program in the Task Manager, right-click and open the file location. If it's not the same as mentioned, then it's time to be suspicious.
Why unsecapp.exe starts showing in the Task Manager?
If you are suddenly wondering why the program has started showing all of a sudden, then that's not the case. You may have just noticed it or have started a program that is using it more often than others.
Is Unsecapp.exe safe?
Unsecapp.exe is safe provided it is located in the C:\Windows\System32\wbem folder. If it is not, then it could be malware and you should scan your computer with your antivirus software.  You don't have to worry if all of a sudden you have noticed in your Task Manager. It must have shown up because of a program that needs it, and you don't have to kill it.
If the program appears several times in the Task Manager, then it's not surprising. It would be best not to dig deep into the Task Manager all the time as the programs are invoked when required. However, if Unsecapp.exe takes too many resources, you can kill it and watch what happens next.
Can Unsecapp.exe be malware in disguise?
Any program in Windows can be disguised. The only way to figure out is to scan through another antivirus if whatever is installed doesn't detect anything wrong about it. You can do use any online virus scanner in case of doubt. It is usually located in the System 32\wbem folder, but you may want to get the PC scanned if you see it anywhere else.
Can I delete Unsecapp.exe?
You cannot even if you have an administrator account, and if you attempt to delete it, you will not be allowed. It's a critical system process and, like many other services, runs in the background. That said, while it is possible to disable the service, however, it is not recommended.
What is Sink to Receive?
Unsecapp.exe is also known as the Sink to Recieve program, is part of the Windows operating system. It receives asynchronous callbacks for the WMI client application.
Hope these help clarify your doubts.