Mozilla Firefox has a cool feature, and it is called Tab-to-search. Basically, whenever a user makes an attempt to visit a search engine website via the URL bar, Firefox will autocomplete the action. When this happens, the web browser will give users the ability to select a search engine shortcut.
It's a neat feature, and we like it very much, but chances are not everyone will, so is it possible to turn off this feature? The answer to that question is yes. But before we discuss how to do it, we must first explain a few things.
What is Tab to Search in Firefox
Let us be clear here. This feature is not the same as the ability to search open tabs. Searching open tabs is essential for anyone who tends to have a lot of tabs opened. With this, they can easily find a tab instead of scrolling through.
Now, in terms of the new Tab to Search option, Firefox users can search from a specific search engine in a tab. For example, if your default search engine is DuckDuckGo, but you want to search using Bing without making changes, then Tab to Search is your best bet.
Here is a list of search engines that will work by default:
Google
Amazon
Bing
DuckDuckGo
Wikipedia
How does Tab to Search work in Mozilla Firefox?
You've come this far, and therefore, you are wondering how does this fantastic feature works. Well, it is pretty simple, at least from our point of view. If you want to search using Bing, then type B or Bing in the address bar, and right away, you should see, Search with Bing.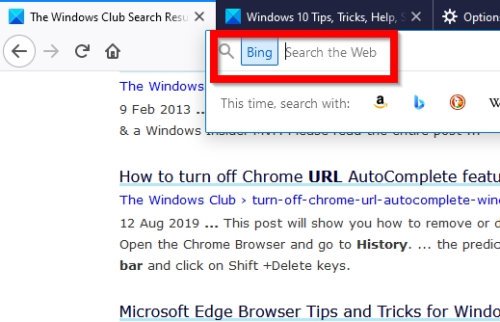 Click on it, then go on ahead and type your search query.
How to turn off Tab to Search in Firefox?
Disabling this feature is not straightforward because the option is not available in the Settings. Users must open about:config to do it, so until Mozilla feels the need to add it to Settings, this is the only way for now.
OK, so type about:config in the address bar, then hit the Enter key. From there, search for Update2, then scroll down until you've seen browser.urlbar.update2.tabToComplete. Double-click it in order to change the value from True to False.
Now, if you do not see browser.urlbar.update2.tabToComplete, then it is up to you to create it. Copy browser.urlbar.update2.tabToComplete and paste it into the search box. select Boolean, then click on the plus sign. Finally, double-click to change the value to False, restart Firefox, and that's it.
That's it.