The developers of Opera web browser have long been releasing new features for users that are not available on competing web browsers. Some features have died, while others have lived on and been adopted by other web browsers. Now, one of the newest features released by Opera is one called My Flow. It is a neat feature that I've come to enjoy using over the past couple of months.
What is My Flow for Opera?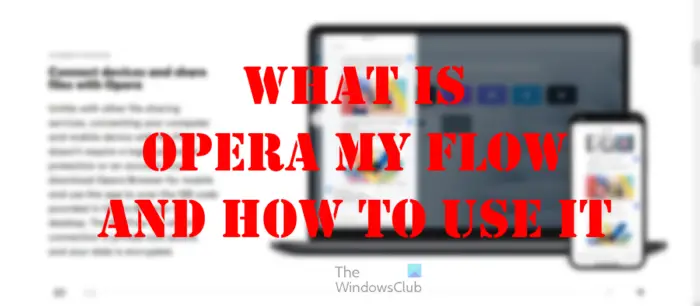 My Flow is a relatively new feature that allows users to share content between any device with Opera installed. For example, if you're on your desktop at night, you can send the URL of the webpage currently being read to your smartphone or tablet for continued reading while in bed. Not only that, but the option is to share any form of files you wish. The entire thing is file sharing made simple, personal, private, and secure because the data is encrypted. And the extra piece of good news is, that this feature is free to use, and we suspect it will stay that way forever.
Getting this feature up and running for Opera is simple. There is nothing to download in the first place because it comes pre-installed, and that's a good thing.
How to use Opera My Flow?
The information below will explain in detail how to effectively set up and use My Flow in the Opera browser:
Launch Opera
Turn on the Sidebar
Connect My Flow with your phone
Clear all content sent through My Flow on Windows
Clear all content sent through My Flow on Mobile.
Open Opera browser on your Windows PC.
Before we can enable My Flow, we must first turn on the left panel sidebar. So, let us look at how to get My Flow ready for use.
To begin, please click on the Easy Setup icon in the top-right section.
From under the Appearance section, please toggle the button next to Show Sidebar.
The sidebar should now appear to the left.
Once the sidebar is up and running, you must locate the My Flow icon. It's the icon in the shape of an arrow, so you shouldn't be able to miss it.
Click on the My Flow icon.
Once the My Flow section expands, click on Connect your phone.
A QR code will make an appearance.
You must now open Opera on your smartphone or tablet.
Navigate to the My Flow section.
From there, ensure the scan feature is ready.
Use the camera on your smart device to scan the QR code on your computer.
My Flow should now be active and ready for use. Test it by sending a simple message and watch as it appears on the other device.
We should point out that it is possible to add multiple devices. Whether it be other computers, smartphones, or tablets.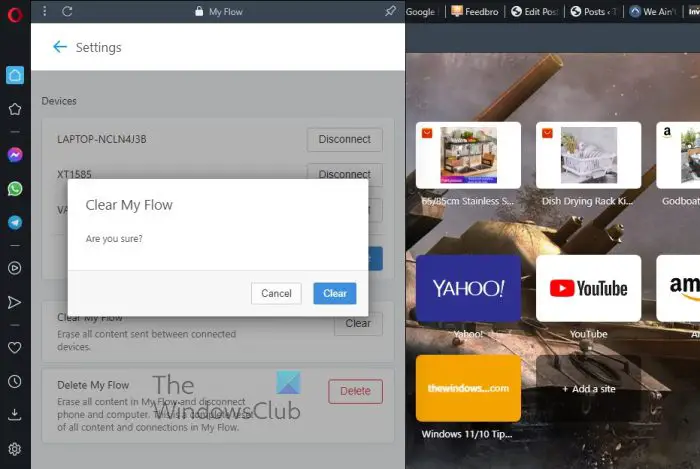 Deleting content from My Flow is easy. Yes, you can delete files and text one by one by clicking on the three-dotted button, then selecting Delete via the context menu, but that takes a lot of time. The best way to remove everything all at once is to follow the steps below:
From your computer, open My Flow.
Next, go ahead and click on the Settings icon at the top right.
Look to the bottom and be sure to select Clear.
Finally, click on Clear again when asked if you're sure about the decision.
All files and text from within the My Flow area will be deleted for good.
In terms of deleting My Flow content via your smartphone or tablet, this is also a simple task.
Open the Opera web browser on your smart device.
Fire up My Flow promptly.
Next, tap the three-dotted button via the top-right.
Finally, all you have to do is tap Clear Content.
Confirm the action taken, and that's it.
All files and text added to My Flow in the past should now be deleted and gone for good.
READ: Opera GX CPU Limiter not working
Does My Flow work in Opera GX?
Yes, the My Flow feature is available in Opera GX, and that shouldn't be a surprise because this version of the Opera browser only differs from the original where gaming features and aesthetics are concerned.
Is Opera My Flow Safe?
According to the folks at Opera, the information sent between devices via My Flow is encrypted, therefore, your connection is both private and secure from prying eyes.
Is the Opera web browser owned by China?
Back in the year 2016, Opera Software was acquired by a consortium of Chinese companies. However, the headquarters of Opera is still based in Norway, and as such, European laws must be adhered to.