NSFW or Not Safe For Work Discord Servers are created to reduce the frequency of inappropriate channels. They are essential to maintain the balance of booming social media platforms such as Discord. The existence of such channels becomes necessary because of the fact that Discord is used by a lot of gamer kids. In this post, we will discuss this topic, see what is NSFW Discord Server and how to block or unblock it.
What is NSFW Discord Server
NSFW is an abbreviation of Not Suitable For Wumpus or Not Suitable For Work. The need for this channel is very important in today's day and age. Because of the fact that we live in the time of the Internet, all sort of information is accessible to anyone at any time. However, there are some contents that should not be accessed by kids or even teenagers.
Discord, in its quest to prevent kids from accessing adult content, labels some of the channels as NSFW. So, users below 18 will not access the channel. If you are a Discord user, you should read the following guides to make sure that you are safe.
Access NSFW Content
Allow or Block NSFW Servers/Channels
Create an NSFW Server
Let us talk about them in detail.
1] Access NSFW Content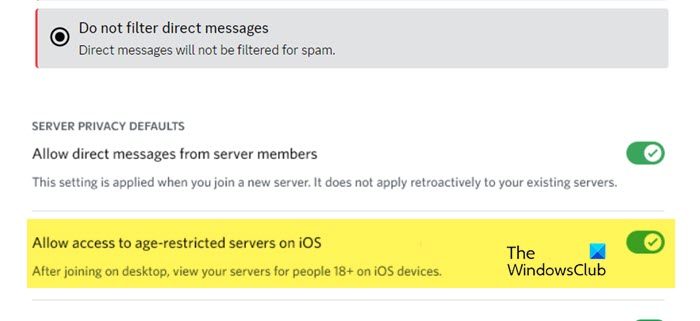 You can only access adult content if you are an adult yourself. This means you should be equal to or above the age of 18. If you are not an adult, you won't be able to access the channels with NSFW tags. However, if you are an adult, you can easily access Discord NSFW channels on your PC, Android phones, or from the website Discord.com. But if you are on an iOS device such as the iPhone or iPad, you need to opt-in for age-restricted content.
Follow the steps mentioned below to allow Discord NSFW Servers and Channels on iPhones and iPads.
Open Discord on your computer.
Click on the gear icon to open the Settings.
Now, go to the Privacy & Safety tab and then click untick the toggle of Allow access to age-restricted content on iOS.
Now, you can close the settings of Discord and access NSFW Servers. In case, you are still unable to access NSFW Servers, log out and log back into your Discord account on your iOS device.
In case you are unable to access NSFW servers even though you are 18, appeal to Discord Support. For that, you need to visit support.discord.com. In the "How can we help?" section, enter Appeals, age update, other questions. You would also require to attach a photo of yourself, an ID card that contains your Date of Birth, and an image of your Discord tag and Username written on a piece of paper.
2] Allow or Block NSFW Servers/Channels
If you are under the age of 18, Discord provides you with an option to disable NSFW content to keep you safe. It is very easy to do the same, all you have to do is make some adjustments to the privacy settings of your Discord and your job will be done. Follow the steps mentioned below to do the same.
Open Discord on your computer.
Go to Settings by clicking on the Gear icon.
Now, navigate to the Privacy & Safety tab and then tick the box next to Keep me safe.
Now, Discord will monitor images and videos sent to you, if they pass its safety policy, they will be allowed. And any explicit content will be blocked.
However, if you are 18+, you won't be able to use this option. In that case, your best bet is to mute the channel. To do the same, just right-click on the server and select Mute Server > Until I turn it back on. Hopefully, this will do the job for you.
3] Create an NSFW Server
Since we have talked a lot about NSFW Servers, it is fitting to understand how can one create such a channel. To create an NSFW Discord Server, follow the steps mentioned below.
Open Discord.
Click on the cog button placed right next to the General section under TEXT CHANNELS.
Enable Age-Restricted Channel and then save the changes you have made.
This means, your new Discord Server does have an age limit, and someone who's underage won't have the privilege to access it.
Note: You can also make an already existing server NSFW just by enabling the Age-Restricted Channel option from its Settings as mentioned above.
That's it!
Read: Discord Channel verification level is too high [Fix]
How do I unblock NSFW servers on Discord?
You will have access to NSFW Servers if you are 18 or above. Now, on most devices, this would easily work, but on iOS devices such as iPhones and iPads, you need to enable access to age-restricted content. If you want to do the same, do check the aforementioned guide.
Read: How to change Font Style on Discord?
Is NSFW on Discord illegal?
NSFW Servers or Channels on Discord are not illegal. NSFW is a tag used by Discord to ensure that no kid or teenager has access to explicit content. However, Discord strictly prohibits content that sexualizes minors and under no circumstances will they allow those content to be shared on their platform.
Also Read: Can't Login to Discord? Fix Discord login problems.