In a bid to stay protected, admins of Discord have installed multiple verification levels on their Discord servers, and that includes two-factor authentication (2FA). Now, when these verification levels are set, the platform may end up showing an error that states Channel verification too high.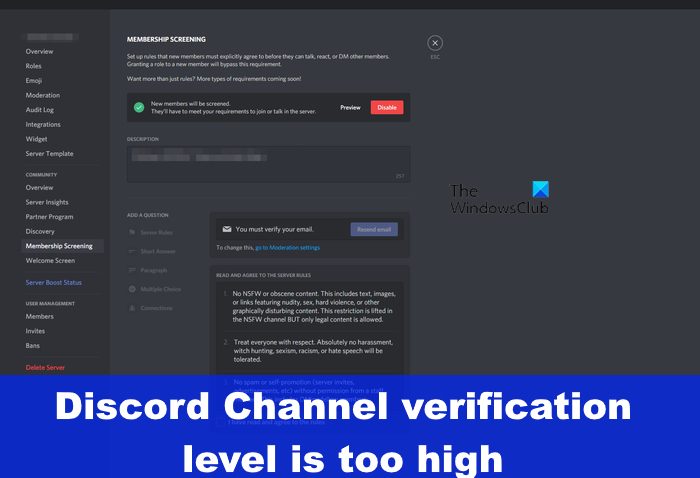 What does Channel verification level too high mean
A verification level on Discord is a security setting users need to meet to send texts on a channel. The reason this feature is enabled is to ensure mass engagement and joining of spam, unwanted, and bot accounts are prevented.
Therefore, when the channel verification is too high errors pop up, which means the channel has a higher level of verification turned on, and users must meet the requirements before they can gain access.
We should note that there are five levels of verification on Discord, and they are – None, Low, Medium, High, and Highest.
Fix Channel verification is too high issue on Discord
Fixing the Channel verification is too high issue on Discord requires troubleshooting the network, updating Discord, disabling the membership screening service, and more.
Troubleshoot the network
Check if the Discord server is down
Update the Discord app
Turn off the membership screening service
1] Troubleshoot the network
In some cases, the problem is nothing major, just an issue with the network connectivity. This can be easily fixed if you know what steps to take. For those who aren't sure, we suggest reading how to fix Network & Internet connection problems.
2] Check if the Discord server is down
Whenever the server of Discord is down, the program and the overall service will likely face some problems. You might not be sure if the server is down; therefore, we suggest using a Down detector website.
Visit this website and right away you should be greeted with information related to Discord's server status.
3] Update the Discord app
There is a version of Discord that caused verification problems for many users. It is possible you are still using that version, so to make sure you're not, you will need to update the app to the latest version as soon as possible or right this instant.
To update Discord, you have to close the app and then re-open it. Once the app is up and running, it will check for updates, and if any are available, Discord will automatically update itself.
4] Turn off the membership screening service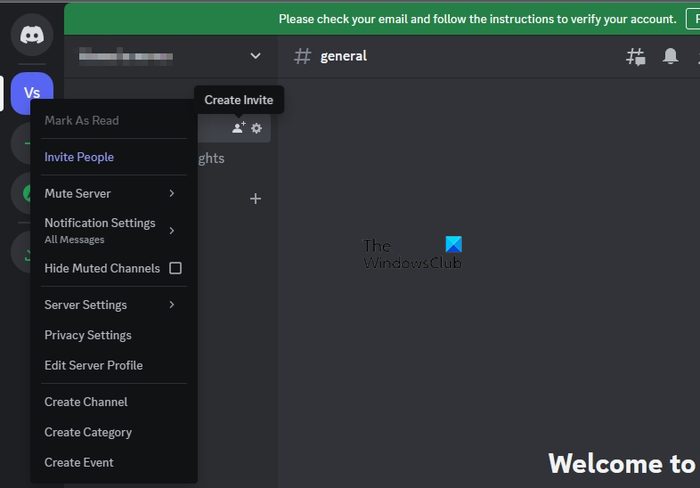 This option is for administrators who might feel too many people are complaining about the Channel verification too high error. So, let us look at how to disable the membership screening in a bid to make it easier for others to gain access to the channel.
Launch the Discord app on your computer or on the web.
Select the server in question.
From there, click on Server Settings.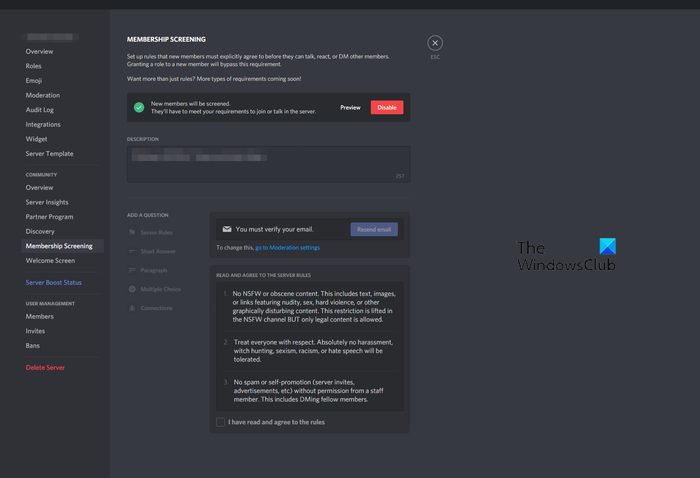 A pop-up menu will appear, so please go ahead and click on Rules Screening.
From the new window that appears, click on Disable to fully turn off Rules Screening for all new members of the channel.
If everything went according to plan, then users should no longer have problems gaining access to the channel from this point forward.
READ: Discord keeps changing Input device
Why is Discord forcing me to verify?
According to Discord, the company wants all users to have a secure feeling when using the platform. To make it happen, the company invested in features designed to protect users from abuse or scams. So, folks have no choice but to verify their email address or phone number to prove they are not a robot.
Can you use a fake number for Discord?
You can try but always bear in mind that Discord does not recognize fake phone numbers when it comes down to verification. Furthermore, Discord will not verify an account that is tied to a number already in use on the platform.