Discord is a terrific chat application that gets you to meet all kinds of people. It skyrockets its popularity in the gamers community and the gamers tag is attributed to it. Anyone can use it and make friends on it.
On Discord, you can find many servers already created with the topic that interests you. If you find a great character in a TV series or a movie and want to discuss it with the world, you can create a server and invite people or join a server that is already created for that.
Creating a server is free on Discord. You can create any number of servers and add any number of friends. There is no limit to it and no price too, except your time. Let's see how you can set up a server on Discord and invite your friends to it.
Set up Chat Server on Discord
To set up a chat server, there are two basic requirements. First, you need to install the Discord application on your PC. You can download the application from discord.com. And then, you need to create an account and log in to it.
To create a server on Discord,
Click on the + icon in the sidebar
Select a template or Create My Own
Select the community you wish to join your server
Enter the name of your server and add its icon and click Create
Getting into the detailed process of creating a Discord server, click on the + icon on the home screen of the Discord application.
It will open Create a server dialog box. You can select a template for your server or create your own. Just click on the option to select.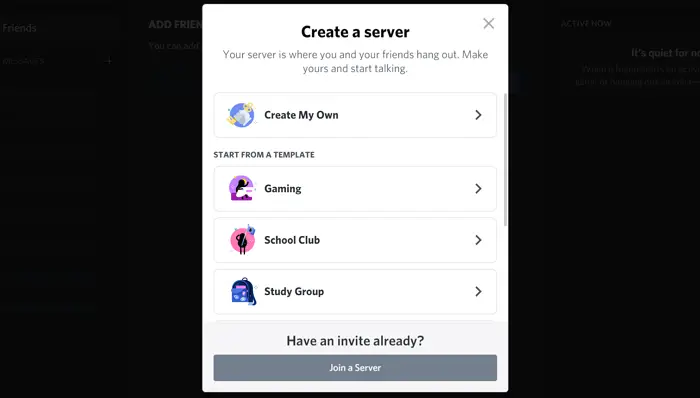 Now, you have to select if you want to make your server available for a larger community or just a closed circle. Just, click on the option to select.
You might surely have thought of a name for your server. Enter the name in the Server Name text box and add an icon by clicking on the Discord icon. Once, you are done with the name and icon of your server, click Create.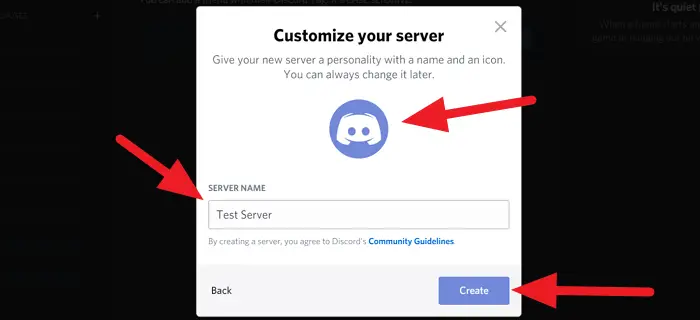 You have just created a server of your own in Discord.
Now let's see how we can invite friends to the server.
Read: How to Screen Share and Voice Chat on Discord at the same time.
Invite Friends on Discord
After creating the server, your server will be the homepage of the discord app on your PC. Click on Invite your friends on the homepage.
You will see a dialog box with a link to share. Copy that link and share it with your friends. The link will expire in a week on default. If you want to set custom time click on the Gear ⚙ icon at the bottom of the dialog box or check the box beside Set this link to never expire if you don't want that invite link to expire.
See, you have just created your own chat server on Discord. Invite your friends and spend time with them on your server.
If you have any questions or suggestions, do comment them below in the comments box.
TIP: This post will show you how to enable and use the Text-to-Speech feature in Discord.