We protect our online accounts with passwords. This applies to Google accounts as well. We all have multiple accounts and different passwords for them. It might be hard to remember all of them. To solve this, Google has developed a new feature called Passkey. In this guide, we explain to you what is Google Passkey and how to use it.
What is Google Passkey?
We remember a lot of passwords for our online accounts. The passwords to Google accounts are no exception. Most of us use a very simple password that has a pattern and can be broken easily by hackers. It puts our entire information online in jeopardy. To make the accounts more secure, Google has introduced a new way to secure and sign in to Google accounts and other supported services using Passkeys.
Google Passkeys eliminates the use of passwords to sign in to your Google accounts. Google terms passkeys as a more secure and easier-to-use alternative to passwords. Passkeys are based on Web Authentication (WebAuthn) which is an industry-based standard for passwordless authentication.
You only need a fingerprint, face scan, or a device screen lock to sign in to apps using Passkeys. It eliminates the need to remember long passwords. Passkeys are termed safer than passwords because they are not stored on servers, unlike passwords. They are stored on your devices itself which makes it hard for hackers to steal them.
Each gadget or device you use to log in to your Google accounts can have a unique passkey based on the device. You can create multiple passkeys at your convenience to make it easier to sign in on multiple devices. It is absolutely necessary that you need to trust the devices completely. It is not recommended to activate the passkey on devices that you do not own.
Passkeys have many benefits, unlike passwords. Some of the major benefits are:
You do not need to remember passwords that have unique characters, numbers, and other letters.
You can sign in to your accounts with just a fingerprint, facial recognition, etc.
Passkeys can be used across different operating systems and browsers to sign into apps and websites.
Passkeys are very hard to guess or reuse which makes it hard for hackers.
Since passkeys are connected to a particular website or account, fraudsters cannot dupe you into using them to sign in to fraudulent websites or services.
Read: How to change your Google account password
Let's see how we can use Google Passkeys and benefit from them.
How to use Google Passkey
Google Passkeys are currently usable on Android, Windows, MacOS, iOS, etc. The process to use them on different platforms is the same.
Open a web browser on your device
Go to myaccount.google.com
Select Security tab
Click on Passkeys
Enter your account password and click Next
Click Use passkeys and Continue
Let's get into the details of the process.
Open a web browser on your account and sign in to your Google account. Then, navigate to myaccount.google.com. On the Google Account page, click on the Security tab.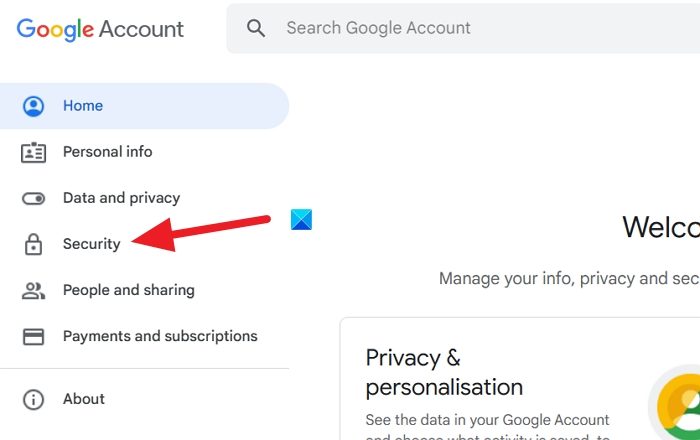 Then, navigate to How you sign in to Google section. Click on Passkeys you see there.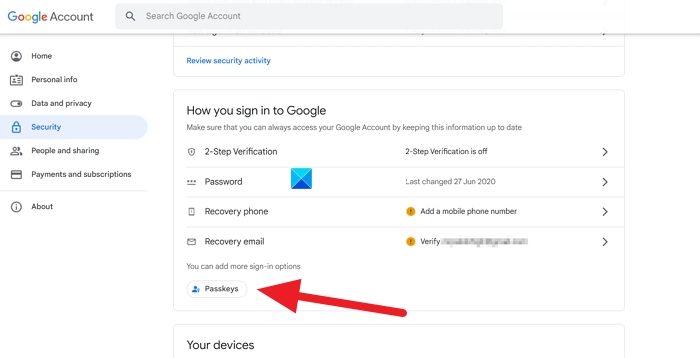 You will now be asked to enter the password for your Google account as a part of verification before making it passwordless using the Passkeys. Enter your password and click Next. 
It will take you to the Passkeys page. Click on Create a passkey button.

It will show you a pop-up box to Create a passkey for your Google Account. Click on Continue.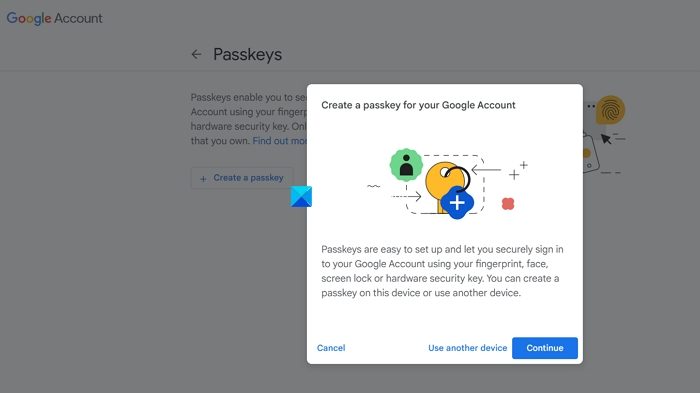 You will need to enter your Windows PIN as it will be the passkey for your Google Account from now on. If you set a passkey for your Google account on an Android phone, then, the phone PIN or the facial recognition will be the passkey. It all depends on the device you are using. Also, you can set multiple passkeys for a single account. Once you have set a passkey for a Google account on Windows, you can also set a passkey for it on an Android phone or an Apple phone. The passkey is tied to the device and they differ with each device. Enter your Windows PIN to proceed with setting up the passkey.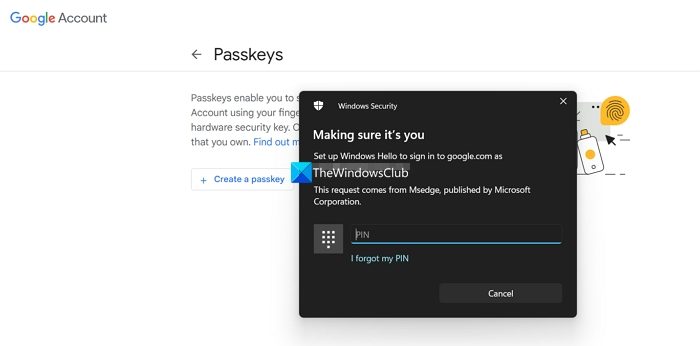 Once you are done entering the passkey, it activates the passkey for your Google account. You will see Passkey created popup saying that you can now use your fingerprint, dace, screen lock, or hardware security key to verify that it's really you signing in. Click on Done.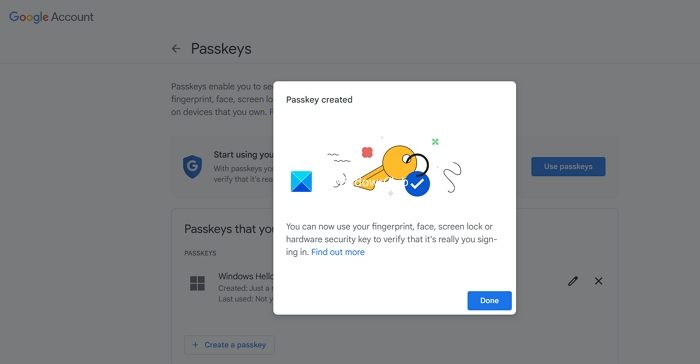 This is how you enable Passkey on a Windows PC. The process is the same for all devices, smartphones, Macbooks, iPad, etc. The PIN or the method you set for Passkey changes.
One of the biggest limitations to Passkey is if you lost your device, and you have set the PIN as the passkey for your accounts, it might pose a security threat to your accounts and data. It is wise to use fingerprint, or facial recognition as passkey as they are unique.
Read: Enable Password Reuse or Unsafe password storage warnings in Windows 11
How do I use Passkey on Android?
To enable and use Passkey on Android, you need to open accounts.google.com on a web browser on your Android phone. Sign in with the account you want to use a Passkey on. Select the Security tab and scroll down to the How to sign in to Google tab. You will find Passkeys there. Click on it. Select Create a passkey and follow the above method to set it. You will have to enter your device's PIN or enable facial recognition to set the passkey.
Is Google Passkey available?
Yes, Google Passkey is now available for regular users to enable their accounts and safeguard them without bothering to remember passwords. You can enable the passkey in the account settings and create multiple passkeys for your multiple devices.
Related read: Free Best Password Managers for Windows PC