This post will help you know about the Enablement Package in Windows 10. While checking for updates in Windows 10, you might have seen Enablement Package update KB4562830 or something similar received in the monthly quality update. You can also access Windows 10 update history or visit the Uninstall an update page to see the list of all update packages including the Enablement Package. If you are wondering what is this update package or what's the purpose of the Enablement Package, then this post might throw some light.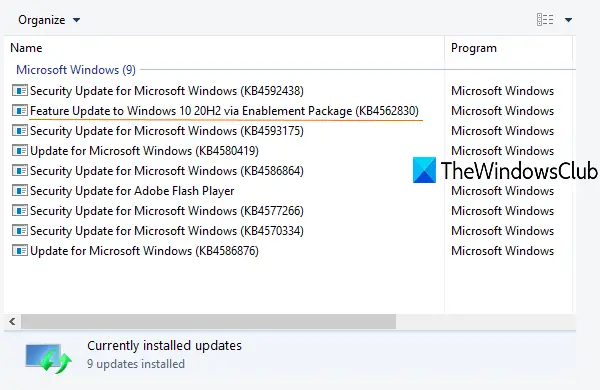 What is an Enablement Package?
You must have noticed that when you manually download and install a feature update using Settings, it takes a lot of time sometimes hours. Thus, to reduce the Update downtime and other issues that users face, the enablement package came into existence which works great, and it might continue for other latest versions in the future. It is just a small update package having the size in KBs.
Enablement package was first introduced in the monthly quality update of the 1903 version of Windows 10 (released on 8th October 2019). It was nothing but a great way to upgrade from version 1903 to version 1909 with a single restart or say in a couple of minutes. This greatly reduced update downtime. The same thing is used to upgrade from Windows 10 version 2004 to version 20H2 via enablement package.
How does Enablement update work?
Here's an example of how enablement Update work and help to reduce update downtime.
Version 1909 of Windows 10 and version 1903 have an identical set of system files and they also share a common core operating system. Thus, the new features that users were going to get in version 1909 were already delivered in the monthly quality update of version 1903. Though the new features are already delivered, they remain in a dormant state and are inactive. This is where enablement update plays its role.
When the new version is introduced officially, the enablement package is provided via Windows Update. And this enablement package works as a master switch that simply activates or enables new features delivered already to upgrade from an old version to a new version of Windows 10.
How to get an Enablement Package?
If you are using version 1903 or version 2004, you automatically get the enablement package via Windows Update in the monthly quality updates. You can also check Microsoft Update Catalog and search for some enablement package (if available) and download it.
Even if you download some enablement update package manually, your system must meet all requirements to upgrade to the new version. Therefore, it is good to use the Windows Update option to get enablement as well as other updates.
Those using earlier versions (lower than 1903) say Windows 10 version 1809 won't get an enablement update. In that case, you need to manually download and install the full feature update or create a Windows 10 ISO for a particular version. In short, there are no changes for earlier versions to install or upgrade to a newer version of Windows 10.
I hope this post is helpful to get more information about Windows 10 Enablement Package.