The CCXProcess process or Creative Cloud Experience Process, is a background process that launches automatically when you boot your Windows device. In this post, we explain what the CCXProcess does and how to disable it.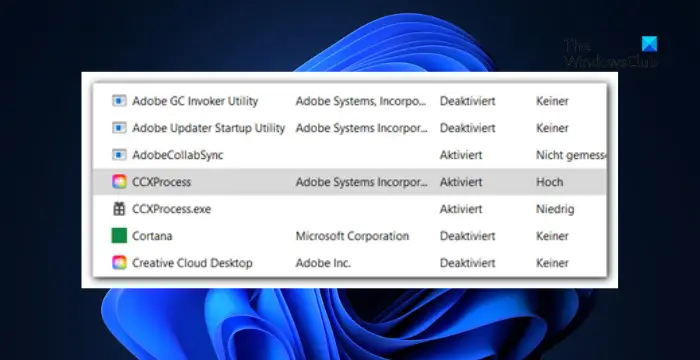 What is CCXProcess Startup app?
The CCXProcess startup application ensures that all the Adobe software run smoothly. It also helps manage features of Creative Cloud apps like automatic updates, syncing, and user interface elements. However, this process can sometimes use a lot of system resources. If that's the case, you'll have to disable it.
How can I disable CCXProcess in Windows?
You can follow any of these methods to disable CCXProcess on your Windows computer:
Turn it off from the Startup Apps section
Disable from Adobe Creative Cloud
Disable from Windows Registry
Now let's see these in detail.
1] Turn it off from the Startup Apps section
First, try simply turning off the CCXProcess from the Startup apps. This is the easiest method you can disable it. Here's how:
Press Windows, search Startup Apps, and hit Enter.
Scroll down, search for CCXProcess
Turn the toggle switch beside it off.
Alternatively, you can also turn off startup apps using the Task Manager.
2] Disable from Adobe Creative Cloud
Next, try disabling CCXProcess from launching on startup by modifying the settings of Adobe Creative Cloud. Here's how:
Launch the Adobe Creative Cloud app and open Settings.
Click on Preferences and navigate to the General tab.
Here, uncheck the Launch Creative Cloud at the login option.
Restart your device once done and see if it gets disabled.
3] Disable using Windows Registry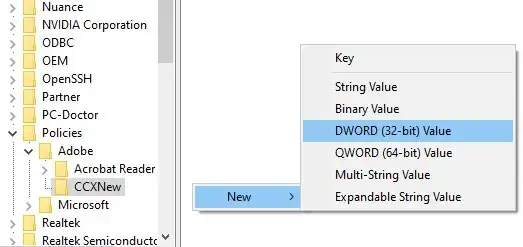 If these suggestions didn't help, disable CCXProcess by modifying the Registry Editor. Here's how:
Press Windows, type regedit, and hit Enter.
Once the Registry Editor opens, navigate to the following path:

HKEY_LOCAL_MACHINE > SOFTWARE > Policies > Adobe

Right-click on the Adobe folder, select New > Key and name it CCXNew.
Again, right-click on the CCXNew folder and select New > DWORD (32-bit) Value.
Name the DWORD value as disabled, double-click on it, and set the value data as 0.
Click on OK to save the changes.
Read: How to use Adobe Creative Cloud Cleaner Tool
We hope these suggestions help you.
Can I disable Adobe CCXProcess on Startup?
Yes, you can disable Adobe CCXProcess from starting automatically on startup. Doing so will not negatively affect your PC as it's a minor background process. If required later, just launch any Adobe Creative Cloud app to enable it.
Does Adobe need to run at startup?
The Adobe Creative Cloud desktop application automatically launches when your Windows device boots. However, you can disable it from Windows settings and the Task Manager.