From time-to-time users of Microsoft Word will come face-to-face with a file extension called ASD. In many cases, folks are confused about what to do with such a file and how to open it. Well, we are here to say that it is easy to open this file, and were going to explain it all.
What is an ASD file?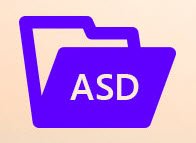 The .asd file extension is a format that can only be opened by Microsoft Word. You see, when you activate the Auto Recovery feature in Word, known as AutoRecover, it will automatically create a recovery file at the intervals you set.
Should anything happen while you are writing an important document, Microsoft Word will allow you to recover your last saved work. Chances are, you will not regain all of your work, but enough to continue with your work.
When Microsoft Word saves an Auto Recovery file, it is done in the .asd format. But unfortunately, you cannot open the file in the same way as a regular Word document, and that's what causes the confusion.
How to open ASD files in Word
With that in mind, let's take a look at how to correctly open an ASD file using Microsoft Word in as much detail as possible.
Open Microsoft Word
Click on the Open button
Select Recover Unsaved Documents
Locate the ASD file and open it
Let us talk about this in greater detail.
1] Open Microsoft Word
Alright then, the first step to take is to open the Microsoft Word application. This can be done by either double-clicking on the Word icon on your desktop, or click on the Start button, then select the Word icon from there.
If you have other means of opening the program, then, by all means, do so right now and let us move on to the next step.
2] Click on the Open button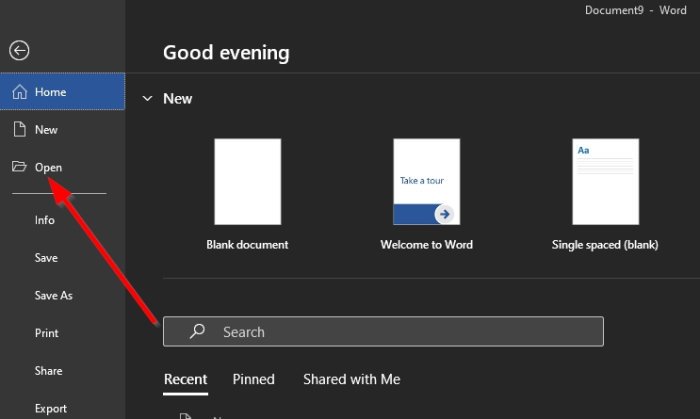 After opening the Word app, please select the option at the left with the name, Open. You should see several things to choose from there, but only one is the most important in this particular situation.
3] Select Recover Unsaved Documents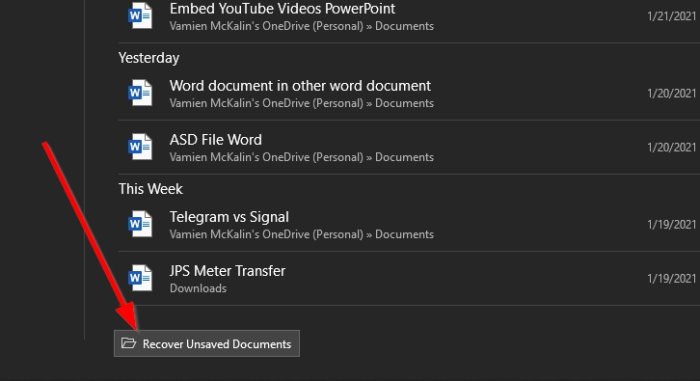 The next thing you'll need to do is to look at the bottom-right of the menu. Here you should see a button that reads, Recover Unsaved Documents. Click on it right away.
4] Locate the ASD file and open it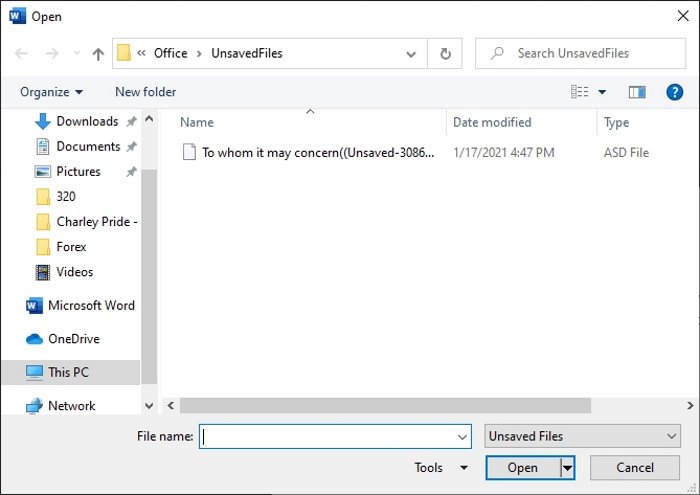 Now, after selecting Recover Unsaved Documents, a new window will appear. By default, it will bring you to the UsavedFiles folder located at C:\Users\username\AppData\Local\Microsoft\Office. This is where all Auto Recovery files are stored.
If you know where your .asd file is located, if it is not within the UnsavedFiles folder, then navigate to that spot.
Please select the file, hit the Enter key on your keyboard, and that should do it.
Read next: How to open a crdownload file on Windows 10?