Using a VPN protects our internet traffic from ISPs and other data-collecting parties by routing it through its tunnels. The traffic is fully encrypted and no one can read it. Also, the majority of VPNs do not save logs of your traffic and data. This makes VPN a safe bet for internet privacy and a lot of users around the world pay for a VPN and use them on their devices to protect their privacy. There are different types of VPNs. One among them is a decentralized VPN. In this guide, we explain to you what is a decentralized VPN and all you need to know about it.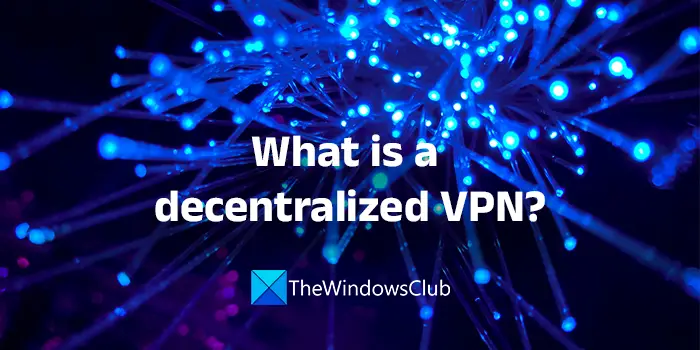 What is a decentralized VPN? All you need to know!
We use a VPN using a client provided by the VPN service provider on our devices to browse the internet. The client then connects to the VPN servers managed by the VPN service provider. Your data is routed through the VPN tunnels making it hard to read by any parties. In a general scenario, a VPN client and its servers are set up, wholly managed, and controlled by the VPN service provider. They run the service with zero-log policies on the user data and traffic. Many security experts around the world do not agree with this claim and allege VPN companies sell user data to interested parties. This makes way for decentralized VPNs. 
A decentralized VPN is nothing but a rented server not owned by the VPN service provider. The server might be the excess or unused network resources sold on the internet to earn a few bucks per hour. A decentralized VPN not only gives good speeds of VPN services but also gives privacy and security better than the VPN companies hosted servers to the user. A decentralized VPN is hosted by an independent user that is mostly built and runs around blockchain networks. Some people use dedicated server machines and others just install decentralized VPN software on their computers. 
A decentralized VPN is way lot better than a traditional VPN in many aspects. Decentralized VPNs are more efficient in handling traffic through a larger number of nodes to connect to. On a traditional VPN, the nodes or servers are limited, but a decentralized VPN gives more options comparatively. The more number of servers to connect to makes it more efficient to choose servers based on the internet usage.
From a user point of view, we pay a subscription fees to the VPN service provider on monthly or yearly basis. We pay the price upfront even if we do not use the service. Decentralized VPNs are different from traditional VPNs in this aspect. dVPNs like Mysterium VPN allows users to pay for the bandwidth they use rather than paying a fixed subscription fee. They charge a fixed rate per GB of the bandwidth. 
Decentralized VPNs are built around blockchain technology. So, they generally comes with the security and efficiency of blockchain along with them. This gives the providers a scope to scale their services and manage them using open-source resources. As we all know, a open-source software or service is more trustworthy because many developers around the world participate in scrutinizing and making the service better without any loopholes. 
If you set your network device on decentralized VPN network, you get paid in cryptocurrencies for the safety and privacy. The payments cannot be traced and you stay behind the service. Also, coming to the maintenance, traditional VPNs are maintained by the companies and the servers are prone to failures if there is any issue with the network or other factors. The chance of server failure on a decentralized VPN is less than traditional VPNs as they are not maintained by companies. Even if one node or server goes down or fails, there will be many available to use for the user. 
The internet security researchers around the world have complaints on traditional VPNs that though they claim to be no-log service providers, they collect user data and sell it to third parties. The trust on traditional VPNs is not at all-time high. This is the reason most security experts encourage users to use decentralized users where the logging and sale of user data is impossible. 
Read: Internet gets disconnected when VPN connects
Is decentralized VPN safe?
Yes, a decentralized VPN is safer than a traditional VPN. A decentralized VPN cannot obtain your browser data or history whereas a traditional VPN can. This makes decentralized VPN safer as they are built around blockchain networks. Also, the servers on the decentralized VPN networks are not run by VPN service providers. 
Is DPN better than VPN?
DPN or Decentralized VPN is obviously better than VPN as it is not under the maintenance of any company. Users just configure their unused network resources to earn a few bucks or install a VPN software program. Users can connect to the servers of their choice from the many servers, unlike the limited servers on a traditional VPN. Another reason why DPN is better than VPN is that they are configured on open-source and blockchain networks.
Related read: Best free VPN software for Windows PC