We find different formats of files on our PC. Regularly, we see files in formats such as .docx, .txt, .jpg, .png, etc. Sometimes, we see new file formats that we are not used to seeing in the regular usage of our PC. One such file format is .DAT. In this guide, we explain to you What is a DAT file and how to open DAT file.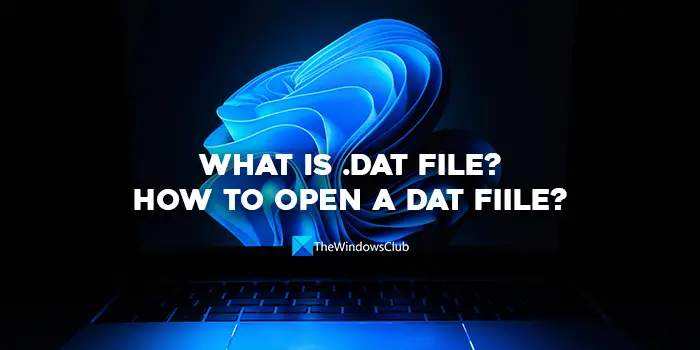 What is a DAT file?
A DAT file is a program file that contains the data related to the program that has created it. You always see DAT files with a .dat extension. A dat file can contain any information like video, audio, PDF, etc.
Many programs we install on our PC references DAT files. So, these are important files that you should not delete at any cost. You also need not panic when you see a .dat file as it is safe and used by the programs that created it.
Usually, the information contained in a .dat file is plain text or binary. In very rare cases, you encounter another kind of information like Video, audio, or a PDF. DAT files are designed to be used and opened by programs that created them. You do not have to open them to use them. Many games like Minecraft or cleaners like CCleaner create them and use them to store their data.
Generally, you find .dat files in the folders related to the programs. If you find it elsewhere other than the folders of the installed programs, you have to scan it with an antivirus program. Don't try to open it unless you are sure about it.
Let's see how you can open a DAT file.
How to open a DAT file?
Generally, DAT files contain only text or binary information stored by the program it created. You can open .DAT files that contain text, with text editors, like Notepad, Notepad++, VS Code, etc. But it is not possible to know what contains in a DAT file. If a DAT file contains a video, audio, or PDF, you need to open it with respective applications, like a Media Player or a PDF Reader.
To open a DAT file on your Windows computer:
Right-click on the .dat file
Select Open with
Then, select the program you want to open it with, eg. Notepad
Let's get into the details.
If you find a DAT file somewhere on your system and want to open it, right-click on the .dat file and select Open with.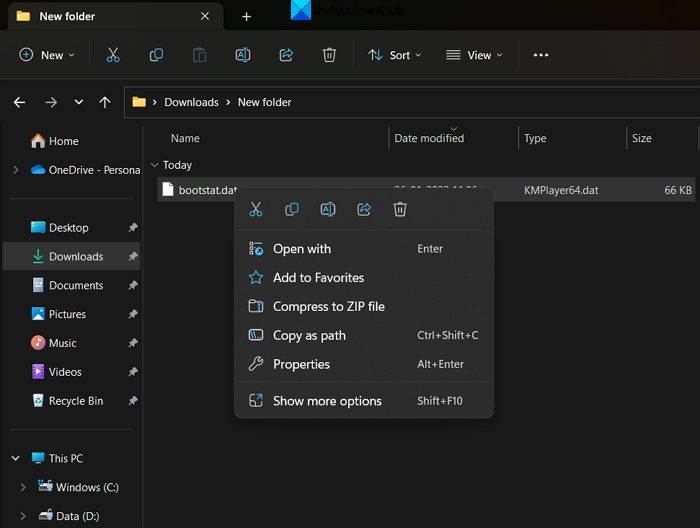 It will show you the Open with pop-up window. Select Notepad, or any other appropriate one, from the list of programs available there. Select Always or Just once as per your choice to open .dat files with Notepad.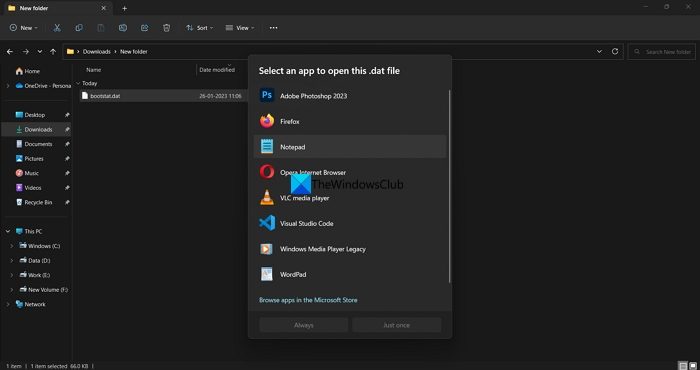 It will open the .dat file in Notepad. You won't understand a thing in the file.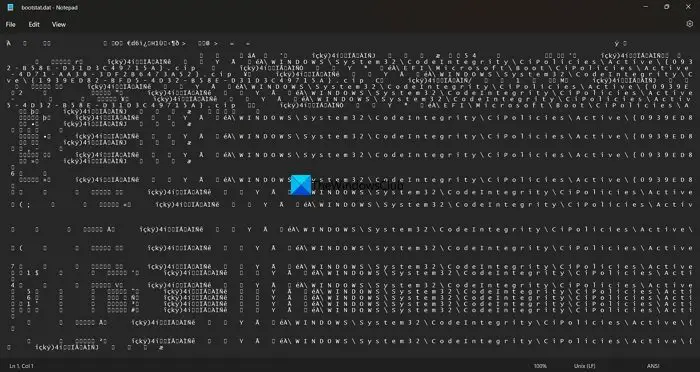 Alternatively, you can open the .dat files on Visual Studio code or any other coding program. Also, you can try opening it using Notepad++, a media player, or a PDF program to find the contents of the .dat file.
Sometimes, email servers like Outlook can convert emails into .dat files automatically. You get only the winmail.dat file. To open such a .dat file you need to download the file and head to Winmaildat and upload it to read it.
Also read: What is the WaitList.dat file in Windows?
How to open the DAT File in Excel?
Open Excel > Click on File > Open. Browse. Choose the All Files option in the Open dialog box. Once done, you will see all files. Select the .dat file you want to open in Excel. Finally, in the Text Import Wizard that opens up, select Fixed width, and then set the Field width and Data format when asked.
How to convert .dat files to .csv?
Right-click on the DAT file > Open with > Notepad. Next, save the Notepad TXT file as a CSV file, using the Save as option and giving it a .csv extension. Now you can open the CSV file with Excel.
How do I convert a DAT File to a readable format?
DAT file contains data related to the program that created it. You can open a DAT file using Notepad, a text editor, or any coding program like VS code. It will show you the content of the .dat file. You don't need to convert the .dat file to any format to open it.
Also read: How to stop sending or receiving winmail.dat attachments in Outlook
How do I open a DAT File in PDF?
If you are sure that the .dat file is PDF and want to open it as a PDF, right-click on the .dat file and select Open with. Then, you will see the list of programs to open with. Select a PDF program that is installed on your PC to open it. This is the way you can open a .dat file in a PDF program.
Is a DAT File the same as a text File?
No. A DAT file is not the same as a text file. DAT file contains the data and information related to the program that created it. Usually, it contains text or binary data that the program can read. It can be opened in a text editor like Notepad. That's all you can do with a .dat file.
Related read: What is NTUSER.DAT file in Windows?