SATA is an abbreviation for Serial Advanced Technology Attachment which is an IDE standard. It is a data access standard interface in modern computers used to transfer data at high rates via compact cables. In this guide, we are going to discuss what are SATA cables, their uses, and what are their types?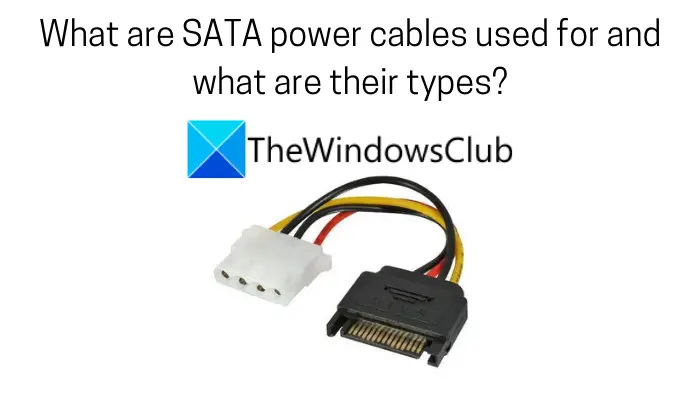 What is a SATA Cable?
As we mentioned above, SATA stands for Serial Advanced Technology Attachment and is pronounced as say-da. It is an Integrated Drive Electronics (IDE) standard that is used for connecting devices, e.g., storage devices. One of its common use is for connecting the hard drive, optical drive, or solid-state memory drive to the computer's motherboard. In general terms, SATA refers to cables and connections following this standard.
It has different versions which vary in speed. With version 1 of the SATA cable, the transfer speed is 1.5 Gbps. SATA cable's version 2 can transfer 3 GB of data per second. The fastest one is version 3 that has a speed of 6 Gbps.
What are the types of SATA cables?
SATA cables are of multiple types. Here are the types of SATA:
Micro SATA: The micro SATA connector is primarily used for 1.8-inch (46 mm) hard disk drives.
eSATA: This SATA type was standardized in 2004 and is intended to be used for external (e is used for external) connectivity.
SATA Bracket: You can make your computer outputs compatible with eSATA drives with the help of dual-port eSATA expansion brackets.
Low Profile SATA: It is an ultra-thin SATA cable that has low-profile connectors that you can use with extended GPU cards.
SATA Power: These are SATA interface power cables and are used to connect power adaptors, extensions, and splitters for SATA power and data cables.
SATA Bridge: It is basically the SATA interface that acts as a bridge between devices. It can be used to connect ATA devices to SATA motherboards or PCI cards.
SATA-SATA: It is the standard SATA cable and comes in different lengths.
SATA EXPRESS: It is a new specification that supports both SATA and PCI Express (PCIe) storage devices.
SATA cables have replaced the PATA (Parallel ATA) cables and have now become the IDE standard of choice to connect storage devices in a computer system. This is due to the fact that SATA is much more faster and reliable than a similar PATA device. Let us discuss the difference between the two.
Read: How to speed up SATA hard drives in Windows?
SATA cable VS PATA cable
PATA stands for Parallel Advanced Technology Attachment and is a bus interface standard for connecting hard drives into a computer system. However, it has been completely replaced by SATA as SATA has many more benefits than PATA.
The first difference between both cables is the data transfer speed. SATA cable has a faster data transfer speed than PATA that enables applications, images, and larger files to load speedily. This is due to the fact that PATA supports multitasking during data transfer that makes it slower than SATA cable.
PATA is a 40 pin connector, while SATA data cable typically features a 7 pin connector. SATA is less costly in comparison to PATA. Additionally, SATA consumes less power than PATA.
SATA cables are easier to manage as they are smaller in size in comparison to PATA cables. Additionally, SATA allows multiple hard drives to be connected at the same time.
Due to all these differences between the two standards, PATA has been replaced by SATA.
See: Hybrid Drive vs SSD vs HDD: Which is the Best?
Which SATA Cable to Use?
The different types of SATA cables are used for different purposes. Let us discuss which SATA cable you can use for what:
SATA Power Cable Connectors: SATA power cable connectors feature 15 pins and three pins within the connector are used to supply different voltages in a parallel manner.
SATA Data Cable Connectors: The SATA data cable connector has seven conductors and has one plugged into the end port on the motherboard and the other end plugged into the back of a storage device e.g., SATA hard drive.
SATA Connections and Power Requirements:
Make sure that the PSU can supply the power that your computer requires when trying to connect the drives using the SATA power cables. The power range lies between 200-1800 Watts for modern PSU models. While a hard drive uses 15 to 30 watts, an optical drive consumes around 20 to 30 Watts of power.
Usually, it is not a concern. However, if you have a large number of connected drives, it is a concern. You can easily check the power consumption of your PC parts using online calculators, e.g., Power Supply Calculator.
What types of drives need SATA power and data cables?
There are primarily three kinds of drives that need the SATA interface:
Hard Disk Drives– primary storage for any computer.
Optical Drives– CD, Blu Ray drives, etc., require a SATA interface.
Solid State Drive– SATA SSDs also need SATA power cables and data cables. SATA SSDs can have an average speed of about 550 Mbps, while a standard hard disk drive has a speed of 200 Mbps.
See: How to check what Hard Drive you have on Windows?
How many SATA cables do you need?
As far as power is concerned, you can connect a SATA power cable to a drive using the 15-pin connector. You might require one or more power cables with SATA connectors, that depends upon if you have a split power cable or not
As for SATA data cables are concerned, you required a SATA cable for each drive. And, data cables don't have split ends, unlike the SATA Power cables. Additionally, the number of SATA data cables you require depends on the number of SATA ports you have. For example, if you have 6 SATA ports, you can't attach 7 drives to a computer.
Read: What is a Hybrid Drive? Is SSHD better than HDD or SSD?
How to add additional SATA ports to your system?
In case your motherboards don't have enough SATA ports to attach more drives to your system, you can use a SATA Hub Port Multiplier or SATA PCIe Cards to increase the number of ports. You can also use a SAS SATA Expansion Card.
SATA Hub Port Multiplier is cheaper but you might face performance and compatibility issues with it. SATA PCIe Expansion card is the most recommended option for adding more ports to your system. On the other hand, a SATA Expansion card is recommended for professionals for excellent upstream and downstream bandwidth.
See: Do I really need an SSD or Solid State Drive?
How to attach more SATA power connectors to a system?
You may need more power connectors for attaching more drives to your system. Now, there can be two ways to do that which are as follow:
You can do that using a SATA power splitter cable.
You can also use a Molex to SATA adaptor cable for the same.
What are SATA cables used for power supply?
As discussed above, SATA power cables are used for the power supply. These SATA cables are used to supply power to multiple internal storage devices.
Does SATA cable come with SSD?
In usual cases, the HDD/SSDs don't come with SATA cables. The SATA cables come with a new motherboard.
Hope this guide helps you learn about SATA cables.
Now read: What is SATA or NVMe SSD? How to tell if my SSD is SATA or NVMe?