Hate entering a password, every time you log on to Windows? Want a better option that you can carry in your pocket? You can convert your USB Flash Drive into a 'key' to help you log into your computer. No need to enter your password again, simply connect your flash drive and log in. Doing this will also add a layer of security to the login process as no one sitting beside you can have a look at the password. Moreover, if you want to give access to your computer to someone else, you can simply give them the USB Drive.
Securely log in to Windows using USB Drive
While you can always use the built-in SysKey Utility to lock a Windows computer using a USB stick, VSUsbLogon is a freeware tool that will convert your USB into a 'key' that you can use to access your Windows computer. Your system is still password-protected, but you no longer need to remember it.
Once you have downloaded and installed VSUsbLogon, connect your USB Flash Drive to your PC. Make sure that your USB device is shown under the Devices List.
Now run VSUsbLogon.
On the right side, you will see an Assign button. Click on it. Under User Credentials, check whether your PC username is selected or not and if not then select your username from the drop-down menu. In the Password fields, enter the password that you use while logging in to your account.
Now under Logon Options, choose whether you want Auto Logon or PIN password. I would rather go for auto logon because if you want a PIN password then there is no point in this tutorial as, Windows 8 already has a PIN login feature.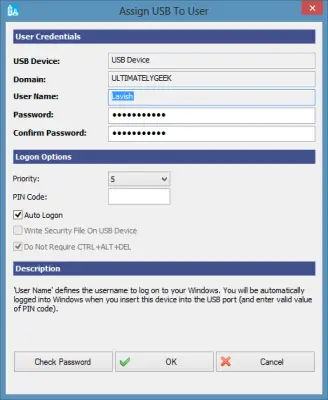 Next, click on the 'Check Password' button to make sure that the password you have entered is correct and matches your account password. Click on 'OK' button.
You will have now successfully assigned your USB Drive to your User account. The next time you log in, you will see a new user account, named 'USB logon'. Instead of clicking on your own account, you may click on USB Logon to log in to your PC with your USB Drive.
VSUsbLogon supports USB HDD, USB flash drives, and other USB devices like iPod, iPhone, Samsung Galaxy, and other smartphones.
VSUsbLogon download
Download VSUsbLogon from here. Please beware of any 3rd-party software it may offer to install and opt-out of it.
UPDATE: Please read the comment by hotphil below.