In this guide, we will highlight one of the most reported VPN errors by users and how to solve it – we are talking about VPN Error 0x800704C9, No SSTP ports available on the server.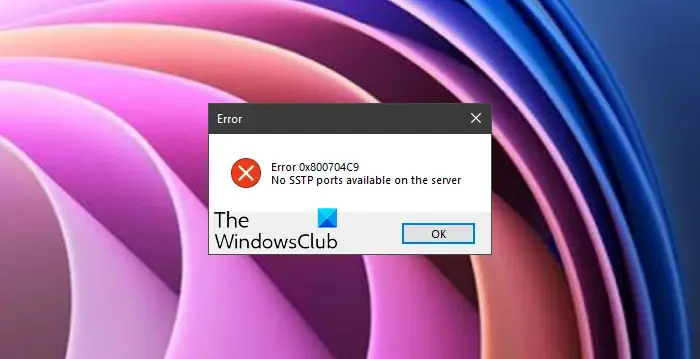 Virtual Private Network, or VPN, is a network technology used by masses of internet users to create a secure and encrypted connection over the internet. Additionally, VPNs are used to bypass geo-restrictions to gain access to any blocked content over the web, like media streaming services. Alongside benefits, sometimes it is tough to set up a VPN client or avoid connection errors.
If you ever encounter VPN error 0x800704C9, it is because there are no SSTP ports available on the server. This VPN error should not be ignored as it can cause a system slowdown or, eventually, a total system crash. This is one of the common VPN errors and is incredibly easy to fix independently.
Fix VPN Error 0x800704C9, No SSTP ports available on the server
In order to fix VPN error 0x800704C9, the user will need to ensure that there are sufficient ports on the RAS server, which are configured for remote access.
To verify this, follow these steps:
Open the RRAS (Routing and Remote Access) control panel
Expand the entry for your server, right-click on 'Ports', and then hit 'Properties' in the context menu
Click on 'Name' and select 'WAN Miniport (SSTP)' from the Name List
Now click 'Configure'
Modify the number of ports in the Maximum ports list as appropriate for you, noting that there are 128 ports available by default
Click 'OK' in the Port Properties window to close it.
Try establishing the VPN connection again to see if VPN Error 0x800704C9 is gone.
As nothing comes faultless, VPN can also now and then come up with errors that are totally resolvable.
What is a VPN error?
A VPN error typically indicates a problem with establishing a secure connection to the VPN server. Common causes include issues with your internet connection, incorrect login credentials, or server outages. To resolve this, check your network, ensure your VPN settings are correct, and attempt to reconnect after a short period. With the help of our guide, you can fix common VPN Errors like error 0x800704C9 that you might encounter.
What is Error code 812 Always on VPN?
VPN Error code 812 in Always On VPN indicates a mismatch in VPN server authentication protocols between the server and the client computer. It usually arises during Routing and Remote Access Service (RRAS) configuration issues, signaling that the settings need to be aligned for a successful connection.