VidCoder is a tool capable of ripping most DVDs and Blu-ray discs, but this is as long as they are not protected by copyright. Videos ripped can be converted to a variety of formats, which include MP4, MKV, and more.
VidCoder Review
VidCoder is an open-source DVD/Blu-ray ripping and video transcoding application for Windows. It uses HandBrake as its encoding engine.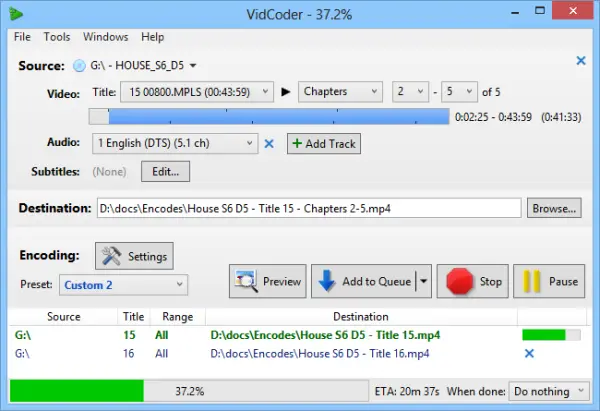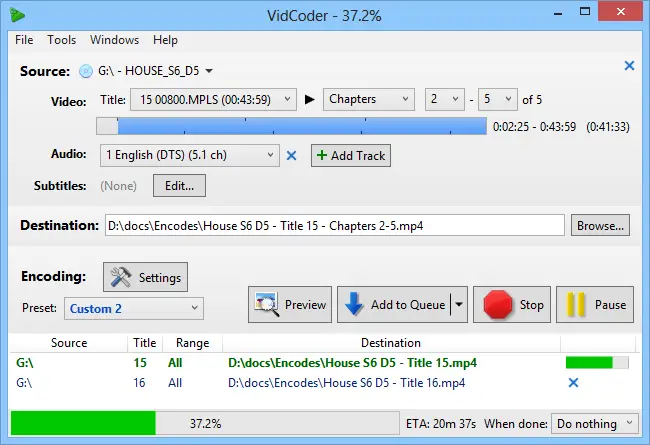 DVD/Blu-ray ripping and video transcoding software
VidCoder is a DVD/Blu-ray ripping and video transcoding application for Windows. The app brings to the table an intuitive interface and offers key presets that most users would be just fine with. The encoding settings are easy to customize, which makes VidCoder a boon for the advanced user.
The option is there to convert movies directly from the disc or load an ISO file or previously loaded video file. Furthermore, VidCoder includes a neat preview feature that will allow users to test their settings before settling on the perfect one. Bear in mind that the preview feature only encodes a small portion of any given video, and not the whole file.
We also like the ability to pause and resume encoding. This comes in handy should the user need extra CPU cores to perform essential tasks. For those who might have no idea, VidCoder and every other encoding app, requires power to perform optimally. Users of weak systems will no doubt realize that encoding large video files and attempting to carry out other tasks at the same time could turn out to be problematic.
For those who are wondering, VidCoder is fundamentally the HandBrake engine re-cast for novices. HandBrake is considered by most as the best free transcoder and encoder app available to date, and with good reason. However, it is filled with features, and many of them lack explanation. For this very reason, novices are required to stick to the basics rather than make any attempt to dig deep into the advanced features.
Folks with such an issue can find solace in VidCoder as the designers try their best to make everything easy to understand.
We talked about VidCoder not being able to encode video files from copyright-protected discs, and that's true. However, with a program called DVD43, this could no longer be a problem. DVD43 removes the encryption from protected discs, fully allowing the user to encode the video file with VidCoder.
Now, we're not certain if DVD43 works for all encryption methods, so it might work for some, but not for others.
There's one big drawback with using DVD43 at the moment, and that is the fact that it is a plug-in. The standalone app does not work with Windows 8 and 64-bit operating systems, so this is the only way to go.
Overall, we have to say that VidCoder is great at what it does, and mainly because it is powered by HandBrake and a UI designed for everyone.
Download VidCoder from vidcoder.net right now for one of the best free Windows software.