Microsoft Office Word offers a Review Feature, which allows one to Track Changes in a document. In this guide, we are sharing how you can use the Review Feature or Track Changes feature in Microsoft Word.
Review Feature or Track Changes feature in Word
I have broken down the Review Feature feature into multiple sections and explained how each of them is useful:
Enable Track Changes
Reviewing and Commenting
View Changes
Accepting and Rejecting Changes
Finalizing the document
Merging Comments and Changes into One Document
Compare two documents without Tracking
Merging and comparing documents are optional features, and you need to use it in different scenarios.
1] Enable Track Changes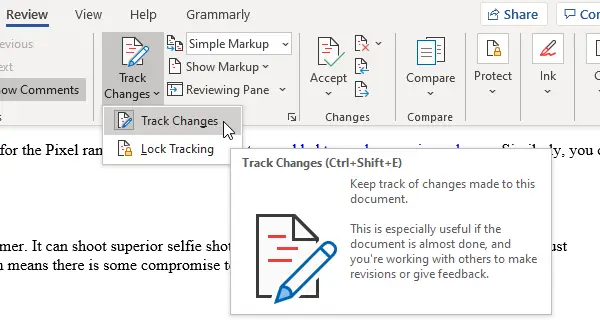 Before you send a document that will go through a review, make sure to enable the Track Changes feature. Once it is turned on, changes made by any of the reviewers will be recorded with their name. Those changes can be approved or rejected by another person. The feature also offers a way to lock Track Changes so that nobody can disable it. Let's learn both of them.
Make sure the document is ready for review.
Open the document, and then go to Review section > click on Track Changes, and then click on Track Changes menu again.
Once enabled, you should notice that the button has a grey background.
Next, click on Lock Tracking, and enter a password, confirm and click ok.
After this, Track Changes will be disabled for you or anybody else unless disabled by using the same password again.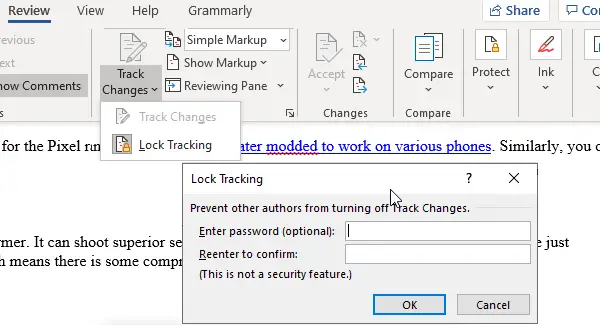 Note: If you lose or forget your password, Microsoft won't be able to recover it for you. Make sure to note it somewhere regarding the document.
2]  Reviewing and Commenting

After this, whatever changes are made to the document will be recorded no matter where the document is shared and edited. Here is how the changes will be recorded:
Deletions are marked with a strikethrough
Additions are shown with an underline
Every author gets its color for the changes
Select a paragraph or set of words, and click on the comment button to add your comments
A red horizontal line will show up next to the line or paragraph, making it easier to identify. Click on it, and all changes and comments will be visible. Adding to this, you can further customize colors by clicking on the arrow on the right-bottom corner of the Tracking section.
Note: Even if you turn off tracking, the colored underlines and strikethrough will be visible in the document.
3] View Changes
Assuming a document has come back to you after review, and you need to find all the changes and comments. Go to Review > Tracking > Display for Review.
Go to Review > tracking > change from Simple Markup to All Markup
If you choose No Markup, then the document will display as the final version only
If you select Original, you can view the original document without any changes
4] Accepting and Rejecting Changes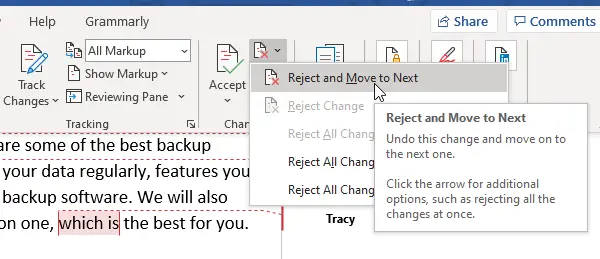 If you are ok with a difference, then click on Accept and move next, but if you do not like it, click on Reject and jump to next. It will undo the change to the previous revision. You should see that the difference is marked with an underline. You also have options to
Accept All Changes in Document
Reject All Changes in Document.
You also have the comments section, which can help you navigate through all the comments. You can reply to comments, mark it as resolved when you have made a change or delete it.
5] Finalizing the document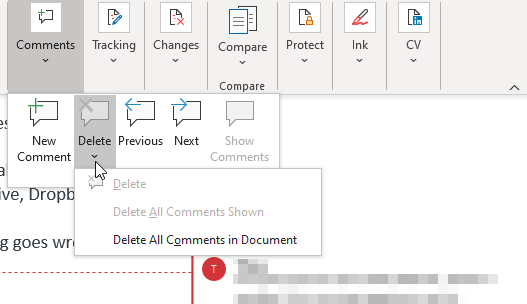 When you know everything is complete, follow these steps to remove any visible markups and comments.
Delete all the comments by clicking on Comments > Delete > Delete all comments
Click on Accept All changes and stop tracking
You might be asked to enter the password if the tracking was locked.
Done this, the Review feature in Office Word document is complete. However, there are two more features that we have added to the guide. They can be handy in a different scenario.
6] Merge comments & changes from different documents into one Document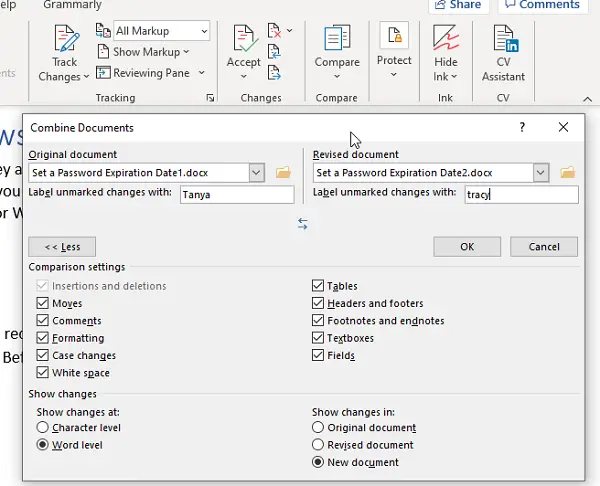 If you have given a document to be reviewed by multiple users, then you can combine them into one final document for review.
Open a blank Microsoft document, and go to Review > Compare > Combine
Select two documents, original on the left side, and edited on the right.
Click ok and repeat for all documents until it is over.
Change made by the authors will be visible in different colors. If you want to filter by author, you can click on Show Markup > Specific people and remove authors you don't need.
When doing so, make sure to use the Protect feature to lock authors and setup editing restrictions. It is useful when a document is available on a shared location.
7] Compare two documents without Tracking
Lastly, if there was no tracking enabled, and changes were made, you can use the Compare tool to find the differences.
Open a blank document, and then go to Review > click on the Compare button, and then click on the Compare again.
It will show a similar dialogue box where you can select the original document, revised document, author name, and more.
You can also choose to compare comments, headers, footers, tables, and more.
That concludes our guide on how you can use the review features to track, comment, compare in Microsoft Word. It's a powerful tool for companies where the documents are reviewed at different levels.
I hope the guide was easy to understand and follow.