Want to know how to use the Automatic Data Type feature present in Microsoft Excel? Excel's Automatic Data Type feature allows you to insert details of cities, food items, music, animals, persons, and many more automatically. You don't need to open a web browser, search for details manually, and then copy and paste results to your Excel sheet.
Let's say you want to add information about a chemical element, you can use this Automatic tool and enter various information like atomic mass, symbol, atomic number, CAS number, group, electron affinity, etc. Similarly, for food items, you can add calories, cholesterol, fat, calcium, nutrition, etc. And, so on.
If you were unaware of this feature of Excel and wondering how to get started with it, no worries. This tutorial will guide you to use the Automatic Data Type feature in Microsoft Excel. Let's start!
How to use Automatic Data Type feature in Excel
Before I start with the tutorial, do remember that an active internet connection is required to use this feature. It fetches all the details and information from the web. So, make sure you are connected to the internet and then use the below steps to use the Automatic feature in Excel:
Firstly, insert data types to which you want to add details automatically. It can be names of animals, cities, food items, celebrities, book titles, music, chemical elements, and more.
After adding data, select all the cells and then go to the Data tab. In this tab, you will find a Data Types section where you will see a list of data type options including Geography, Anatomy, Currencies, Animals, Stocks, Plants, Chemistries, etc. Locate the Automatic feature in this list and click on it.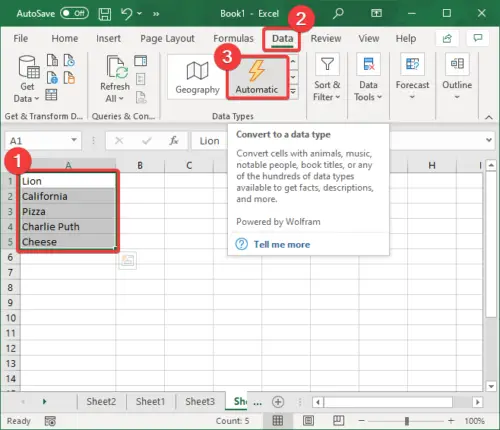 As you click on the Automatic option, it will start identifying data types for each selected cell data and display related symbols before each data type.
In case it is unable to select a data type for a particular field, it will show a question mark (?) symbol at the start of the cell. Click on this symbol and it will open up a Data Selector window at the right with a list of data type options. Simply tap on the data type it belongs to and then click on the Select button.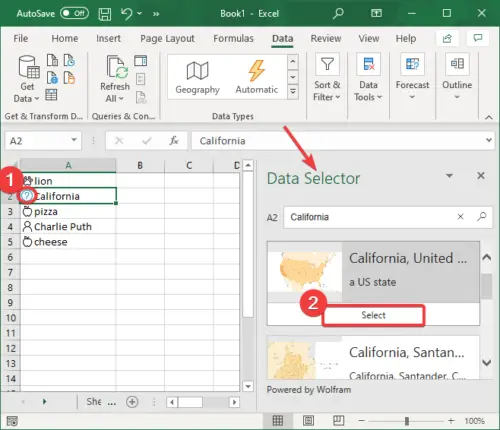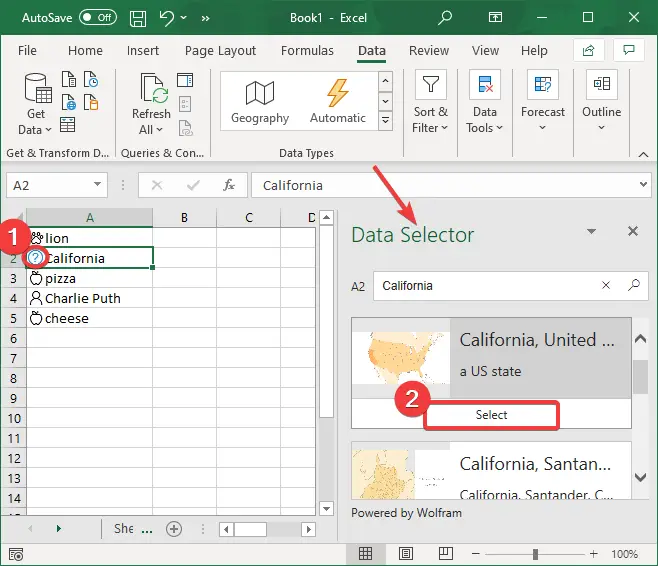 Now, you will see a list symbol on selecting a cell. This is basically the Insert Data option to automatically add a particular detail to a cell.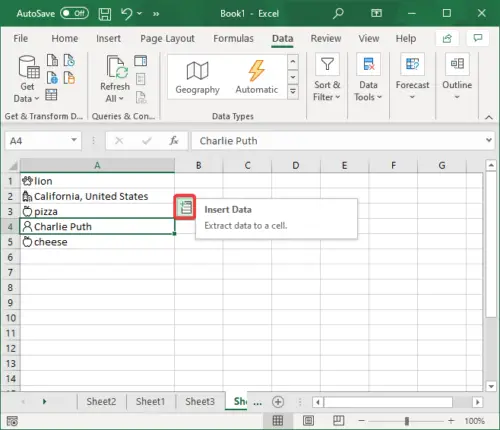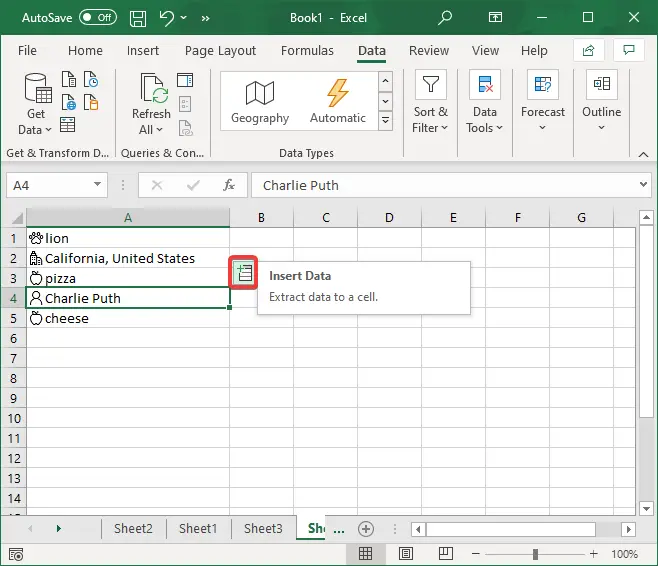 Click on the Insert Data option and a list of various related fields will open up. For example, for a city, country, or location, you can add fields like population, land area, population grouped by age, capital city, rate of crime, image, and many more.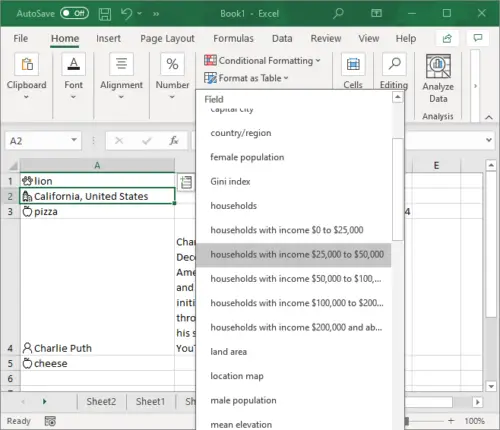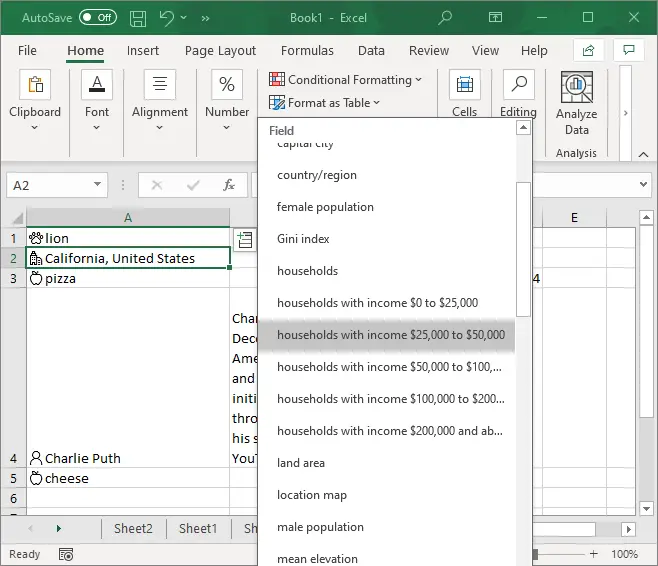 Click on the information you want to add and it will automatically fetch and enter the respective value to the cell.
You can add multiple data fields to each cell by using the Insert Data option repeatedly.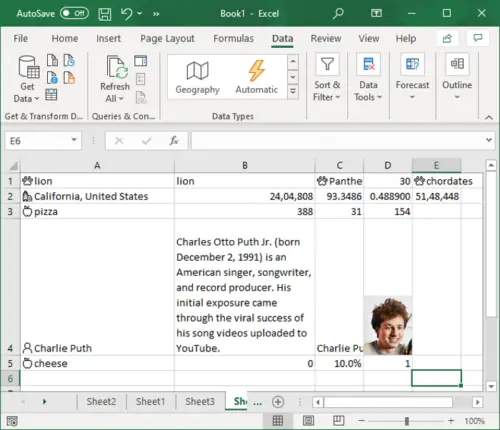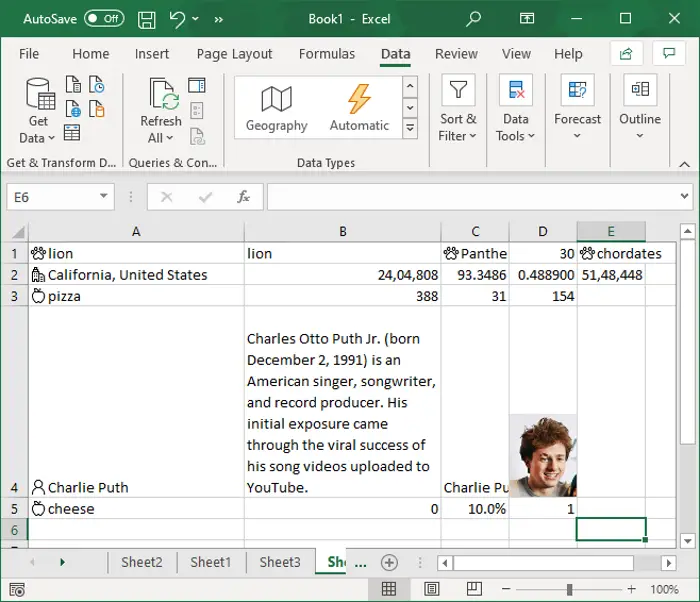 Now, many of the details keep updating over time, e.g., population. Hence, it becomes necessary to keep updating the details you have used in your sheet.
To update the values, go to the Data tab and you will find a Querries & Connections section. From this section, click on the Refresh All button and it will update the details, if there has been any change.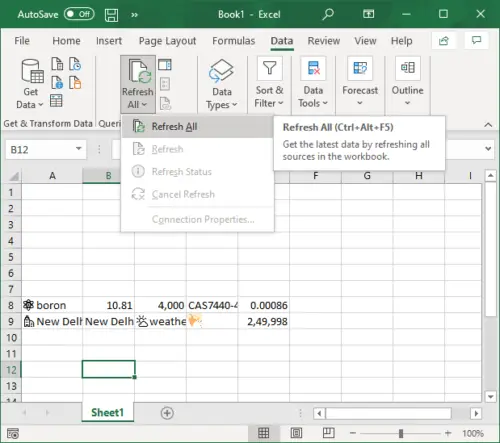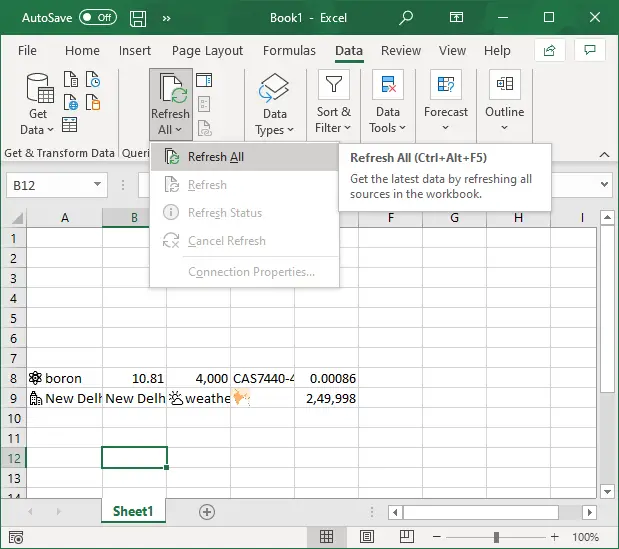 In case you want to update values of a selected data item, tap on Refresh All drop button and then click on the Refresh option.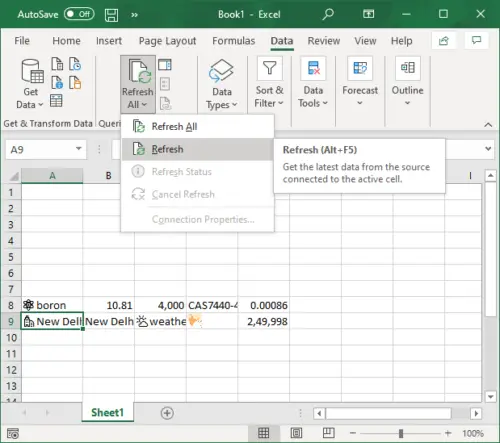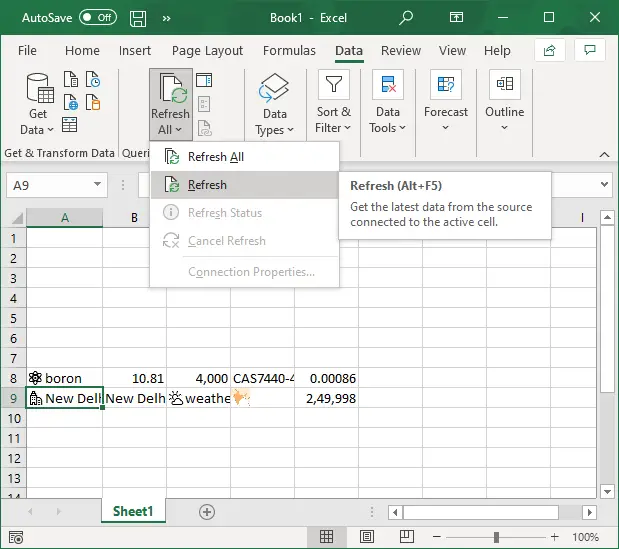 This guide shows you steps to use the Automatic Data Type feature in Microsoft Excel. Use it and automatically add details to several types of data without needing a web browser.
Related Read: How to use Insert Data from Picture feature in Excel.