Microsoft Excel has great tools to help you in getting important data easily without any research. You can get almost any data in Excel directly with just some functions. The less-used data function on Excel is Geography data.
The geography data feature in Excel is a goldmine with a lot of data in a click away. You can get data of a location like its population, area, capital, language, timezone, etc. If you refresh the data, the existing data will get replaced by the new data. Let's see how we can use the Geography feature in Excel.
How to use Geography Data Type in Excel
The steps to use Geography data type in Excel
Fill the document with location names
Select the locations
Click on Data in the menu/ribbon
Select Geography
Then click on the list icon above the selected text
Select the data type you want to add
To use the Geography data feature, fill the sheet with the location names you need data of, and select them. Now, click on Data in the ribbon and select Geography.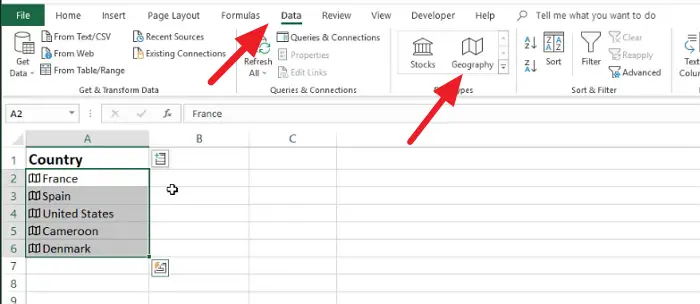 The geography data feature is now enabled for the text you have selected. Click on the list icon to see the data types. Select the data type you want to fill in the sheet.
You can select any number of data types and they all will get added to the next row in the sheet.
If you want to refresh the data you have added to the document using the Geography feature, click on Refresh All in the ribbon.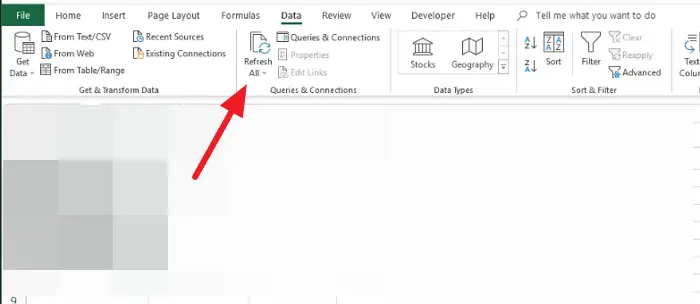 This makes your data up to date with the changes. If you want to refresh a single data, right-click on it and select the Data type and click on Refresh.
Geography Data missing in Excel
If you are unable to Geography data feature in your Excel, you must sign-in with Microsoft 365 subscription account.
If you are not a subscriber, you cannot get the feature. Also, your editing language must be English.
Now read: How to make a Bell Curve in Microsoft Excel.